The size of the global market for Oil & Gas Sensor is expected to reach USD 5.34 billion by 2030, expanding at a compound annual growth rate (CAGR) of 8.9 %.
The global oil & gas sensor market was valued at USD 7,570 million in 2018. The rising popularity of miniaturizing electronic devices & components is driving gas sensor utilization. Such components are primarily used across many industry verticals for integration into real-time environmental monitoring systems. High durability and long life of components are advantages that add up to an increased consumption of these products globally. In addition, strict government and industrial regulations for the protection of employees from gaseous and chemical pollution in industrial settings create many opportunities for the growth of the industry in the last years.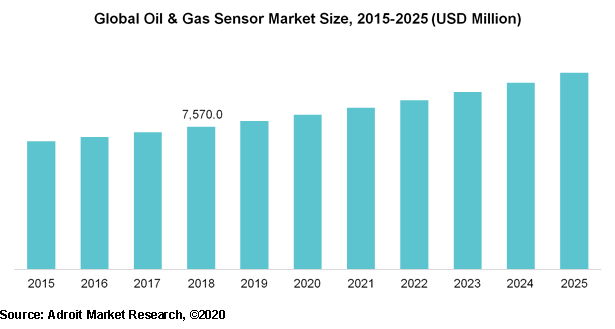 Gas sensors, such as oxygen, carbon dioxide, and nitrogen oxide, are used to determine the concentration of different gasses nearby. These sensors are equipped with a highly sensitive sensing feature which is operated by connecting circuit-connected leads. Such sensors find broad application for the detection of various toxic compounds, including hydrogen sulfide and nitrogen dioxide in process and manufacturing industries.
The oil and gas industry operate in an extremely unpredictable environment. With the oil price fluctuations coupled with the industry's digitization boom, demand for innovation and investment has pushed to meet the costs, ease the costs, and improve the operations of the industry. Sensor deployment is therefore critical for monitoring those parameters (temperature, pressure, flow, etc.) for process protection and optimization in the oil and gas industry. For this, wireless sensors are commonly used due to their low cost, ease of deployment, reliability and simplicity of service.
The global oil & gas sensor market has been segmented based on type, connectivity, application, sector, and region. Based on type, the global oil & gas sensor market is categorized into pressure, level, and flow. On the basis of connectivity, the global oil & gas sensor market is segmented into small and medium enterprise, and drilling optimizations. Based on application, the oil & gas sensor market is classified into condition monitoring, and remote monitoring.
Key players operating in the global oil & gas sensor market include Emerson, ABB, Siemens, Rockwell, Honeywell, Fortive, and General Electric among others.
Oil & Gas Sensor Market Scope
| | |
| --- | --- |
| Metrics | Details |
| Base Year | 2022 |
| Historic Data | 2020-2021 |
| Forecast Period | 2022-2030 |
| Study Period | 2020-2030 |
| Forecast Unit | Value (USD) |
| Revenue forecast in 2030 | USD 5.34 billion |
| Growth Rate | CAGR of 8.9 % during 2022-2030 |
| Segment Covered | Product, type, technology, end-use, Regions |
| Regions Covered | North America, Europe, Asia Pacific, South America, Middle East and Africa |
| Key Players Profiled | ABB, AlphaSense Inc., City Technology Ltd., Dynament, Figaro Engineering Inc., Membrapor, Nemoto & Co. Ltd., Robert Bosch LLC, Siemens |
Key Segments of the Global Oil & Gas Sensor Market
Type Overview, 2015-2025 (USD Million)
Pressure
Level
Flow
Temperature
Connectivity Overview, 2015-2025 (USD Million)
Application Overview, 2015-2025 (USD Million)
Remote Monitoring
Condition Monitoring
Analysis
Sector Overview, 2015-2025 (USD Million)
Upstream
Midstream
Downstream
Regional Overview, 2015-2025 (USD Million)
North America
Europe

Germany
United Kingdom
France
Rest of Europe

Asia Pacific

China
Japan
India
Rest of Asia Pacific

Central and South America

Brazil
Mexico
Rest of Central and South America

Middle East & Africa
Reasons for the study
Due to the increase in demand for oil and natural gas at various end-users such as the automobile industry, cosmetics industry, etc, many companies are entering into this market. Thus, the deployment of sensors at different oil and gas industry activities such as upstream, midstream, and downstream is also growing at an organizational level.
What does the report include?
The study on the global oil & gas sensor market includes qualitative insights such as drivers, restraints, challenges and opportunities
Additionally, the market has been evaluated using the Porter's Five Forces analysis
The study covers qualitative and quantitative analysis of the market segmented on the basis of type, connectivity, application, and end-users. Moreover, the study on oil & gas sensor market provides similar information for the key geographies.
Actual market sizes and forecasts have been provided for all the above-mentioned segments
The study includes the profiles of key players operating in the market with a significant global and/or regional presence
Who should buy this report?
The report on the global oil & gas sensor market is suitable for all the players engaged in the development of oil & gas sensor type.
Venture capitalists and investors looking for more information on the future outlook of the global oil & gas sensor market
Consultants, analysts, researchers, and academicians looking for insights shaping the global oil & gas sensor market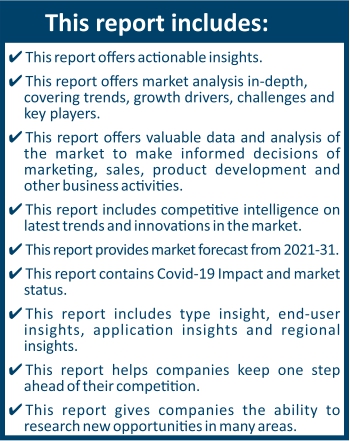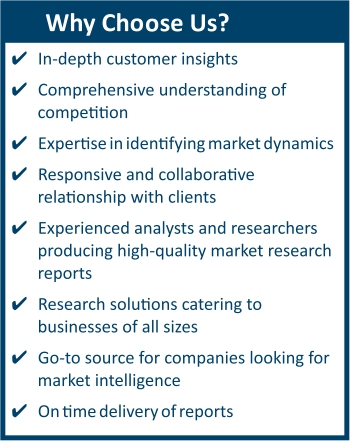 Frequently Asked Questions (FAQ) :
the oil and gas sensor market is growing at a CAGR of 4.8% during the forecast period.
The base year for the report is 2018 in oil and gas sensor market
Asia Pacific dominated the market for oil and gas sensor market and accounted for the largest revenue share.
As Machine to Machine (M2 M), the Internet of Things (IoT) and, of course, the Industrial Internet of Things (IIoT) make the transition from technology magazines to strategic corporate initiatives, businesses recognize a significant opportunity to improve productivity, performance, and profitability through Wireless Sensor Networks (WSN). Such networks have emerged as a critical technology for oil & gas exploration and manufacturing companies seeking a competitive edge.
It has been well established in many industrial applications that wirelessly connected assets are up to 10X less costly than wired alternatives. Driven by considerable and measurable cost savings in engineering, installation, and logistics as well as dramatic improvements in data frequency and reliability, wireless sensor networks offer much faster start-ups and accelerated profits.
Oil & Gas Industry is perhaps one of the most prevalent wireless sensor network applications industries. However, these projects are typically located in remote areas with raw terrain and difficulties of elevation, not to mention extreme environmental demands. Wireless sensor networks are installed for tracking, regulating and manipulating everything from tanks and compressors to generators, separators and wellheads. While costs continue to rise as oil prices reach 8-year lows, wireless sensor networks offer advantages over conventional wired systems where wired technologies are either too costly or not an option at all.
Due to the benefits such as flexibility, scalability and easy installation, the wireless gas sensors are increasingly being deployed among industries such as oil and gas, manufacturing and petrochemical. The wireless type is used in remote locations for continuous monitoring of gas leakage, and is operated through the base station. The increasing adoption of wireless sensor networks has had a positive influence on the overall growth of the market. Moreover, the increasing adoption of portable / drone-based gas detectors adopted by environmental agencies to inspect the emissions of public transportation vehicles is good for the wireless segment to grow.
The wired type is projected to show considerable growth over the forecast period. The major factors attributable to the dominance of the segment are various advantages, such as compact size, low cost, low maintenance and higher precision. Wired sensors are among the most reliable systems in many situations, since they directly connect the sensor to the device receiving the input, making them suitable for use in mines, oil rigs, and nuclear power plants. In addition, since infrared gas sensors have a short battery life and use thermal sources, such as tungsten filament to work, they usually require a hard-wired install.
The global oil & gas sensor market segmented based on region was dominated by Asia Pacific, generating nearly 40 % share of the overall market size in 2018.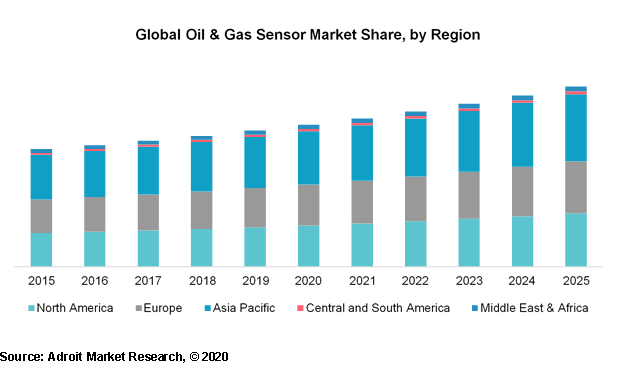 Between 2018 to 2025, Asia Pacific is projected to be the largest oil & gas sensor market. Increasing industrial automation adoption in emerging countries such as India and China are some of the key factors responsible for market growth in that region. In addition, according to IBEF, between 2018 and 2019, ONGC (India) is investing USD 2.73 billion in oil & gas well drilling. On top of that, Saudi Aramco plans to invest in India's downstream sector. Those factors would drive the country's market.