The value of the Data Visualization market is projected to grow to USD 20.16 Billion with an estimated CAGR of 10.2% by 2028
The unperturbed growth trajectory can be attributed to the growing reliance on data visualization for improving operational efficiency backed by appropriate data analysis. In addition, reduced time for data interpretation, operational efficiency, faster response to changing business environments are also boosting the global data visualization tools market.
However, inadequate skills in tools management and budget constraints are the biggest barriers which are significantly dampening overall market progress. Nevertheless, the flip side story is, increasing investments, growing adoption of training programs for data visualization from expert instructors provided to the team are anticipated to collectively draw strong opportunities for the data visualization software market in the forthcoming years.
Data visualization is a graphic representation of data that are presented across industries to improve understanding and inferences, modify cost planning and many such insights. It becomes easier for professionals to decipher insights from humongous data pools with the help of graphical images and simplified data for better access and understanding easing out futuristic usability.
Data visualization is used for quantitative communication through graphical representation of data and analytical concepts such as data visualization tools for BI and analytics applications. The purpose of data visualization software is to improve the scope of decision making with usable data. Implementing dashboards to display basic reports can also be classed under data visualization.
The data visualization software market leaders and innovators providing data visualization technologies and analytics are providing various efficient solutions resonating with user expectations besides offering customized tools according to suit exact user requirements. These ongoing developments are likely to kindle further growth scope for data visualization market and simultaneously disrupting the traditional marketplace.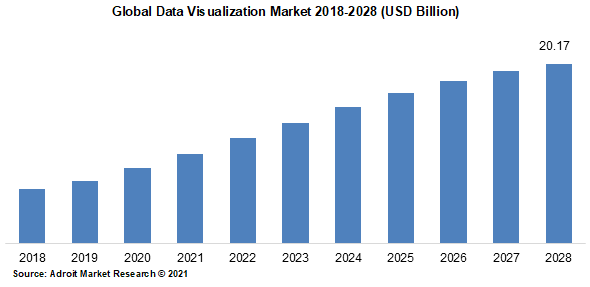 The key leaders and innovators in the data visualization software market providing technologies for data visualization, data discovery, and visual analytics are MicroStrategy, InetSoft Technology, Dundas Data Visualization, Information Builders, IBM, TIBCO, Oracle, Microsoft, SAS Institute, SAP SE, Pentaho, and Salesforce among others.
Businesses are turning to the art of data visualization, therefore, the market players including both new and the existing ones to help the businesses uncover new business openings and stay ahead of the competitors. Some of the latest trends that market participants are experimenting with are data democratization, data journalism, AI in social data, data storytelling, mobile friendly data, and the like which are anticipated to bode well with expansion in data visualization tools market.
Data Visualization Market Scope
| | |
| --- | --- |
| Metrics | Details |
| Base Year | 2020 |
| Historic Data | 2018-2019 |
| Forecast Period | 2021-2028 |
| Study Period | 2018-2028 |
| Forecast Unit | Value (USD) |
| Revenue forecast in 2028 | USD 20.16 Billion |
| Growth Rate | CAGR of 10.2% during 2021-2028 |
| Segment Covered | Component, Regions |
| Regions Covered | North America, Europe, Asia Pacific, Middle East and Africa, South America |
| Key Players Profiled | Alteryx Inc., InetSoft Technology Corp., Microsoft Corporation, Oracle Corporation, SAP SE, IBM Corporation, SAS Institute Inc., TIBCO Software Inc., Tableau Software LLC, and Dundas Data Visualization Inc. |
Global Data Visualization Market: Key Segment Overview
Organization Department Overview, 2018-2028 (USD Billion)
Executive Management
Marketing
Operations
Others
Deployment Mode Overview, 2018-2028 (USD Billion)
End User Overview, 2018-2028 (USD Billion)
BFSI
IT
Telecommunication
Education
Others
Regional Overview, 2018-2028 (USD Billion)
North America
Europe
Germany
UK
France
Rest of Europe
Asia Pacific
China
Japan
India
Rest of Asia-Pacific
South America
Brazil
Mexico
Rest of South America
Middle East and Africa
Reasons for the study
To increase capabilities of market players for competing against rest of the market participants.
Present business benefits, barriers, and practices for better decision making in the data visualization market.
To offer extensive details about research-oriented findings and deliver growth specific business models and to expand data visualization technologies.
Ensure that the market players get in-depth and high-quality knowledge about the data visualization software market dynamics.
To educate business and IT professionals about the best practices, strategies, and techniques incorporated by counterparts in the data visualization market.
To encourage professional competence of all the participants interested in the data visualization market.
What does the report include?
Benefits, barriers, and practices taking place in the data visualization market.
Practices, strategies, and techniques adopted by market competitors to successfully boost market competitiveness and enhance solutions they are providing in the market.
Solutions addressing significant problems or issues in the market.
Briefings from industry vendors about their products and services.
The report covers all the areas and aspects of the market that are necessary for the market players to understand and further develop new strategies relevant for 2021-2028.
Financial information of the market from market size, GDP, to CAGR of the individual segments for previous years, 2018-2020, and financial future forecasts from 2021-2028.
Who should buy this report?
The report is specially intended for business & IT professionals, and technical experts in the field of global data visualization market.
Organizations that want to enhance their product offerings looking for more knowledge in the market.
Independent certification bodies, non-governmental international organization, national standards bodies, members, groups of experts focusing on a specific subject, and technical committees & subcommittees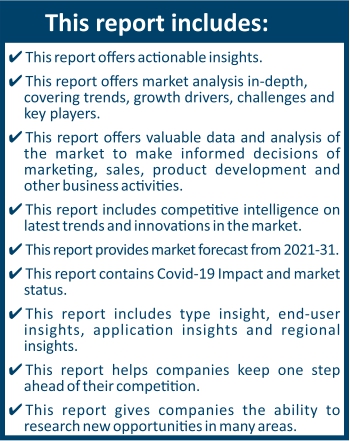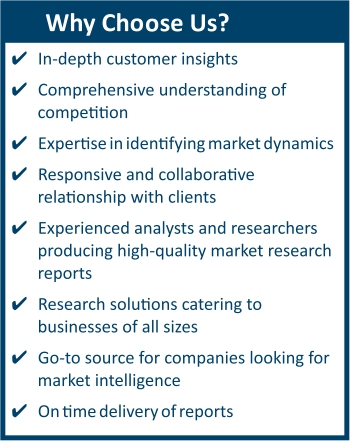 Frequently Asked Questions (FAQ) :
The base year for the report is 2021 in data visualization market.
The Global data visualization market is Segmented on the basis of Organization Department, Deployment Mode, End User, Regions
North American dominated the market for data visualization market and accounted for the largest revenue share.
The growing focus on engaging the businesses through strong data visualization and graphical data insights which have also advanced understanding among users is the key reason driving the demand for data visualization market. Data visualization are becoming the primary platform for businesses to obtain insightful and industry relevant data from large, complex, and diverse data volumes. The data visualization practices offer operational efficiency and advances the business' understanding.
Thus, the data visualization technologies and tools have expanded their reach to many industries. The growing focus of business more specifically SMEs to induce technology-based business decisions and operations is prompting the use of data visualization software tools in recent years. This has skyrocketed applications of global data visualization market. Also, data visualization allows the companies to discover hidden but insightful data from external and internal sources thereby improving actionable insights. An increasing number of organizations are using data visualization software tools for advanced data analytics and solidify future relevant decision making.
Organization Department Segment
Global data visualization market is broadly clustered into key categories such as operations department, executive management, and marketing. The executive management segment is experiencing strong growth in the market due to benefits offered by the segment like absorption of critical business information, rendering meaningful business insights, and enabling critical business insights and communication constructively.
Deployment Mode Segment
Further, based on deployment mode segment, the market is subsequently classified into key categories such as On-premise and Cloud/On-demand. In recent years, both cloud and on-premise segments are experiencing good growth in the market. The on-premise solutions are secure which is allowing business adopt it at a greater level whereas as on-cloud solutions are more flexible and offer better accessibility thus inclining businesses to adopt the on-cloud data visualization extensively. This has resulted in segment expansion and growth proliferation.
End User Segment
Depending upon the end user segment, the market is bifurcated into key categories namely BFSI, IT, Telecommunication, Education and others. The BFSI and IT segment have witnessed a sporadic growth in the market. These segments are expected to witness good market revenue in future years 2021-2028 as well.
The North American region echoing its dominance in the previous years is also anticipated to sustain its global lead in the years to come. This growth is ascribed to the growing presence of IT and BFSI firms. Also, APAC has gathered considerable market share in the global data visualization market field due to rising demand for advanced data analytics tools and technologies.