Cost-effectiveness, convenience, variety, all-inclusive pricing, a social environment, flexible itineraries, and other advantages are just a few of Cruise Market's advantages.
The cruise industry requires a range of goods and services, including travel, lodging, food and drink, entertainment, and activities. In order to reach potential customers, cruise lines must also invest in infrastructure, such as ships, terminals, and docks, as well as marketing and advertising. In order to keep passengers interested and returning for more, cruise lines must also maintain a strong customer service presence. Additionally, cruise lines need to be aware of the shifting consumer preferences in order to modify their offerings. Finally, in order to enhance operations and offer a better customer experience, cruise lines must make technology investments.
The cruise industry offers a distinctive and fascinating way to discover various cities, cultures, and nations. There has been an increase in tourism to some of the most stunning and exotic locations in the world as a result of this type of travel's rising popularity in recent years. Thousands of people are employed directly and indirectly by cruise ships, including captains, deckhands, stewards, entertainers, and those who work in ports like dockworkers, pilots, customs agents, and tour guides. The economies of many nations have benefited greatly as a result. The design of cruise ships is environmentally friendly, and they are fitted with cutting-edge technology to lessen their environmental impact. They must also follow stringent international laws that control the use of hazardous materials, wastewater discharge, and air pollution. Taking a cruise is a practical and inexpensive way to travel to many different places. Additionally, because cruise ships offer facilities and accommodations that are wheelchair- and handicap-accessible, it is simpler for people with disabilities or mobility issues to board them.
The size of the world cruise market was projected to be 43 billion dollars. By 2029, it is anticipated that this amount will increase to about 54 billion dollars. With an increase in passengers a year over year, the cruise industry is one of the parts of the global tourism industry that is expanding the fastest.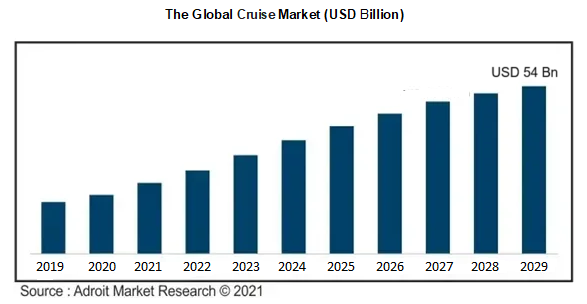 Due to the all-inclusive nature of the experiences offered, which makes it simple for travelers to plan and set a budget for their trip, the demand for cruises has significantly increased from tourists. Cruise ships are becoming more and more inventive, providing one-of-a-kind experiences catered to various traveler types, such as luxury cruises, themed cruises, and cruises for families. Due to their capacity to provide tourists with a variety of destinations, frequently at an affordable price, cruise lines have grown in popularity. Cruising has become a popular choice for travelers because it allows them to see several places in one trip. Infrastructure for the cruise industry has improved recently with the addition of new ports, better ship designs, and better services. As a result, cruises are now a more alluring option for tourists.
Airlines, hotels, and other vacation options compete with cruise lines, making it challenging for them to draw in new clients and distinguish their offerings. Peak travel periods are in the summer and around holidays, and the cruise industry is typically seasonal and highly dependent on the weather. This means that in order to maintain their profitability throughout the off-season, cruise lines must carefully manage their costs. Overbooking by cruise lines has been documented, which leads to a problem with overcapacity. This might result in lower ticket prices, which would make it harder for cruise lines to turn a profit. The expense of running a cruise ship is significantly influenced by fuel prices. Cruise lines must raise their prices to keep up with rising fuel costs, which can reduce demand. The strict environmental regulations that apply to the cruise industry can make it challenging to operate and expensive to comply with. Natural disasters, disease outbreaks, and other emergencies can cause significant losses for cruise lines because of how vulnerable the cruise industry is to them.
Carnival Corporation & plc, the largest cruise line in the world, is a major player in the industry. Along with Carnival Cruise Line, Holland America Line, Princess Cruises, Seabourn, AIDA Cruises, Costa Cruises, Cunard, P&O Cruises Australia, and P&O Cruises UK, Carnival operates a variety of cruise brands in North America, Europe, Australia, and Asia. Carnival Corporation also owns a number of smaller niche cruise companies, including Fathom, Fjord Line, Hamburg Süd, Iberocruceros, Ocean Village, Pullmantur, and others.
The luxury cruise market is expanding
The growth of the cruise market is being driven by the luxury cruise segment. In 2019, the luxury cruise market segment held the largest market share. This can be attributed to the rising demand for upscale features and services like spa treatments, fine dining, and individualized attention provided by luxury cruise ships. The growth of the luxury cruise market is also being fueled by the introduction of new luxury cruise ships with improved amenities and services, such as bigger cabins and more entertainment options on board.
The entertainment industry is expanding
The entertainment application is the one driving the most growth in the global cruise market. Passengers on cruise ships have access to a variety of entertainment options, such as live performances, shows, and movies. The entertainment value of cruises also includes other features like spas, casinos, and shopping. In order to draw more passengers and increase their market share, cruise lines frequently introduce new onboard activities and amenities. The global cruise market has expanded as cruising becomes more and more popular as a fun and affordable vacation option.
Asia Pacific is in control
The largest and fastest-growing region for the cruise industry in the Asia Pacific. It had a 45.7% market share in 2019 and is anticipated to rule the market for the entire forecast period. The Asia Pacific cruise market is expanding as a result of factors like rising disposable income, an increase in the number of consumers taking vacations abroad, and a rise in consumer preference for leisure activities.
Impact of Covid 19 on the Cruise Market
The cruise industry has been significantly impacted by the Covid-19 pandemic. Governments issued travel restrictions to stop the virus' spread, forcing cruise companies all over the world to halt operations. The result has been a sharp decline in demand and revenue for the cruise industry, with some projections indicating a loss of up to $30 billion in just 2020. Cruise lines are starting to gradually resume operations as travel restrictions are being gradually lifted, albeit with a number of health and safety precautions in place. However, the industry is still going through a challenging recovery period, with numerous businesses announcing layoffs and restructuring initiatives in an effort to survive. The industry will probably take some time to recover to pre-pandemic levels; some analysts think it might not fully recover until 2024.
Recent changes in the cruise market
• New, cutting-edge technologies and digital products, such as virtual reality experiences and platforms with artificial intelligence for customer service, have recently been introduced to the cruise market. Big data analytics are also being used by cruise lines to better understand passenger preferences and offer more individualized experiences.
Furthermore, cruise lines are starting to put more of an emphasis on sustainability programmes, like lowering their carbon footprint and utilizing renewable energy sources. Finally, in the wake of the COVID-19 pandemic, there has been a growing emphasis on health and safety protocols, with many cruise lines implementing new procedures and policies to guarantee the safety of their passengers.
Cruise Market Scope
| | |
| --- | --- |
| Metrics | Details |
| Base Year | 2022 |
| Historic Data | 2019-2020 |
| Forecast Period | 2021-2029 |
| Study Period | 2019-2029 |
| Forecast Unit | Value (USD) |
| Revenue forecast in 2029 | USD 54 billion |
| Growth Rate | CAGR of NA % during 2029-2029 |
| Segment Covered | Type, Application, Regions |
| Regions Covered | North America, Europe, Asia Pacific, South America, Middle East and Africa |
| Key Players Profiled | Along with Carnival Cruise Line, Holland America Line, Princess Cruises, Seabourn, AIDA Cruises, Costa Cruises, Cunard, P&O Cruises Australia, and P&O Cruises UK, Carnival operates a variety of cruise brands in North America, Europe, Australia, and Asia. |
Key Segment of Cruise Market
By Type Overview (USD Billion)
• Contemporary Cruise
• Premium Cruise
• Luxury Cruise
• Others
By Application Overview (USD Billion)
• Transportation
• Entertainment
• Others
By Region Overview (USD Billion)
North America
• USA
• Canada
Asia Pacific
• China
• India
• Japan
• Rest of Asia Pacific
South America
• Mexico
• Brazil
• Rest of North America
Europe
• Germany
• France
• UK
• Rest of Europe
Middle East and Africa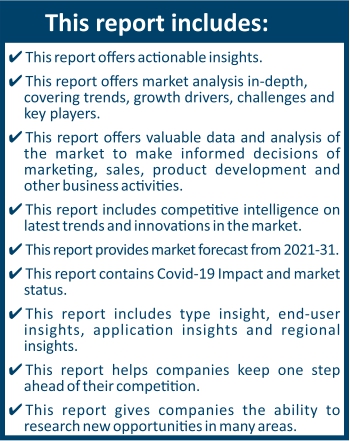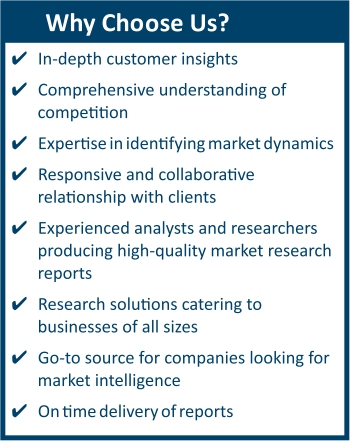 Frequently Asked Questions (FAQ) :
Cruise Market is projected to reach 54 billion dollars by 2029, growing at a CAGR of %