Owing to the benefits of wastewater Treatment Plants are primarily designed to eliminate dangerous substances from the environment. As a consequence, when it reaches the ground, it will have no negative impact on the ecology. If residual wastes are allowed to infiltrate other equipment and processes, they can cause serious damage and limit liquid-based wastewater treatment processing capacity, because it contains a lot of biodegradable material, the waste matter or sludge collected during the water treatment process can also be processed. The sludge would be placed in specially built, totally contained containers where anaerobic microorganisms would be introduced
The global Wastewater Treatment Plants market worth US$ 193.7 Bn by 2031, growing at a CAGR of 5%
Covid-19 Impact & Market Status
The COVID-19 pandemic has wreaked havoc on several economies across the world. To prevent the spread of the disease and its impacts, governments throughout the world have enforced partial or total lockdowns, affecting a wide variety of manufacturing and service industries, including wastewater treatment plant. The pandemic has had an influence on wastewater treatment plant for industrial uses since industries were shut down owing to lockdown regulations and there was no output, which lowered wastewater production. The COVID-19 epidemic is expected to hinder back water industry investment. However, in order to offset the cost of interruption, operational stability has become more important. Lockdowns and travel restrictions have reduced demand for water treatment utilities from major industrial and commercial customers, reducing income possibilities for enterprises participating in the industry.
Service to Remain Atop
The market is divided into three segments: chemicals, equipment, and services. Because firms are focused on building new treatment plants and maintaining existing facilities for water and wastewater treatment, the services category is likely to develop at the fastest rate. The demand of improving existing sewage treatment systems in industrialized nations will add to the segment's growth.
Municipal to Emerge as the Most Lucrative Segment
During the forecast period, the municipality will be the main user of the wastewater treatment service. The availability and supply of high quality water is one of the most important determinants of human health, social and economic growth, and ecosystems. However, the natural environment is deteriorating and the growing population makes it difficult to provide adequate and safe water for all. A key element of this approach is to reduce water pollution and improve wastewater management. Assessing the potential of wastewater, rather than disposing of it, is crucial to a sustainable economy.
Asian Pacific to dominated the Wastewater Treatment Plant Market
The Asian pacific market for wastewater treatment services is the largest, and China is the largest market with tremendous growth potential. The main drivers of this market are increased disposable income and improved living standards in emerging markets in the Asia Pacific region. Population growth in the region, coupled with the development of new technologies and products, is expected to be an attractive location for the expansion of the wastewater treatment services market. However, the low level of urbanization and industrialization can challenge industry participants to develop new facilities, adopt new technologies, and build value chains between raw material suppliers and manufacturing sectors in expanding the Asian pacific region. Expected. This market is driven by booming electricity, consumer goods, packaging industry, and process manufacturing innovations.
Wastewater treatment plants, especially liquid solidification techniques, help increase the efficiency of industrial production processes. Such systems, for example, remove inorganic particles and trash from storm water runoff and wastewater. Wastewater may be reused, which saves money and helps the environment. In order to generate clean and safe water, toxins in wastewater are eliminated during the process. Contaminants that might cause sickness are filtered and removed throughout the waste water treatment process. It keeps disease-causing germs out of other water sources and the soil, where they may harm plants and animals.
The process of removing impurities from wastewater and converting it into wastewater that may be returned to the water cycle is known as wastewater treatment. Recycling wastewater to the hydrological cycle has no negative effects on the environment and may be used for a variety of purposes. The treatment takes done in the sewage treatment plant. Sewage treatment facilities purify wastewater and water before releasing it back into the environment. These systems clean treated wastewater of sediments and pollutants, break down organic compounds, and recover oxygen levels.
In 2029, the worldwide wastewater treatment plant market was worth more than USD 72 billion. The growing water pollution and shortage of water caused by global urbanization are likely to boost this market's growth. The wastewater treatment plant market is being driven by the expanding industrial industry, urbanization, and regulatory requirements. Manufacturing industry and government initiatives to reduce waste creation, as well as increased knowledge of innovative water treatment technologies, are expected to enhance the wastewater treatment plant.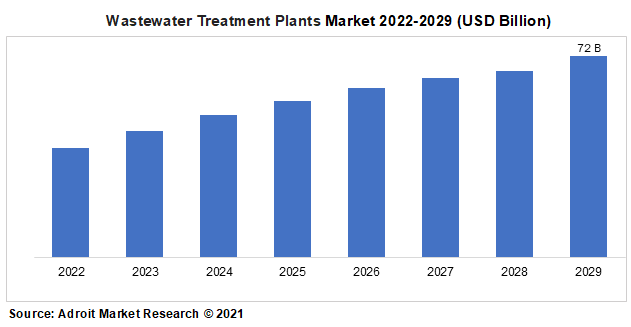 The key players in this segment are Dow Water and Process Solutions, Evoqua Water Technologies Corporation, GE Water and Process Technologies, FilterBoxx, Hydroswiss, Veolia Environment, Suez Environment, ITT Corporation, United Utilities, Kemisan, TMW, Bioxic. These are the global market players in the wastewater treatment plants market.
Latest Innovations in the Wastewater Treatment Plants Market
To filter their effluent, several pharmaceutical businesses use biology. Bioaugmentation is one of the most common and promising biological techniques to water treatment. Scientists use this procedure to introduce a mixture of microorganisms into a liquid, which break down and eliminate pollutants. Enzymes and specific, safe bacteria types are among these microorganisms. These organisms digest contaminants such as oils and carbon substrates organically, providing an organic approach of water purification. However, because chemists must remove the microbes afterward, bioaugmentation is frequently part of a multi-step process. It can contain many nutrients as a by-product in addition to eliminating harmful contaminants, making water cleaner all around.
The new Urban Sanitation Technology combines electro aggregation (Elflox) with anaerobic digestion to purify wastewater while reusing energy and minerals. The Elflox treatment is based on the separation of organic pollutants from urban wastewater by electrocoagulation (ECF reactor). Organic sludge from the ECF reactor is settled in a circular settling tank, where the sludge (organic compound) is sent to an anaerobic reactor where it is converted to biogas. This biogas is converted into energy for self-consumption.
Wastewater Treatment Plants Market Scope
| | |
| --- | --- |
| Metrics | Details |
| Base Year | 2020 |
| Historic Data | 2018-2019 |
| Forecast Period | 2021-2028 |
| Study Period | 2018-2028 |
| Forecast Unit | Value (USD) |
| Revenue forecast in 2028 | USD 72 billion |
| Regions Covered | North America, Europe, Asia Pacific, South America, Middle East and South Africa |
| Key Players Profiled | Process Solutions, Evoqua Water Technologies Corporation, GE Water and Process Technologies, FilterBoxx, Hydroswiss, Veolia Environment, Suez Environment, ITT Corporation, United Utilities, Kemisan, TMW, Bioxic & among others. |
Key Segments of the Wastewater Treatment Plants Market
By Segment Overview, 2022-2029 (USD Billion)
Services
Chemicals
Equipment
By Application Overview, 2022-2029 (USD Billion)
By Region Overview, 2022-2029 (USD Billion)
North America
Europe

UK
Germany
France
Rest of Europe

Asia-Pacific

China
Japan
India
Rest of Asia-Pacific

South America
Mexico
Brazil
Rest of South America
Middle East and South Africa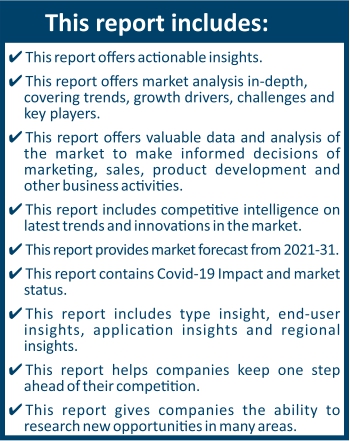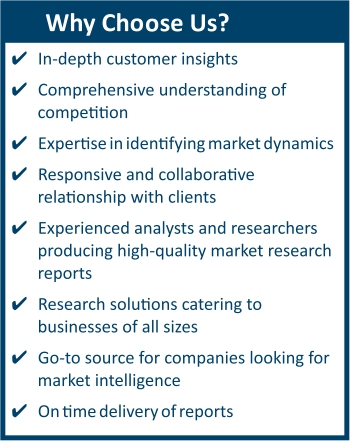 Frequently Asked Questions (FAQ) :
The global wastewater treatment plants market size is expected to reach USD 72 billion by 2029.
Asia Pacific dominated the market for wastewater treatment plants market and accounted for the largest revenue share.
The top companies that hold the market share in wastewater treatment plants market are Process Solutions, Evoqua Water Technologies Corporation, GE Water and Process Technologies, FilterBoxx, Hydroswiss, Veolia Environment, Suez Environment, ITT Corporation, United Utilities, Kemisan, TMW, Bioxic & among others.
To get latest version of wastewater treatment plants market report can be obtained on demand from the website.
The base year for the report is 2021 in wastewater treatment plants market.