The global clinical trials market is projected to be a thriving industry with potential growth of approximately USD 59.60 billion until 2028 with an annual growth rate of 4.10% from 2021 to 2028. This growth is attributed to many current factors such as prevalence of chronic diseases leading to growing demands for clinical trials aimed at diversifying therapeutic and diagnostic practices.
Additionally, the expansion of pharmaceutical and biotechnology firms coming up with new therapeutics to address infections and several chronic conditions are boosting the global clinical trials market growth. However, covid-led healthcare sector disruptions, complex regulatory framework, more side effects compared to standard scenarios are likely to hamper the global clinical trials market.
Ease in lockdown conditions leading reduced impact on healthcare sector, access to new treatments, certain updates in regulatory framework are anticipated to drive opportunity in the global clinical trials market. Clinical trials are usually triggered to introduce new therapies, vaccines, or diagnostic procedures for treating known conditions.
Clinical trials determine whether the new drugs, diagnostic procedures, or treatments introduced are safe and effective. The research initiatives that conduct clinical trials of drug on patients with certain chronic disease and collect data, tests, or questionnaires can also be classed under clinical trials.
The global clinical trials market players including the new and traditional ones, to stay ahead of the competition and satisfy patient needs are carrying out virtual clinical trials with different clinical trials phases. Virtual clinical trials have led to cost savings, patient engagement, improvements in data gathering.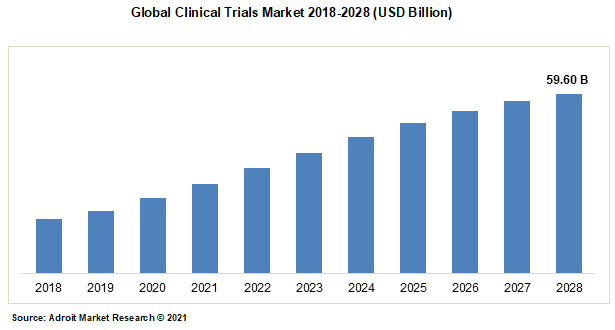 Pharmaceutical and biotechnology firms that have transformed their ideas and concepts into successful products thereby strengthening their competitive position in the market are Bioclinica, PAREXEL International, PRA Health Science, Pharmaceutical Product Development, IQVIA, and Laboratory Corporation of America Holdings among other established and new entrants.
Currently, a new global phase III clinical trial of recombinant covid-19 vaccine is being evaluated. The phase III clinical trial will assess the viability, risks involves, and immunogenicity of the recombinant drug.
Clinical Trials Market Scope
| | |
| --- | --- |
| Metrics | Details |
| Base Year | 2020 |
| Historic Data | 2018-2019 |
| Forecast Period | 2021-2028 |
| Study Period | 2018-2028 |
| Forecast Unit | Value (USD) |
| Revenue forecast in 2028 | USD 59.60 billion |
| Growth Rate | CAGR of 4.10% during 2021-2028 |
| Segment Covered | Phases, Therapeutic Area, Study Design, Regions |
| Regions Covered | North America, Europe, Asia Pacific, Middle East and Africa, South America |
| Key Players Profiled | Bioclinica, PAREXEL International, PRA Health Science, Pharmaceutical Product Development, IQVIA, and Laboratory Corporation of America Holdings. |
Key Segments of the Global Clinical Trials Market
Phases Overview, 2018-2028 (USD Billion)
Phase I
Phase II
Phase III
Phase IV
Therapeutic Area Overview, 2018-2028 (USD Billion)
Autoimmune disease
Oncology
Cardiology
Infectious disease
Dermatology
Ophthalmology
Study Design Overview, 2018-2028 (USD Billion)
Interventional
Observational
Expanded access
Regional Overview, 2018-2028 (USD Billion)
North America
Europe
Germany
UK
France
Rest of Europe
Asia Pacific
China
Japan
India
Rest of Asia Pacific
South America
Brazil
Mexico
Rest of South America
Middle East and Africa
Reasons for the study
To present the challenges related to statistics, clinical, regulatory operational, and ethics to the market players.
To evaluate the potential of drug development and the stringency in the regulatory framework which are crucial for the advancement of clinical trials.
To ensure reader understanding about the nature and extent of global clinical trials market approaches, trends and imminent disruptions likely to transform the ballgame in clinical trial.
What does the report include?
Financial data relevant to individual segments including market size, GDP, CAGR, annual revenue, and forecast growth predictions.
Analysis of the competitive landscape with the help of SWOT analysis.
Evaluation of the strengths, weaknesses, restraints, and opportunities in individual market segments and regions with Porter's five forces analysis.
Who should buy this report?
The report is of great value to the scientific experts, researchers, academicians, and educational institutes.
This report is intended to help improvise established firms seeking more market knowledge for market penetration and expansion as well as pharmaceutical and biotech startups looking for crucial market information that will help them navigate safely in the global clinical trials market.
Investing in clinical trials of drugs and other therapeutics increased benefits to scientific, medical and paramedical professionals. It provides access to advanced drugs, technologies, and develops technical expertise. Clinical trials have become the standard way to understand how a certain condition or treatment affects patients in real world. These are identified as the chief growth propellants in the global clinical trials market.
Clinical trials have also become the efficient way to evaluate the effectiveness of drugs on patients. The growing focus of small, medium as well as large biotechnology and pharmaceutical firms to conduct clinical trials to examine the potential benefits or side effects of drug, vaccine, or other therapeutics are increasing the demand for clinical trials.
Also, clinical trials when combined with modern technologies or new methods like virtual clinical trials is offering cost savings, addressing patient needs, finding new treatments for various health conditions. An increasing number of organizations are using clinical trials for discovering new treatments and diseases and detect new ways to address health conditions in a better way.
Phases Segment
In-depth research suggests that the global clinical trials market is classified on the basis of phases namely phase I, phase II, and phase III. Based on all the prominent segments in phase classification, the Phase I segment has emerged lucrative in the past years and is also poised to claim the lead in the forecast years as well. The key reasons of growth in this segment are that it allows new treatment to progress further in drug development, safe for every participant.
Therapeutic Area Segment
Research analysis also suggests that the global clinical trials market has been classified on the basis of therapeutic areas namely oncology, cardiology, autoimmune disease, dermatology, ophthalmology, and infectious disease. The oncology and infectious disease segments have gathered maximum market share in conducting various clinical trials phases. The rising prevalence of infectious diseases and cancer patients are enabling new drug development practices and clinical trials for addressing the growing issue.
Study Design Segment
Global clinical trials market is further diversified based on study design such as interventional, observational, expanded access. The interventional clinical trials segment has gathered maximum market share and is expected to capture considerable share in future.
Compared to multiple regions, the regional market in North America is leading from the front. This is due top presence of large biotechnology and pharmaceutical firms and increasing focus of developing novel drugs to develop new treatments for chronic conditions. This is acknowledged as the primary growth influencer ensuring balanced growth across the global clinical trials market Also, the APAC and MEA have experiencing increased revenue due to increasing demand for drugs and therapeutic treatments.