Fabric is very important in essential whether it be clothing or accessory or any other. Cashmere is considered one of if not the best fabrics in the market due to its naturally soft and warm fabric. The market of cashmere is growing because of its gaining popularity and superior qualities compared to other fabrics.
There has been a rise in the demand for luxury clothing which is a key factor driving the market of cashmere as people are spending their money on luxury goods. Also, there is a demand for quality accessories and Cashmere fabric is one of the best fabrics in terms of quality which to is driving its demand. There has been increasing in the amount of income for middle-class people who are now able to afford to purchase Cashmere fabric which is another driver of the Cashmere market.
There are many advantages of Cashmere fabric primarily that it's of much superior quality than other fabrics available and also is much softer and stronger meaning it's expected to last a lot longer than other fabrics so there is longevity which too is very important. Its applicability is varied too as cashmere fabric is used in clothing, Accessories, and textile which increases its applicability a lot which again is an advantage of the market.
The current value of the Cashmere fabric is around USD 3.8Bn and is projected to reach a figure of around 5.8 Bn by the time 2031. The CAGR is expected to grow at a rate of 6.8%.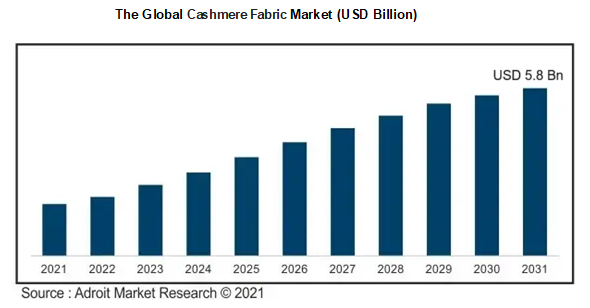 The growth of the market is seen due to the increase in demand for luxury fabric and Cashmere being the most superior quality fabric available in the market along with its features of longevity and softness which is a key feature needed in a fabric. The Market for Cashmere is only expected to rise in the future for the time being.
Cashmere fabric is a certain type of wool that is made from a type of goat native. The fabric is considered very soft and luxurious and it is highly prized for that very reason. The market is driven by the demand for cashmere clothes, accessories, territory, etc
There are certain drawbacks of the cashmere market which need to be addressed as well. The primary problem with cashmere fabric is that most of it come from places like Mongolia and China which are already facing desertification. Another problem is that due to lack of availability the price of cashmere fabric is quite high which can reduce its market size significantly. There is also a question of ethics as cashmere is taken from goats and the well-being of animals is to be questioned. There are problems that need to be addressed and if done so correctly, the market of cashmere will only rise as the demand is there for the fabric.
Impact of Covid-19 on the Cashmere Fabric Market
Covid-19 had a negative impact on most industries and cashmere fabric too had to suffer to due Covid. Covid-19 caused a lot of loss to the cashmere market as production activities were disrupted due to the imposition of lockdowns and offline and online sales had gone down as there were safety concerns and social distancing which made consumers refrain from purchasing the fabric. It is projected that around 20% fall was witnessed in the sales of Cashmere fabric due to Covid-19. Also, consumers were not financially apt to purchase luxurious items as there was a health scare.
However, the cashmere market is expected to bounce back after Covid-19 as companies have started back their production and the demand for Cashmere fabric is on the rise again among the public which will lead the market.
Segment Analysis
Clothing segment generates the most revenue in the application segment of the Cashmere market
The clothing market is expected to generate the most revenue as there has been a rising demand in the cashmere clothes market as consumers are spending on buying luxurious clothing cashmere fabric is one of the best fabrics as it is soft, strong, and provides longevity to the consumers.
Women demand the most Cashmere Fabric for the end-user segment
Women are expected to demand Cashmere Fabric the most in the end-user category due to increased demand for scarves and shawls across countries. As fashion too is a key too, it is expected there will be a constant rise in demand for cashmere clothing among women. The projected CAGR is around 5.6%.
Europe to be top the top region in the cashmere market
Europe is expected to top the cashmere market region-wise due to its high demand for clothing since it is considered a fashion hub also there are a lot of luxury brands in Europe that will drive the market in the future. Also, the weather is quite rainy in Europe which results in more demand for sweaters, shawls, etc.
Key Players in the market of Cashmere Fabric
• Some of the dominant players in the market of cashmere fabric are Malo, Pringle of Scotland Limited, Brunello Cuccinelli S.p.A, TSE Cashmere, etc.
• The companies have been working on coming up with the best product to improve customer satisfaction through mergers, acquisitions, etc.
• Recently, ZEGNA an Italian fashion house launched its brand Oasi Cashmere which has been inspired by Mongolia to create softness while weaving the product.
New Innovation and technology in the Cashmere Fabric market
• There are innovations made in the Cashmere fabric industry specially to improve the quality of the fabric. One such innovation is the increasing number of Recyclable Cashmere that is being made to make it more environmentally as a problem faced with cashmere fabric is non-environmentally friendly.
Cashmere Fabric Market Scope
| | |
| --- | --- |
| Metrics | Details |
| Base Year | 2022 |
| Historic Data | 2021- 2022 |
| Forecast Period | 2022-2031 |
| Study Period | 2021 – 2031 |
| Forecast Unit | Value (USD) |
| Revenue forecast in 2031 | USD 5.8 Bn |
| Growth Rate | CAGR of 6.8% during 2021-2031 |
| Segment Covered | by Type, By Application, By End User, Regions |
| Regions Covered | North America, Europe, Asia Pacific, Middle East and Africa, South America |
| Key Players Profiled | Malo, Pringle of Scotland Limited, Brunello Cuccinelli S.p.A, TSE Cashmere, etc. |
Key Segments of the Cashmere Fabric Market
Type Overview (USD Billion)
White Cashmere

Cyan Cashmere

Purple Cashmere

Others Cashmere
Application Overview (USD Billion)
Cashmere Clothing

Cashmere Accessory

Cashmere Home Textiles
End- User Overview (USD Billion)
Regional Overview (USD Billion)
North America
Europe
Germany

France

UK

Rest of Europe
Asia Pacific
China

India

Japan

Rest of Asia Pacific
South America
Mexico

Brazil

Rest of South America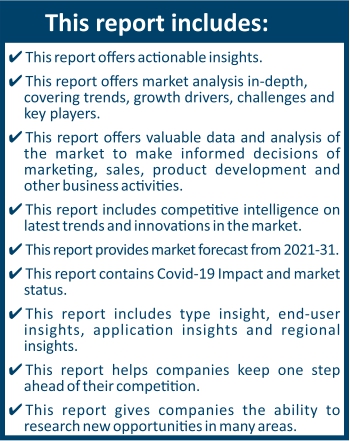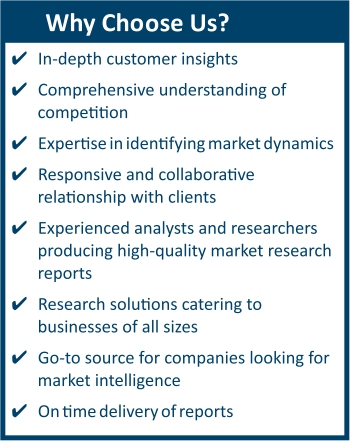 Frequently Asked Questions (FAQ) :
The global Cashmere Fabric market size projected to reach USD 5.8 Billion by 2031.
The Cashmere Fabric market is growing at a CAGR of 6.8 % during the projection period
Key companies covered in the Cashmere Fabric market are Malo, Pringle of Scotland Limited, Brunello Cuccinelli S.p.A, TSE Cashmere, etc.