BIM is being used more and more in mega infrastructure schemes, such as highways, residential buildings, roads etc. Architects and engineers are able to access a computer archive of building sites by using BIM, which helps them to alter or adjust the design of buildings. Furthermore, it is likely that the implementation of strict building safety laws will help the adoption of BIM in the coming years.
The global building information modelling (BIM) market growth is expected to generate a revenue of 10,700.15 million till 2028. The market is expected to grow at a CAGR of 14%. Growing construction activities across the developing nations such as India, China are anticipated to boost the market growth for innovative building Information modelling (BIM) market solutions.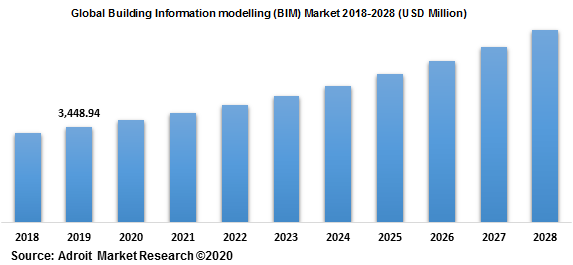 Building information modeling (BIM) is not only seen as a breakthrough tool for the construction industry because of its large range of practical capabilities, but also because of the low risk and high operational control it offers. Increasing advancements in technology have led to the increasing adoption of innovative approaches to the construction industry's working standards. BIM is one such solution that offers advantages such as visualization and collaboration, design and construction planning synchronization, conflict detection, and cost reduction. Although these factors will still contribute to the BIM market 's growth. However, high initials costs may impede the market growth.
Key Segments of the Global Building Information modelling (BIM) Market
Product Type Overview, 2018-2028 (USD Million)
Services

Software Support and Maintenance
Project Management and Support.

Software

MEP
Construction
Architectural Design
Sustainability
Structure
Facility Management
Application Overview, 2018-2028 (USD Million)
Industrial
Buildings
Oil& Gas
Civil Infrastructure
End-user Overview, 2018-2028 (USD Million)
Consultants
Facility Managers
AEC (Architect Engineering & Construction) Professionals
Others
Regional Overview, 2018-2028 (USD Million)
North America
Europe
UK
Germany
France
Rest of Europe
Asia Pacific
China
Japan
India
Rest of Asia-Pacific
Middle East and Africa
UAE
South Africa
Rest of Middle East and Africa
South America
Brazil
Rest of South America
Reasons for the study
The purpose of the study is to give an exhaustive outlook of the global building information modelling (BIM) market.
Ensure you remain competitive as innovations by existing key players to boost the market growth.
What does the report include?
The study on the global building information modelling (BIM) market includes qualitative factors such as drivers, restraints, and opportunities
Actual market sizes and forecasts have been provided for all the above-mentioned segments.
The study covers the competitive landscape of existing/prospective players in the building information modelling (BIM) market industry and their strategic initiatives for the product development
The study covers a qualitative and quantitative analysis of the market segmented based on product type, application, and end-user. Moreover, the study provides similar information for the key geographies
Who should buy this report?
This study is suitable for industry participants and stakeholders in the global building information modelling (BIM) market. the report will benefit: every stakeholder involved in the building information modelling (BIM) market.
Managers within the construction industry looking to publish recent and forecasted statistics about the global building information modelling (BIM) market.
Analysts, researchers, educators, strategy managers, and academic institutions looking for insights into the market to determine future strategies.
Policymakers, Government organizations, regulatory bodies, and organizations looking for investments in global building information modelling (BIM) market.
The demand for housing and infrastructure would drive the development of the global construction industry as demographics and economies expand. There would be a greater need for effective methods of operating with a growth in building sector. BIM offers the opportunity to plan, design, and execute building projects more effectively to architects, engineers, and construction professionals. Therefore, BIM 's 3D model-based approach to delivering building projects is gaining worldwide momentum. As BIM is gaining prominence, In the construction industry, there is a lower level of digitization than in other industries. With the aid of BIM, productivity of up to 20 percent can be accomplished by streamlining processes by shorter construction cycles, better output, and lower costs. Large-scale construction projects take a longer time to complete and go beyond the budget, it is often noted; this results in lower financial returns for contractors. However, high prices, a need for regular maintenance, and a lack of technological competence are some of the factors limiting the development of the building knowledge modeling industry. Since BIM is a vital software, minor design miscalculations will lead to significant workplace mishaps. Thus, the lack of technical expertise is one of the major factors restraining the growth of the BIM market. Other significant factors are the high cost of BIM software and frequent upgrade and reconfiguration requirements.
Product Type Segment
Based on product type, the market is bifurcated into services, & software. solutions that generally consists of engineering, design, structures, MEP, building, and facilities management are typically included in the software. Software is expected to generate a larger share of revenue during the forecast period. The software sector, by type and mainly dominated by architecture and construction software, holds the largest share of the BIM market. Additionally, features such as interoperability between systems, simple visualization, and cost-effectiveness are demonstrated in the software used by BIM.
Application Segment
Based on application, the market is segmented into industrial, buildings, oil& gas, civil infrastructure, utilities and others. Building segment is expected to experience the fastest increase in the demand for building information modelling (BIM) market. BIM helps to plan, develop, create and maintain buildings effectively with the assistance of various technologies, such as 3D modeling and clash detection. Owing to the growing number of buildings or renovation projects, along with commercial parks, shopping centers, and retail stores, buildings account for a greater share of the BIM industry relative to any other application. It is a step forward in using BIM to present initiatives in a creative way in the context of information and simulation.
End-user Segment
Based on end-user, the market is bifurcated into consultants, facility managers & AEC (Architect Engineering & Construction) professionals and others. AEC segmented held the largest market share for building information modelling (BIM) market by end-user. Moreover, consultants are expected to have highest CAGR by end-user, during the forecast period. BIM technologies are deployed by engineers in a range of end-use sectors, including sewage and waste sewage, bridges, roads and highways, rail transport and aviation, electricity generation services, houses and apartments. The BIM adoption rate was found mostly among architects in 2020, followed by engineers.
Asia Pacific is expected to be the fastest growing market in the global building information modelling (BIM) industry. Governments of emerging economies such as China and India are now increasingly lifting the lockdown to begin manufacturing and development operations to improve the economy of the region. As a result, infrastructure planning projects such as the Smart City Project in India are set to restart again due to the possible rise in demand for building knowledge modeling tools. Additionally, countries such as Singapore, Australia, Japan have mandated the adoption of BIM in the construction industry.
North America is expected to hold the largest market share during the forecast period. The US is expected to lead the North American BIM market as it is home to different Tier 1 businesses and is at the forefront of adopting advanced digital infrastructure systems. BIM technological solutions, such as architectural modelling and development, are commonly used for planning, design, and construction of a specific construction facility by end users in North America. Moreover, in demand construction centered countries such as Qatar, UAE, Ethiopia, Nigeria, Djibouti in the Middle East & Africa region are expected to significantly contribute to the market growth. For instance, the Qatar 2022 FIFA world cup, the postponed 2021 Dubai EXPO and rise in construction activities in Ethiopia, Nigeria & Djibouti are expected to increase the demand for BIM in the construction sector.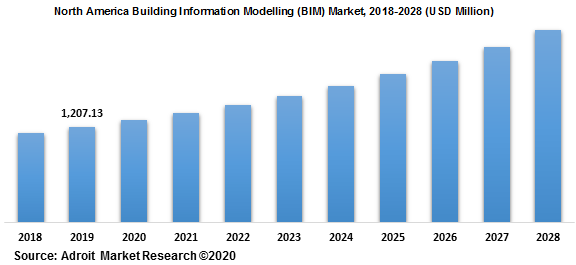 The major players of the global building information modelling (BIM) Market are Autodesk Inc. Pentagon Solutions Ltd., Beck Technology Ltd. Bentley Systems Inc., Nemetschek AG, Tekla Corporation, Synchro Software Ltd., AECOM, GRAITEC, Dassault Systemes SA, Trimble Inc, & Archidata Inc. Manufacturers in the building information modelling (BIM) market are focused towards launching new products, and expansions across the globe. In May 2020, with the release of a new platform called Autodesk Construction Cloud Connect, Autodesk introduced a construction cloud software. This release includes some new API programming interfaces for the framework, allowing custom BIM 360 and plan-grid connections, as well as 15 new native integration's. Thus, in the Autodesk Construction Cloud ecosystem, the total number of platforms directly integrated is more than 140.