Artificial Intelligence Platform Market has several advantages, including faster decision-making, improved customer experience, cost reduction, and increased accuracy. Accelerating the creation of AI-enabled applications is necessary for the Artificial Intelligence Platform Market in order to streamline complex tasks and automate repetitive, low-value tasks. The platform aids businesses in lowering expenses, enhancing customer experiences, boosting operational efficiency, stimulating business innovation, and enhancing decision-making. Additionally, it offers resources to aid communication between groups of people, systems, and data sources. It also provides information on how AI can be used in a variety of organisational functions, including marketing, operations, finance, customer service, etc.
Artificial intelligence platforms offer improved operational efficiency through automated, connected processes, and decision-making abilities, among other benefits. Businesses can now use AI platforms to make decisions based on data-driven insights rather than just speculation or gut feeling. Automated AI processes increase operational accuracy while lowering labour costs associated with manual labour. AI platforms are able to quickly identify online dangers and safeguard private data from intrusions or malicious behaviour. Businesses can automate routine tasks like customer service, data analysis, and analytics using AI platforms, freeing up resources for more crucial tasks. AI platforms boost productivity and enable businesses to take decisions quickly while maintaining accuracy and quality standards by delivering results more quickly than humans can process them.

The market for artificial intelligence platforms was valued at $15.7 billion in 2019 and is projected to grow at a compound annual growth rate (CAGR) of 28.4% to $60.2 billion by 2031.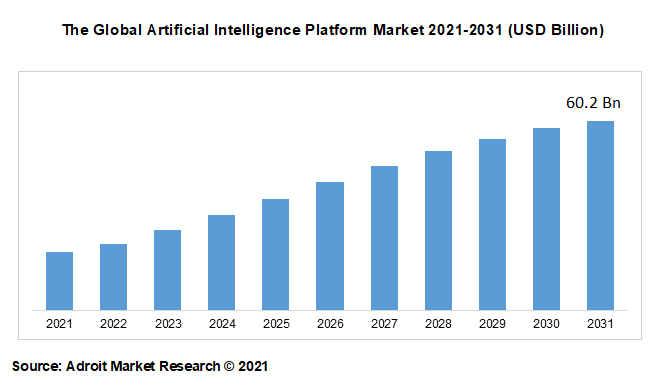 The demand for AI-driven decision making across numerous industries, including healthcare, retail, and finance, is the primary cause of this rapid growth. Additionally, over the course of the forecast period, market growth is anticipated to be further fueled by the growing adoption of cloud computing platforms and the growing accessibility of big data.
A market for technologies and services that are used to create, implement, and manage artificial intelligence solutions is known as the Artificial Intelligence Platform Market. These platforms give users access to computer vision, natural language processing, and machine learning tools that are necessary to build intelligent applications. Users can access data, build models, and use predictive analytics thanks to the platforms.
The market for artificial intelligence platforms is being driven by a number of factors. In the modern world, automation is taking on more significance as businesses seek to boost productivity and cut costs. Artificial Intelligence Platforms are expanding as a result of the demand for automation because they make it simple to automate processes in various systems. To enhance their decision-making processes and gain a competitive edge, businesses are increasingly turning to AI-powered solutions. Companies can easily develop, deploy, and manage these solutions thanks to AI platforms, which require little time and money. Due to its potential to resolve complex issues, machine learning is quickly gaining popularity among businesses. AI platforms are becoming more and more popular as they offer a complete platform for deploying machine learning applications across various systems and environments. One of the most crucial resources for companies looking to use artificial intelligence technologies is big data. The market for AI platforms is being driven by the fact that as more organisations gain access to large datasets, they need effective means of storing and analysing this data.
The artificial intelligence platform market is constrained by the need for skilled professionals to create, implement, and maintain it. Organizations are unable to fully utilise technology because of a lack of qualified personnel. Although many businesses are aware of the potential of AI, they are hesitant to adopt it because of the cost and complexity of its implementation and upkeep. The market for artificial intelligence platforms is being constrained by this. As a lot of data needs to be gathered and processed before deployment, which requires significant investments from organisations, the initial cost associated with implementing an AI solution is high. The expansion of this market is currently being constrained by this.
The processing of large amounts of data by AI applications raises security and privacy concerns, which is slowing down the adoption of AI solutions by businesses. Due to ethical concerns like algorithmic bias that must be taken into account when deploying AI solutions because they are based on machine-learning algorithms that process enormous amounts of data, this can cause delays in their implementation and subsequent adoption by organisations.
Inbenta Technologies Inc., Sentient Technologies Holdings Ltd., Vicarious AI Inc., and Ayasdi Inc. are some of the key players/manufacturers/vendors of the market that are profiled in the report. Others include Microsoft Corporation, Google LLC, IBM Corporation, Oracle Corporation, AWS, Intel Corporation, SAP SE, NVIDIA Corporation, Hewlett Packard Enterprise Company (HPE), SAS Institute Inc., and FICO.
According to type, the Artificial Intelligence Platform Market is divided into On-Premise and Cloud-based segments, both of which are growing. During the forecast period, the Cloud-based segment is anticipated to have the highest CAGR. According to the mode of deployment, the artificial intelligence platform market is divided into three categories: cloud, on premises, and hybrid. Due to its efficiency and scalability, the cloud deployment mode has been gaining popularity among businesses. Additionally, the growing use of cloud computing in numerous applications is boosting this market's expansion.
The Artificial Intelligence Platform Market is divided into Voice Processing, Text Processing, and Image Processing, with Voice Processing holding the largest market share by application. Given that it is used in speech recognition technology and natural language processing, voice processing is the largest subset of this. Chatbots, automated messaging, OCR, text analytics, etc. all use text processing. Robotics, machine vision, and image and facial recognition all use image processing. Additionally, AI platforms are utilised in biometrics, autonomous vehicles, fraud detection, and healthcare.
On the basis of region analysis, North America is in the lead. Market growth for artificial intelligence platforms is divided among North America, Europe, Asia Pacific, and the rest of the world (RoW). During the period of the forecast, North America is anticipated to dominate the market. The dominance of the region is attributed to a number of factors, including the presence of major artificial intelligence technology giants in this region, including Google, Microsoft, Amazon Web Services (AWS), and IBM Watson. Germany and France are anticipated to make significant contributions to growth in Europe as a result of an increase in the use of AI platforms by businesses to run their operations efficiently. Due to increased investments by major players in artificial intelligence startup companies in these nations, the growth in Asia Pacific countries like India, China, and Japan is being driven by these nations.
Market Status and COVID-19 Impact on Artificial Intelligence Platforms
The market for artificial intelligence platforms has been significantly impacted by the COVID-19 pandemic outbreak. As a result of businesses being forced to reduce expenses and focus spending on necessities, the pandemic's spread has resulted in a decline in demand for artificial intelligence platforms. In the second half of 2020, the market for artificial intelligence platforms is anticipated to rebound as companies restart their investments in emerging technologies that can boost productivity and competitiveness. Since cloud-based artificial intelligence platforms provide the flexibility and scalability necessary in today's uncertain business environment, demand for these platforms is expected to increase quickly. In addition, it is anticipated that in the near future demand for AI platforms will be driven by the growing use of AI in healthcare and other industries.
Recent Developments in the Artificial Intelligence Platform Market
• In 2019, the development of the artificial intelligence platform market has been fueled by the appearance of cutting-edge technologies and the widespread use of cloud-based platforms. Recent advancements in Natural Language Processing (NLP) technology have made it possible for machines to comprehend and respond to human language. Automated customer service, natural language processing, search engine optimization, and other tasks all make use of this technology.
• A branch of artificial intelligence known as machine learning enables computers to learn from data without explicit programming. With the aid of machine learning, computers can find patterns in sizable datasets and use that knowledge to predict or decide. Machine learning has become a crucial component of many AI applications thanks to its capacity for rapid scaling.
• Deep learning is a more sophisticated type of machine learning that makes use of neural networks, or computer systems modelled after the human brain, to find patterns in massive datasets and make judgements or predictions based on those patterns. Deep learning, like machine learning, can be applied to a wide range of tasks, including speech recognition, image recognition, and natural language processing (NLP).
Artificial Intelligence Platform Market Scope
| | |
| --- | --- |
| Metrics | Details |
| Base Year | 2022 |
| Historic Data | 2021-2022 |
| Forecast Period | 2022-2031 |
| Study Period | 2021-2031 |
| Forecast Unit | Value (USD) |
| Revenue forecast in 2031 | USD 60.2 billion |
| Growth Rate | CAGR of 28.4 % during 2022-2031 |
| Segment Covered | by Type, By End User, By Application , Regions |
| Regions Covered | North America, Europe, Asia Pacific, South America, Middle East and Africa |
| Key Players Profiled | Inbenta Technologies Inc., Sentient Technologies Holdings Ltd., Vicarious AI Inc., and Ayasdi Inc. are some of the key players/manufacturers/vendors of the market that are profiled in the report. Others include Microsoft Corporation, Google LLC, IBM Corporation, Oracle Corporation, AWS, Intel Corporation, SAP SE, NVIDIA Corporation, Hewlett Packard Enterprise Company (HPE), SAS Institute Inc., and FICO. |
Key Segments of the Artificial Intelligence Platform Market
By Type Overview, 2021-2031 (USD Billion)
• On-Premise
• Cloud-based
By Application Overview, 2021-2031 (USD Billion)
• Voice Processing
• Text Processing
• Image Processing
By Regional Overview, 2021-2031 (USD Billion)
North America
• U.S
• Canada
Europe
• Germany
• France
• UK
• Rest of Europe
Asia Pacific
• China
• India
• Japan
• Rest of Asia Pacific
South America
• Mexico
• Brazil
• Rest of South America
Middle East and Africa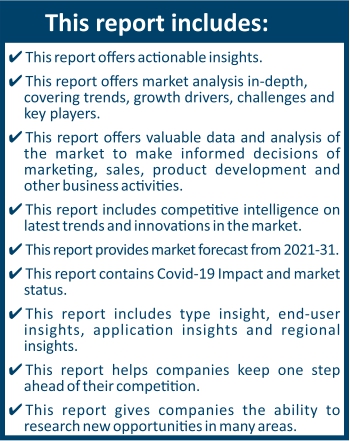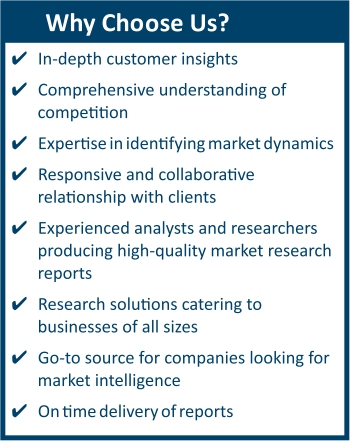 Frequently Asked Questions (FAQ) :
Artificial Intelligence Platform Market is projected to reach USD 60.2 billion by 2031, growing at a CAGR of 28.4