Focus on R&D and joint ventures to accelerate technology development to propel further growth in the Global AI In-car Assistant Market
The value of the AI In-car Assistant market is projected to grow to USD 51.90 billion with an estimated CAGR of 28.5 % by 2028
Covid-19 Impact & Market Status
The recent COVID-19 outbreak started in Wuhan (China) in December 2019 and has rapidly spread around the world since then. As of March 2020, China, Italy, Iran, Spain, the Republic of Korea, France, Germany, and the United States were among the countries with the highest number of positive cases and reported deaths. Due to lockdowns, travel bans, and company closures, the COVID-19 epidemic has impacted economies and businesses in a number of countries. As a result of the outbreak, the global food and beverage industry is one of the major businesses experiencing substantial disruptions such as supply chain disruptions, technology event cancellations, and office closures. With the presence of and the largest raw material suppliers, China is the global industrial powerhouse. The overall market breakdown due to COVID-19 is also affecting the growth of the bacon market due to shutting down of factories, obstacle in supply chain, and downturn in world economy.
The digitalization of the industry has been expedited throughout the value chain as a result of the COVID-19 epidemic. China, as a dominant market, is driving the automotive sector out of the catastrophe with a V-shaped development pattern, even more so than it was after the 2008/09 economic crisis. From the Industrialization Era forward, all stages of transition have given major new prospects, always placing efficiency and adaptability first. Nonetheless, each evolutionary stage comes with its own set of problems. When it comes to the impact on individuals and traditional automotive manufacturers' working practices, digitalization is not an incremental innovation with tiny modifications, but rather a radical one. Certain businesses are obviously in the lead when it comes to digital transformation. The same top tech giants are highlighted as state-of-the-art examples at every conference on digital innovation or panel discussion on digital capabilities: Amazon, Google, Alibaba, Uber, and Tencent, to name a few. These same players are now entering the automotive business, fighting traditional OEMs and suppliers on their turf, alongside creative and successful startups. The lines separating technology businesses from other industries are blurring. New players are entering marketplaces as competitors as well as partners with incumbent players. Furthermore, almost every automotive firm currently appears to have aspirations to become a technology company – and with good reason, given the necessity for customer centricity and the growing relevance of software in their operations. As if these pressures weren't enough, automakers now have to contend with clients' unparalleled expectations for convenience, sustainability, affordability, and personal experience, to name a few. Customers do not view automobiles and/or mobility as stand-alone products, but rather as integral components of their ecosystems that must be seamlessly connected and tailored. People build similar expectations about OEMs and mobility players in general when they go through diverse customer journeys in other industries. In the automotive industry, one of the most pressing concerns and problems for OEMs is to provide an appealing and appropriate consumer experience. The place of departure, as always, is obvious, but the destination and route are less so.
This research report offers a detailed market outlook of the global AI in-car assistant market depending upon the current economic situation and developments in the application, type, and regional segments. It does a deep analysis of the impact of covid-19 on the market and recovery strategies applied by market players to restore the growth trends and maintain market competitiveness. The in-depth insights documented in the report enable well-informed investment decisions by for the new payers, aspirants, and also the well-established ones in the global AI in-car assistant market.
Voice Recognition AI In-car Assistant Type to Emerge as the Most Lucrative Segment
Global AI in-car assistant market is classified into voice recognition, onboard diagnostics, other type segments. Among these, the voice recognition type AI in-car assistant is poised for substantial market growth in the years ahead. Digital voice-activated assistants have caused quite a stir, with their presence felt on laptops, smartphones, smartwatches, automobiles, and even in homes. With impressive and increasing advancements in natural language comprehension and speech accuracy rates, the technology has led to an increasing desire for enterprises to continue creating voice-enabled solutions that reach beyond the private sector. Voice activation in cars is being reshaped by companies like Apple, Nuance, and Google. To perform exactly what the owner can do using in-vehicle voice control, it depends on the automobile the driver is driving. The car driver can also control text messages or have them read out loud to him or her by the system. The AI-based speech recognition system, on the other hand, is expected to be the fastest-growing market over the projected period, thanks to technical improvements.
Passenger Vehicles Applications to Ensure Revenue Maximization
Global AI in-car assistant market is classified as Passenger Vehicles, and Commercial Vehicles, Conference type applications. Among these, passenger vehicles type AI in-car assistant application segment is poised for substantial market growth in the years ahead. Artificial intelligence is one of the most important technologies to emerge in recent years (AI). Technology is being used in a variety of businesses to simplify processes and operations. AI is being increasingly used in the automobile sector, just as it is in other industries, to make vehicles safer and more secure. The technology is being used in entertainment systems that are now acting as personal assistants for drivers, assisting them with navigation and responding to voice commands. Both commercial and passenger automobiles generate data, necessitating the use of memory; however, in the past, passenger cars posed the greatest demand for memory. This is because passenger automobiles are produced at a higher rate than commercial vehicles. Furthermore, in the automotive sector, new technologies are first deployed in passenger vehicles for testing purposes.
Backed by Immense Development Potential North America AI In-car Assistant Market to Sail Ahead
Performance analysis of global AI in-car assistant market based on regional segmentation states that North America is the most mature market for AI in-car assistant adoption and investments. The region is likely to garner maximum revenue share of global AI in-car assistant market in the years ahead, mostly from 2021 to 2027.
This is evident from rapid investments in new digital technologies, shift in user preferences, applications in various industry verticals such as gaming, content creation, commercial vehicles media, and conference across leading countries in the region such as Canada and United States.
Additionally, technological advancements due to various research and developments initiatives, the presence of tech giants, commercial mergers and partnerships, expansions of the leading companies in regional and global market are improving the growth feasibility of global AI in-car assistant market in North America.
Because of the presence of significant manufacturers in this region, North America is likely to be the most dominating region in the Automotive Artificial Intelligence market. Furthermore, advanced technology for developing artificial intelligence programmes is considerably more readily available in this region than in others. The growing expectation of autonomous vehicles in the United States has aided the expansion of the automotive artificial intelligence sector in this country. Favourable government regulations, together with Ford Motor Company, General Motors, and Fiat-Chrysler Automobile leading the charge in the development of artificial intelligence in the automotive industry by continuously improving their products, will have a beneficial impact on the market.
Leading AI companies are working on improving their R&D capabilities and forming strategic relationships with other leading companies in order to accelerate the technological development cycle. Audi, for example, teamed up with Alibaba AI Labs, Honda, and Renault in June 2019 to focus on AI and speech technology research and development. The cooperation enabled Tmall Genie Auto technology to be integrated into the company's vehicles, allowing drivers to manage their vehicles using voice commands and enabling an intelligent linked ecosystem for drivers. To achieve considerable business growth, new entrants are focusing on raising investor finance and developing new products. For example, ARGO AI, an autonomous vehicle start-up, received USD 2.6 billion in capital and assets from the Volkswagen Group in July 2019. The money enabled the company to double its employees and take on Volkswagen's autonomous technology development division.
The recent COVID-19 outbreak started in Wuhan (China) in December 2019 and has rapidly spread around the world since then. As of March 2020, China, Italy, Iran, Spain, the Republic of Korea, France, Germany, and the United States were among the countries with the highest number of positive cases and reported deaths. Due to lockdowns, travel bans, and company closures, the COVID-19 epidemic has impacted economies and businesses in a number of countries.
The growing prevalence of autonomous vehicles for enhanced driver comfort and decreased accidents is attributed to the expansion of AI in the automotive business. According to the National Highway Traffic Safety Administration in the United States, driverless vehicles might save $300 billion by 2025 by reducing collisions and enabling safe driving. The market revenue will be supplemented by consumers' growing positive perceptions of autonomous technologies. The demand for autonomous vehicles will skyrocket throughout the projection period, as customers rapidly adopt driver-assist technologies to minimize driving load and improve road safety. To gain a competitive advantage, automakers are recognizing these trends and providing novel driver aid solutions. Another element driving AI's market share in the automobile industry is the growing desire for driver convenience and improved mobility. Autonomous technologies can enable those with impairments and the elderly to gain access to self-driven mobility while also lowering truck and bus driver fatigue over long distances.
Autonomous vehicles are becoming more popular around the world as a result of features like autonomous parking, self-driving, autopilot, and others that reduce the human effort when driving. Furthermore, such autonomous vehicles are backed by some of the most technologically sound corporations in the world, including Nvidia, Intel, and Tesla, among others, reducing the risk of failure. Tesla's autopilot system, for example, is one of the most advanced systems available in the automotive artificial intelligence industry, with capabilities such as keeping the car within a lane while driving, auto changing lanes, if necessary, self-parking, and others. Furthermore, autonomous cars are expected to drastically reduce the need for human intervention and will be critical in industries with a shortage of manpower for transportation needs. This, in turn, is projected to propel the automotive AI market forward.
However, from 2021 to 2027, market demand may be hampered by high-cost autonomous technology, concerns with self-driving car accidents, and cyber-attacks on connected vehicles.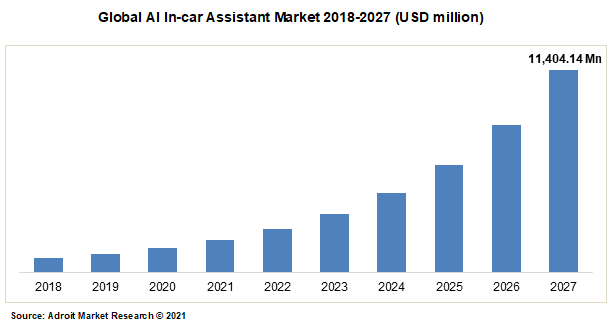 The major players of the global AI in-car assistant market are Amazon.com, Inc., AutoX, Inc., Apple Inc., Artificial Solutions, Cerence Inc., GenieTalk Pvt. Ltd., Robert Bosch GmbH., Nuance Communications, Inc., IBM Corporation, and Alphabet Inc.
Among all other established and emerging companies and investors. These market players are spread across the world and are aggressive in developing new technologies to lead the market and improve revenue growth. Furthermore, the market players to stay ahead of the competitive landscape are unravelling strategic initiatives like mergers and acquisitions, new product portfolios, and technological innovations.
Latest Innovations in the Global AI In-car Assistant Market: Snapshot
Autonomous cars are classified according to their level of autonomy. Level 5 cars are autonomous and do not require human interaction to operate safely. The majority of autonomous vehicles on the road today, such as the Cadillac CT6 and Audi A8, are classified as level 2 or level 3 and can handle at least two functions simultaneously, but they still require a human driver for safe operation. A huge variety of different components are used in autonomous vehicles. Google's self-driving prototype vehicles, for example, use radar, lasers, sonar, and cameras. Nearly 64 laser beams and a slew of sensors are used in Uber's prototypes. These sensors collect data from the environment and communicate it to software, which interprets the information and sends it to actuators that regulate operations like braking and acceleration.
Predictive analytics is used by shared mobility firms like DiDi Chuxing to estimate the type of transportation required and the intended amount, and then dispatches appropriate vehicles based on the requirement. Tesla's Model 3, X, and S now have self-driving capabilities and autopilot, which receives signals from an AI algorithm that interprets sensory input. Tesla's autopilot may even check the driver's meeting schedule and drive him or her to the location. Countries like Japan are dealing with an aging population, and AI-powered autonomous cars could be a fantastic mode of transportation for the elderly and physically challenged. Artificial intelligence can gather information from social media and a driver's daily behaviors in order to recommend stores and other key activities. When it detects a low fuel indicator, it will direct to the nearest gas station or charging station.
AI In-car Assistant Market Scope
| | |
| --- | --- |
| Metrics | Details |
| Base Year | 2020 |
| Historic Data | 2018-2019 |
| Forecast Period | 2021-2028 |
| Study Period | 2018-2028 |
| Forecast Unit | Value (USD) |
| Revenue forecast in 2028 | USD 51.90 billion |
| Growth Rate | CAGR of 28.5 % during 2021-2028 |
| Segment Covered | Product, Technology, Application, Regions |
| Regions Covered | North America, Europe, Asia Pacific, Middle East and Africa, South America |
| Key Players Profiled | Customer Inc., Amazon.com, Inc., Apple Inc., Baidu, Inc., Clara Labs, CSS Corp., Creative Virtual, CodeBaby Corporation, eGain Corporation, Google Inc., IBM Corporation, Kognito, Microsoft Corporation, MedRespond, Next IT Corp., Nuance Communications, Inc., Oracle Corporation, True Image Interactive, Inc., Verint, Welltok, Inc. |
Key Segments of the Global AI In-car Assistant Market
Type Overview, 2018-2027 (USD million)
Voice Recognition
Onboard Diagnostics
Others
Application Overview, 2018-2027 (USD million)
Passenger Vehicles
Commercial Vehicles
Regional Overview, 2018-2027 (USD million)
North America
Europe
Germany
France
UK
Rest of Europe
Asia Pacific
China
India
Japan
Rest of Asia Pacific
South America
Mexico
Brazil
Rest of South America
Middle East and South Africa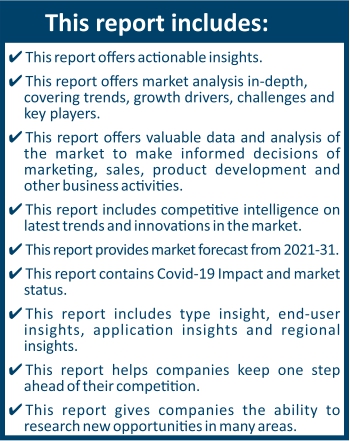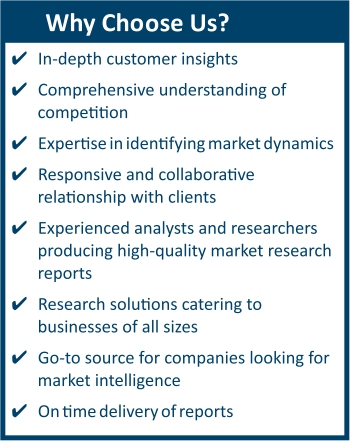 Frequently Asked Questions (FAQ) :
The global AI in-car assistant market is expected to grow at a compound annual growth rate of 35.57% from 2021 to 2027 to reach USD 11,404.14 USD million by 2027.
The base year for the report is 2020.
Amazon.com, Inc., AutoX, Inc., Apple Inc., Artificial Solutions, Cerence Inc., GenieTalk Pvt. Ltd., Robert Bosch GmbH., Nuance Communications, Inc., IBM Corporation, and Alphabet Inc. are some of the major players operating in the AI in-car assistant market.
The report sample for AI in-car assistant market report can be obtained on demand from the website. Also, the 24*7 chat support & direct call services are provided to procure the sample report.