The market for passenger vehicles is influenced by a number of variables, including urbanization, population growth, and economic expansion. Individuals' rising disposable income has increased interest in cars as they become more accessible. Likewise, it has been simpler for people to buy cars thanks to the expansion of financing choices including loans and leasing plans. Furthermore, the industry is anticipated to rise as a result of technological developments like the creation of electric and driverless vehicles. The demand for passenger automobiles will also rise as a result of government measures to lower air pollution by offering incentives for green technologies. Furthermore, it is anticipated that increased investments in infrastructure and public transportation would exploit and development for passenger vehicle makers.
The rising population and consumer income levels have led to a major increase in the demand for passenger automobiles in recent years. People are searching for safe, dependable, and comfortable transportation options as they have more money to spend. Due to this, there is now a higher need for passenger automobiles and commercial vehicles. Governments all across the world have also put in place a number of measures and policies, like tax breaks and subsidies, to encourage the use of passenger automobiles. The requirement for passenger vehicles has grown even more as a result of these actions.
Any motorised vehicle intended to transport passengers, such as automobiles, vans, SUVs, and pickup trucks, is referred to as a passenger vehicle. Passenger vehicles are used for many different types of travel, including commuting, performing errands, and leisure travel including road vacations and sightseeing. Additionally, there are many different situations in which passenger vehicles are used, from personal use to business and public purposes including public transportation, carpooling, and transportation services.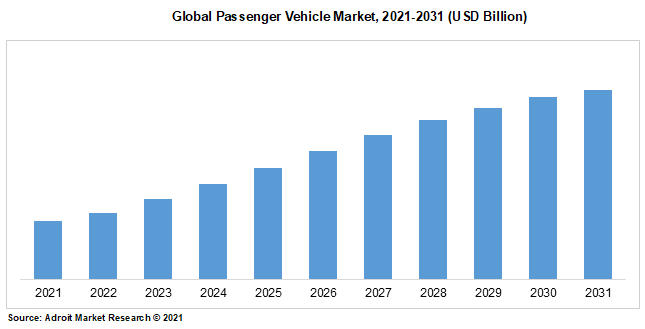 The passenger vehicle market is currently confronting a number of difficulties, including rising raw material costs, strict emission and safety rules, and the growing danger of substitute products. In the years ahead, it is also anticipated that the fluctuating cost of fuel and the escalating level of competition from low-cost categories will have a detrimental effect on the market's expansion. However, it is expected that this industry will see lucrative opportunities as a result of the growing demand for electric vehicles and the creation of cutting-edge innovations like identity cars.
Segment Analysis
The 5-people Type emerged as the Most Booming Segment
According to types, the segment of 5 persons is expected to expand at the greatest CAGR of 6.2% from 2021 to 2031. Because they are more readily available and more reasonably priced than luxury vehicles, cars with greater seating capacities are becoming increasingly common. This can be associated with an increasing demand for passenger vehicles in emerging nations.
The Most Prominent Application Segment is the Commercial Vehicles
Commercial vehicles are anticipated to experience strong growth in terms of applicability over the forecast period. This is a result of the rising demand for transportation options in developing nations like China and India, where commercial vehicles are preferred over passenger automobiles because they are more affordable.
The Fleet Operators to emerge as the Most Promising End-user
The market is divided into fleet operators, car rental businesses, individual clients, and others based on end users. The category for fleet operators is predicted to increase at the greatest pace of all during the projection period. This might be attributable to the rising demand for commercial cars from both providers of private sustainable mobility and public passenger transportation.
The North American Region to render Ample Financing Opportunities
Geographically, the Asia Pacific region is anticipated to lead the industry and generate more than 37% of the revenue from the global passenger car market. This is because several significant automakers are present in nations like China and Japan, which are key contributors to the region's automotive sector.
COVID-19 Impact and Market Status
The COVID-19 pandemic has had a significant effect on the passenger car market, causing a decline in demand for vehicles as a result of travel bans, lockdowns, and production suspensions in nations like India and China, as well as other global effects. The outcome was a major drop in the passenger vehicle market in 2020. Meanwhile, the market is anticipated to progressively recover throughout the years 2021–2031, as a result of the removal of limitations and the reopening of manufacturing facilities.
Honda Motor Co., Ltd., SAIC Motors Corporation Limited, Toyota Motor Corporation, General Motors, Volkswagen AG, Nissan Motor Co. Ltd., Hyundai Motor Group, Suzuki Motor Corporation, Tata Motors Limited, and Ford Motor Company are the major players in the passenger car market. These businesses have a significant footprint across the globe thanks to their wide range of products and distribution facilities.
Recent Developments in the Passenger Vehicle Market
• A South Korean SUV manufacturer, SsangYong Motor Company, announced plans to introduce the EV6 as their next electric car in April 2020. Customers should receive cutting-edge technologies and an improved driving experience from this new EV6 model. Additionally, Renault just introduced the Kwid small car in India, increasing its market share in the passenger vehicle sector.
• The new ID.4 crossover, which will be Volkswagen AG's first entirely electric vehicle sold in the US market, will go on sale in April 2021, the company announced. A number of cutting-edge features, including a long-range battery and quick charging capabilities, are included in the model. The EQV, EQA, and EQB models are among the electric vehicle models that Mercedes-Benz plans to introduce in 2021 under the brand name EQ.
Passenger Vehicle Market Scope
Metrics

Details

Base Year

2020

Historic Data

2020-2021

Forecast Period

2022-2031

Study Period

2021-2031

Forecast Unit

Value (USD)

Growth Rate

CAGR

6.2%

of during 2022-2031

Segment Covered

by Type, by Application, by End User, Regions

Regions Covered

North America, Europe, Asia Pacific, Middle East and Africa, South America

Key Players Profiled

Honda Motor Co., Ltd., SAIC Motors Corporation Limited, Toyota Motor Corporation, General Motors, Volkswagen AG, Nissan Motor Co. Ltd., Hyundai Motor Group, Suzuki Motor Corporation, Tata Motors Limited, and Ford Motor Company
Key Segments of the Global Passenger Vehicle Telematics Market
Type Overview, 2021-2031 (USD Billion)
Application Overview, 2021-2031 (USD Billion)
Passenger Cars
Commercial Vehicles
End-User Overview, 2021-2031 (USD Billion)
Fleet Operators
Car Rental Companies
Individual Customers
Regional Overview, 2021-2031 (USD Billion)
North America
Europe
Germany
France
UK
Rest of Europe
Asia Pacific
China
India
Japan
Rest of Asia Pacific
South America
Mexico
Brazil
Rest of South America
Middle East and South Africa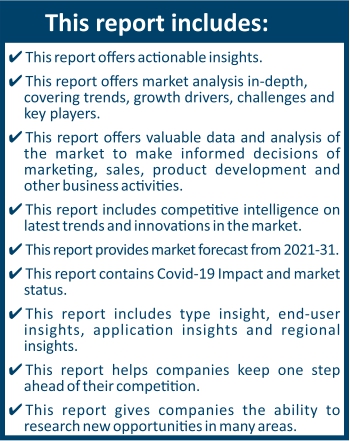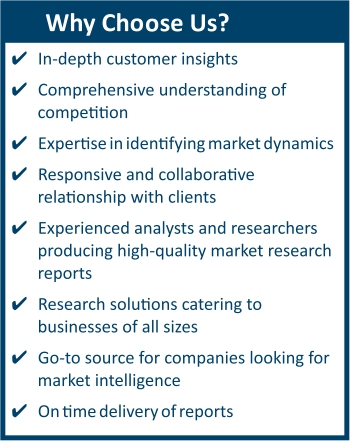 Frequently Asked Questions (FAQ) :
The Passenger Vehicle Telematics market is growing at a CAGR of 6.2% during the projection period
The top leaders analyzed in the Passenger Vehicle Telematics market study are The Nokian Tyres plc, Kumho Tire Co., Inc., Toyo Tire & Rubber Co., Ltd., Goodyear Tire & Rubber Company, Continental AG, Pirelli & C. S.p.A, Bridgestone Corporation, Hankook Tire Co., Ltd., Yokohama Rubber Co., Ltd., and Michelin Group