The global autonomous vehicle market is expected to reach nearly USD 13 billion by 2025 and anticipated to grow at a CAGR of ~35% from 2020 to 2025. The autonomous vehicle also termed as self-driving cars implement RADAR sensing technology, light detection and ranging (LiDAR) technology, and artificial intelligence, which is further utilized to detect a 60-meter radius around the vehicle and to produce an active 3D map of the present environment. Additionally, the vehicles are designed that are capable of traveling to various destinations without manual intervention.
The value of the Autonomous Vehicle market is projected to grow to USD 1808.44 billion with an estimated CAGR of 38.8% by 2030
Technological improvements are making a continuum between the traditional, fully human-driven automobiles and autonomous vehicles, which partly or completely drive themselves and which might eventually need no driver at all. This continuum includes technologies such as adaptive cruise control (ACC), crash warning systems, self-parking technology, lane-keeping systems, among others that facilitate a vehicle to help and make assessments for a human driver.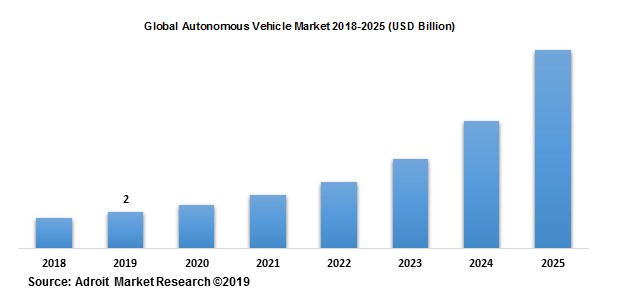 As AV technology is developing with substantial leaps and bounds, it advances from demanding driver assistance to full autonomy. With numerous companies making striving efforts in this space, self-driving vehicles are anticipated to become a reality momentarily. The surge within the AV industry has also caused radical shifts in profit pools, value chains, and required abilities that could merge completely new industries into the automotive world.
In 2019, Japanese automakers Toyota and Subaru announced the expansion of their 14-year-old partnership to develop new automobiles in the coming years. the collaboration will span combined research & development, and manufacturing of electric vehicles (EV) and autonomous vehicles (AV). Toyota also announced to raise a stake in Subaru to 20 percent, earlier from 16.8 percent and the two organizations will invest proactively in new technologies fit for the connected, autonomous, shared & electric (CASE) automobiles.
Autonomous Vehicles Market Scope
| | |
| --- | --- |
| Metrics | Details |
| Base Year | 2022 |
| Historic Data | 2020-2021 |
| Forecast Period | 2022-2030 |
| Study Period | 2020-2030 |
| Forecast Unit | Value (USD) |
| Revenue forecast in 2030 | USD 1808.44 billion |
| Growth Rate | CAGR of 38.8 % during 2022-2030 |
| Segment Covered | By Application, By Level of Automation, By Propulsion, By Vehicle, Region. |
| Regions Covered | North America, Europe, Asia Pacific, South America, Middle East and Africa |
| Key Players Profiled | BMW AG, Audi AG, Ford Motor Company, Daimler AG, Google LLC, General Motors Company, Nissan Motor Company, Honda Motor Co., Ltd., Toyota Motor Corporation, Tesla, Volvo Car Corporation, Uber Technologies, Inc., and Volkswagen AG |
Key Segment Of The Autonomous Vehicle Market
By Application, 2022-2030(USD Million)
o Civil
o Defense
o Construction
o Transportation
• Commercial transportation
• Industrial transportation
By Level of Automation, 2022-2030(USD Million)
• Level 1
• Level 2
• Level 3
• Level 4
• Level 5
By Propulsion Type, 2022-2030(USD Million)
• Semi-autonomous
• Fully Autonomous
By Vehicle Type, 2022-2030(USD Million)
• Passenger Car
• Commercial Vehicle
Regional Overview, 2022-2030 (USD Million)
North America
• US
• Canada
Europe
• Germany
• France
• UK
• Rest of Europe
Asia Pacific
• China
• India
• Japan
• Rest of Asia Pacific
South America
• Mexico
• Brazil
• Rest of South America
Middle East and South Africa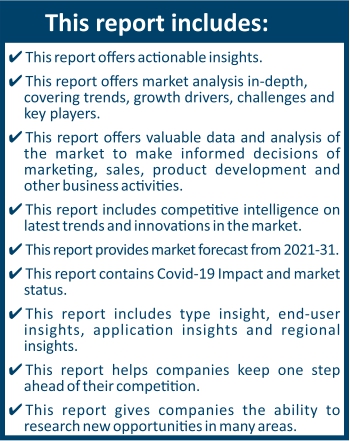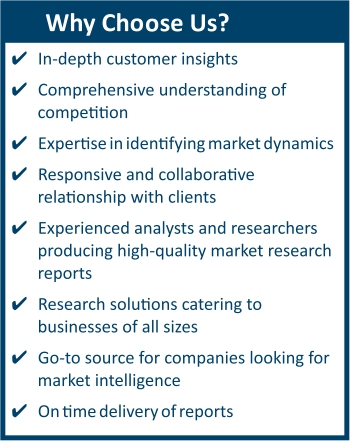 Frequently Asked Questions (FAQ) :
The market value of autonomous vehicle market in 2025 was USD 13 billion.
The autonomous vehicle market is growing at a CAGR of 35% over the forecast period.
North America dominated the market for autonomous vehicle market and accounted for the largest revenue share.
The top companies that hold the market share in autonomous vehicle market are Audi, Google, BMW, Tesla Motors, Volvo, nuTonomy, General Motors, and Mercedes-Benz & among others.
To get latest version of autonomous vehicle market report can be obtained on demand from the website.
Organizations around the globe are working on delivering autonomous vehicle's projected social benefits. These comprise the prospect of more efficient freight services and public transport, improved road safety, and cleaner cities with more room for green spaces and people. There are also probable challenges to mitigate, such as vast changes to labor markets as well as industries including cybersecurity and privacy risks, motor insurance, and greater suburban sprawl.
The autonomous vehicles will enable all the vehicle passengers to read, rest, work, and stream videos, along with facilitating safety features. According to the New York Times in 2017, manufacturers shall probably make vehicles equipped with seats that can be converted into mobile offices and beds. However, for the foreseeable future, the self-driving vehicles will be incapable to function on unpaved roads, snow or heavy rain, or where special maps and GPS services are relatively slow, or inaccessible in the mixed urban traffic. Micro-transit services and self-driving taxis are likely to be cheaper compared to the human-operated taxis, however delivering minimal service quality.
Component Segment
On the basis of the component of autonomous vehicles, the market is categorized into hardware, and software & services. Autonomous vehicles include various technologies such as LiDAR, RADAR, computer vision, and GPS, so as to sense the nearby environment. Advanced control structures that are connected to the vehicle can construe the sensory inputs to avoid collisions or identify the signboards. Most of the autonomous vehicle systems produce and maintain an internal map of the environment, derived on a range of sensors, such as radars. In 2019, Sony will be introducing a silicon-based vision sensor dedicated to autonomous vehicles, thus, joining the global competition to advance in the LiDAR vision-sensing technology in the near future.
Vehicle Segment
On the basis of vehicles, this market covers categories like passenger cars, low commercial vehicles (LCV), Medium commercial vehicles (MCV), and high commercial vehicles (HCV). In 2019, the market for autonomous passenger vehicles was valued at 53% market share and is anticipated to dominate the market over the forecast period. With the help of the internet of things (IoT), vehicle drivers enhance their performance by getting real-time data from high-speed in-built computing systems in connected cars. These inbuilt computers enable features such as analyzing, collecting, and storing information that assists in decision making. The wide acceptance of connected cars is anticipated to offer lucrative opportunities for autonomous vehicles in the coming future.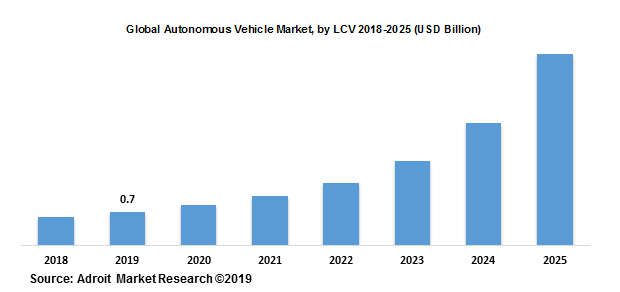 On the geographical front, North America dominated the global autonomous vehicles market in 2019 and is expected to do so over the forecast period 2019 – 2025. The region is presented potential prospects for key stakeholders owing to the obtainability of high-end infrastructure, government initiatives, and growing investments from automotive companies. Canada has experienced substantial growth, particularly due to vigorous government investments in technology that support IIoT solutions.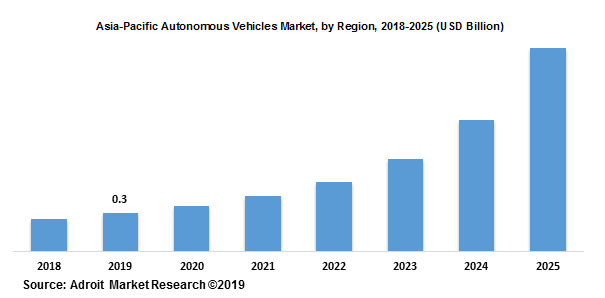 The growth for the autonomous vehicles market in the Asia Pacific region is expected to be the largest during the forecast period. In the coming years, the market in China is likely to surpass in terms of revenue compared to the European as well as the American market for self-driving cars. The adoption of autonomous vehicles in South America, as well as the Middle East & Africa, is anticipated to be less compared to the other regions. In general, the overall autonomous car industry is projected to grow at a considerable rate during the forecast period considering its noteworthy benefits with respect to traditional vehicles.
The major players of the global autonomous vehicles market are Audi, Google, BMW, Tesla Motors, Volvo, nuTonomy, General Motors, and Mercedes-Benz, among others. As of 2019, the market for autonomous vehicle providers is fragmented with the presence of established global and domestic players across the globe. Moreover, the established companies are coming up with upgraded connected cars and autonomous vehicle technologies to offer innovative solutions to the customers so as to capture a higher market share.