Animated advertising videos are practical business tools with numerous benefits. There are several reasons your business should utilize animation advertisements, but the primary reason is that these movies are excellent for developing a common language with your audience. Video has become one of the most popular forms of media, and incorporating animated video commercials into your product launch is the ideal approach to reach your target audience through promotion animation.
Creativity distinguishes your brand. People are tired of promotional speeches and conventional advertising methods. They desire something novel and inventive. An animated ad may showcase your team's ingenuity and innovation to their fullest extent. Long explanations and product pitches are not utilized in this style of advertising. It engages the audience, attracts their attention, and piques their interest in a brand.
With advertising animations, these companies are attempting to capitalize on various benefits: Increasing brand recognition. One of the best ways to reach potential customers and viewers is through a marketing animation video. While other movies, such as an explainer, are primarily intended for existing consumers, animation advertising should attract new customers and highlight your brand's best attributes.
It might lead to an increase in convert. Using advertising animations to enhance your business's conversion rate on the internet market is an ideal strategy. On social media platforms, blogs, and other websites, it is optimal to introduce your goods to a new, larger audience.
Another benefit is growth in sales. Over time, there has been a consistent rise in the amount of video content being consumed. According to Statista, the number of online video content watchers reached 2.6 billion in 2019 and is continually expanding. Therefore, the optimal method for promoting your product is to make an animated advertisement and incorporate it into other video content.
Need to have proper road map of product release. Animated ads work best when presenting a new item to the audience. It can precisely describe the development and list its benefits for your present and prospective clients.
An animated commercial ad is defined as a 10- to 40-second animated commercial ad consisting of a piece of media used to promote a company's goods or services.. Animation in advertising is a creative, amusing, and unobtrusive form of advertisement. Most frequently, brands employ them in television and social media advertising campaigns.
According to estimates, the global advertising animated film making industry will reach around 642.5 billion US dollars by 2031, expanding at a CAGR of 5.2% from 2022 to 2031. It was estimated to be worth $354.7 billion in 2021.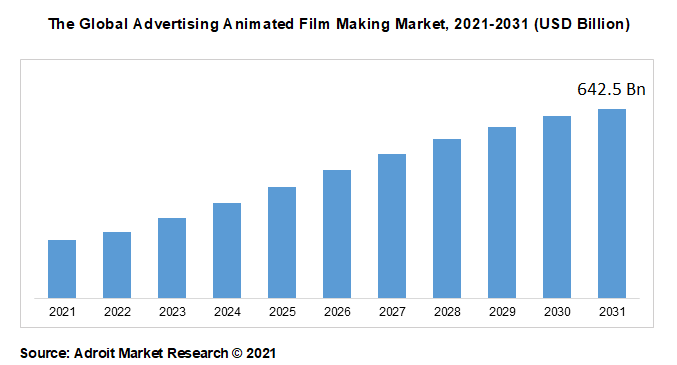 Animations can be costly to create and time-consuming to distribute. It gets challenging to customize. The absence of audience control is the main drawback of using animation ads in marketing. You must have sufficient time and funds to make an excellent animation and verify that everything is done right before uploading it to the Internet. Otherwise, your brand or product will not produce optimal outcomes. The storage and memory requirements of animation technology are considerably higher. It requires a rapid and steady internet connection and consumes more data.
The creation of animation requires a substantial investment of effort and time. It works well from a technology aspect. Even so, it could be challenging for instructors to include this concept in their syllabus.
Covid 19 Impact and market status
Even if the animation business has continued to operate at a slower pace throughout the coronavirus crisis, this does not imply that it has not been severely impacted. Our conversations with animation studios, independent workers, and production companies from ALICE's territories indicate that the transition to working from home has been relatively successful; however, the crisis has had varying effects on production pipelines, productivity, and revenue, depending on the studio. Globally, the pandemic's effects on the entire industry are still challenging to assess. Producing an animated picture takes longer than making a live-action one.
SEGMENT ANALYSIS
Region-wise
The region with the maximum rate of growth during the predicted period will be Asia-Pacific.
The highest CAGR is anticipated to be seen in Asia-Pacific. To assist the ever-expanding media and entertainment business, the region has heavily emphasized the formalization of professional animation services. Countries like New Zealand and Singapore have developed as hubs due to their ecosystem of animation schools that offer advanced education in various fields.
Industry Wise
The media and entertainment business is anticipated to be the leading industry segment in 2020, with the largest market share. Its rising popularity can be used as justification for the expansion. In addition, the automobile category is expected to grow at a special rate and increase market revenue.
Type Wise
Based on type, 2D animation products will shortly register the highest market share. The expansion is attributable to its increasing use in numerous industrial verticals worldwide. Alongside this, the motion graphics product type segment will rise rapidly and will soon fuel the expansion of the animation business.
Market key players
Grom Social Enterprises, Inc; Sony Group Corporation, The Walt Disney Company, Walmart Inc., and GRAVITY Co., Ltd. are among the firms that are prevalent in the market today.
Latest innovations in the Global Advertising Animated Film Making Market: a Snapshot
• iPi Soft releases iPi Motion Capture in March 2021 as a new set of improvements and development tools for its Unreal Engine. These updates include motion transfer to the 3D character, real-time motion tracking, and animation feeding into Unreal Engine. This allows artists to see real-time motion working in Unreal Engine in their particular 3D contexts and on their surface.
• Sept. 2021 - Toon Boom Animation released the newest version of Toon Boom Harmony: Harmony 21, which provides 2D animations of film quality for video games, enhancing paperless animation. By altering the size and bitmap brushes, users may control the speed, pressure, and tilt position of their stylus.
Advertising Animated Film Making market Scope
| | |
| --- | --- |
| Metrics | Details |
| Base Year | 2022 |
| Historic Data | 2021-2022 |
| Forecast Period | 2022-2031 |
| Study Period | 2021-2031 |
| Forecast Unit | Value (USD) |
| Revenue forecast in 2031 | USD 642.5 billion |
| Growth Rate | CAGR of 5.2 % during 2021-2030 |
| Segment Covered | by Product Typ, by industry, Regions |
| Regions Covered | North America, Europe, Asia Pacific, South America, Middle East and Africa |
| Key Players Profiled | Grom Social Enterprises, Inc; Sony Group Corporation, The Walt Disney Company, Walmart Inc., and GRAVITY Co., Ltd. are among |
Key Segments of the Global Advertising Animated Film Making Market
By Product Type Overview, 2021-2031 (USD Billion)
• 2D Animation
• 3D Animation
• Motion graphics
• Stop Motion
• Others
By Industry Overview, 2021-2031 (USD Billion)
• Direct
• Education
• Media and Entertainment
• Aerospace and Defense
• Automotive
• Healthcare
• Others
By Regional Overview, 2021-2031 (USD Billion)
North America
• U.S
• Canada
Europe
• Germany
• France
• UK
• Rest of Europe
Asia Pacific
• China
• India
• Japan
• Rest of Asia Pacific
South America
• Mexico
• Brazil
• Rest of South America
• Middle East and Africa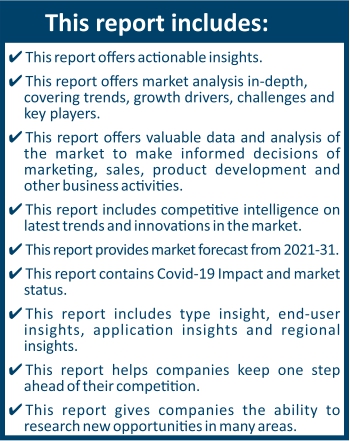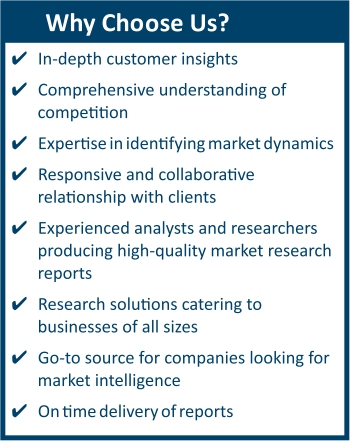 Frequently Asked Questions (FAQ) :
The global Advertising Animated Film Making market size projected to reach by USD 642.5 Billion.
The Advertising Animated Film Making market is growing at a CAGR of 5.2 % during the projection period
The key market players listed in the Advertising Animated Film Making report are Grom Social Enterprises, Inc; Sony Group Corporation, The Walt Disney Company, Walmart Inc., and GRAVITY Co., Ltd. are among