Predictions reveal that by 2028 global actuators market will exceed USD 90.01 billion value with and annual growth rate of 8.3% from 2021 to 2028. This superlative growth of actuators is attributed to consumption strength and increased demand for new actuators in automotive, robotics, electronics, and healthcare industry. Additionally, the smart city projects growing worldwide, designing and development of innovative machines requiring actuators are some key factors that have given a strong fillip to the global actuators market.
However, while the market is at a stable growth curve the global actuators market is hampered by leakage repairs involving tedious works, high maintenance costs, competitive pricing standards, and consumers failing to meet requirements. Furthermore, smart water management technology, rise in exploration activities, revitalization of existing facilities is anticipated to provide opportunities to the global actuators market growth.
Actuator is a device or machine that controls the movement and mechanism of a system. Actuators are used to achieve highest precision, control motion of a system, offer custom speed, and decrease risk of workers. An actuator is a device used to conveniently produce mechanical energy from electrical energy.
Machine used in electric motors, stepper motors, or jackscrews can also be classed under actuators. The global actuators market is comprised of new emerging players and established firms. Market players to strengthen their market position are rushing to find stronger and faster actuators than the conventional ones.
Manufacturing and medical device industries are the largest users of actuators. In the same context, Emerson, world's leading player in global actuators market has designed reliable and efficient pneumatic actuators for extreme environments and critical applications. The pneumatic actuators have high performance or safety. The most important aspects focused are the size and weight of the actuators. Many such companies are coming up with new and advanced actuators strengthening their market position thereby propelling the global actuators market.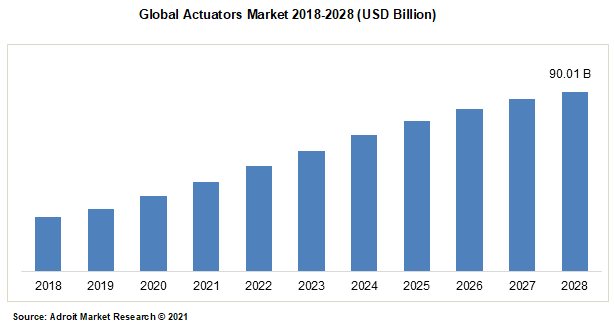 The top manufacturers, suppliers, and exporters in the global actuators market are SMC, Rotork, Parker Hannifin, Flowserve, and Emerson Electric. These companies sale actuators under different brand names. They provide different variants of peneumatic and hydraulic actuators. The actuators have are expert in motion and embedded with advanced control technologies. Moreover, the actuator designs are customized. Thus, such solutions to the industry segments have strengthened their position in the global actuators market.
Actuators Market Scope
| | |
| --- | --- |
| Metrics | Details |
| Base Year | 2020 |
| Historic Data | 2018-2019 |
| Forecast Period | 2021-2028 |
| Study Period | 2018-2028 |
| Forecast Unit | Value (USD) |
| Revenue forecast in 2028 | USD 90.01 billion |
| Growth Rate | CAGR of 8.3% during 2021-2028 |
| Segment Covered | Type, Application, Actuation, Regions |
| Regions Covered | North America, Europe, Asia Pacific, Middle East and Africa, South America |
| Key Players Profiled | SMC, Rotork, Parker Hannifin, Flowserve, and Emerson Electric. |
Key Segments of the Global Actuators Market
Type Overview, 2018-2028 (USD Billion)
Application Overview, 2018-2028 (USD Billion)
Automotive
Robotics
Electronics
Healthcare
Others
Actuation Overview, 2018-2028 (USD Billion)
Electrical
Pneumatic
Hydraulic
Regional Overview, 2018-2028 (USD Billion)
North America
Europe
Germany
UK
France
Rest of Europe
Asia Pacific
China
Japan
India
Rest of Asia Pacific
South America
Brazil
Mexico
Rest of South America
Middle East and Africa
Reasons for the study
To provide research-based insights and unique strategies useful for operating in the global actuators market.
To ensure you are aware of the current trend and other events taking place in the market and future growth opportunities.
Ensure that the market players get in-depth and high-quality knowledge about the actuators market.
What does the report include?
Solutions addressing significant problems or issues in the market.
Briefings from industry vendors about their products and services.
The report includes qualitative and quantitative factors having a major influence on the global actuators market such as drivers, restraints, opportunities, market sizes, GDP, annual growth rate, and future revenue forecasts.
Who should buy this report?
Market players operating in the value chain including raw material suppliers, manufacturers, professionals, and researchers.
Actuators engineers, developers, consultants, architects, programmers, and all the interested public can also refer the global actuators market report.
The growing focus on engaging the businesses through strong and technically reliable and controllable actuators machines is the key reason driving the demand for global actuators market. Actuators are widely used in various applications owing to strong demand from gas and storage pipelines. Actuators offer operational efficiency during exploration and machine related industrial activities.
Thus, different types of actuators and technologies tools have expanded their reach to many industries. The growing focus of business from several sectors including the SMEs, oil and gas, energy, etc through optimum utilization of actuators technology is accelerating the use of actuators.
This has increased the scope of global actuators market. Also, actuators allow the various industry sectors to achieve high precision, get complete control over motion, and decrease the risk of working. An increasing number of industries are using for operating industrial process control devices like valves, dampers, fluid couplings, and other devices.
Actuation Segment
Depending on different segments the market is classified into actuation segment namely electrical, pneumatic, and hydraulic. Both electrical and pneumatic segments are experiencing good growth in the market. The electrical actuators mitigate risk, they are controllable, and provide greater efficiency which is allowing business adopt it at a greater level whereas as pneumatic actuators are more flexible and offers better operability and precision thus inclining businesses to adopt the pneumatic actuators driving its share in the global actuators market.
Type Segment
Depending on different segments the market is classified into type segment namely liner and rotary. The linear segment has gathered good market share and is expected to see a stable growth in future. This segment is expected to witness good market revenue in future years 2021-2028 in the Global Actuators Market.
Application Segment
Depending on different segments the market is classified into application segment namely Automotive, Robotics, Electronics, Healthcare, and Others. The automotive and electronics segment have witnessed highest market growth and are poised to grow stronger in the coming years. These segments are expected to witness good market revenue in future years 2021-2028 in the Global Actuators Market.
The North American region is the biggest shareholder and GDP contributor to the market in 2020. It is projected to dominate the market even in the forecasted years. This impressive growth of this region is mainly due to growing presence of automotive, robotics, and electronics firms. Also, APAC has gathered considerable market share in the global actuators market field due to rising demand for advanced data tools and technologies.