Global 3D printing ceramics market accounted for a market revenue of nearly 37 million in the year 2019 and is projected to grow at a CAGR of more than 28% over the forecast period. Today, ceramic 3D printers are mostly expensive industrial additive manufacturing systems. Photo polymerization. 3D printing, however, is just part of a longer manufacturing cycle. Ceramic 3D printers generate green parts, meaning that they must go through heavy post-processing steps in order to reach their final form. Some of those phases is, for example, firing in a high-temperature furnace the ceramic component or prototype.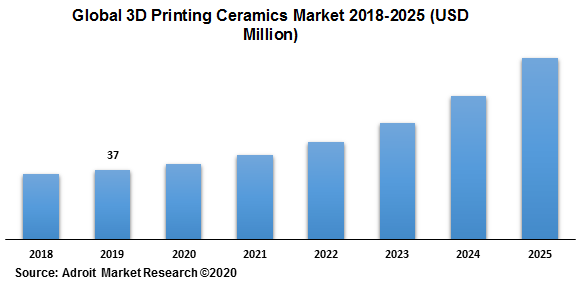 Across a variety of sectors, ceramic material is commonly used. Of course, some of the first applications that come to mind are pottery or kitchenware. But, ceramics are literally everywhere and in many different forms. 3D ceramic material is used in many 3D printing technologies such as powder sintering, paste extrusion, binder jetting, and photo polymerization. Many commercial 3D-ceramic printers use powder sintering or binder jetting. As previously mentioned, green parts are made by ceramic 3D printers. Such green areas must take different steps to arrive at their final form.
Key segments across 3D printing ceramics market
Form Overview, 2018-2025, (USD Million)
Type Overview, 2018-2025, (USD Million)

Glass
Fused Silica
Quartz
Others

Application Overview, 2018-2025, (USD Million)

Aerospace & Defense
Healthcare
Automotive
Consumer Goods & Electronics
Manufacturing & Construction
Other

Regional Overview, 2018-2025, (USD Million)

North America
Europe

Germany
UK
France
Rest of Europe

Asia Pacific

China
India
Japan
Rest of Asia-Pacific

Central & South America
Middle East & Africa
Reasons for the study
The purpose of the study is to give an exhaustive outlook of the global 3D printing ceramics. Benchmark yourself against the rest of the market.
Be prepared for how glass industry investments and 3D printing ceramics will be impacted by socio-political and economic factors over the next few years
Ensure you remain competitive as new innovations by existing key players boost the market.
What does the report include?
The study on the global 3D printing ceramics includes qualitative factors such as drivers, restraints, and opportunities.
The study covers the competitive landscape of existing/prospective players in the industry and their strategic initiatives for the Form development
The study covers a qualitative and quantitative analysis of the market segmented on the basis of derivative and application. Moreover, the study provides similar information for the key geographies.
Actual market sizes and forecasts have been provided for all the above-mentioned segments.
Who should buy this report?
This study is suitable for industry participants and stakeholders in the global 3D printing ceramics. The report will benefit:
Every stakeholder involved in manufacturing and distributing components or solutions.
Managers within financial institutions looking to publish recent and forecasted statistics pertaining to the global 3D printing ceramics.
Government organizations, regulatory authorities, policymakers and financial organizations looking for T&D investment trends in global 3D printing ceramics.
Analysts, researchers, educators, strategy managers, and academic institutions looking for insights into the market to determine future strategies.
The emergence of three-dimensional (3D) printing technologies, also referred to as additive manufacturing (AM), is regarded as a manufacturing revolution. 3D printing is the innovative manufacturing technique that allows the modular development, using traditional methods such as machining and casting, of highly complex and precise structures that are hard to implement. As many objects can be generated in a single run, efficiency can also be greatly increased. After its inception, 3D printing has quickly progressed into the realm of science and technology
In terms of type the global 3D printing ceramics market is segmented into Glass, Fused Silica, Quartz, Others. In terms of form, the market is divided into Filament, Liquid, Powder. Similarly, in terms of application, the market is segmented into Aerospace & Defense, Healthcare, Automotive, Consumer Goods & Electronics, Manufacturing & Construction, Other.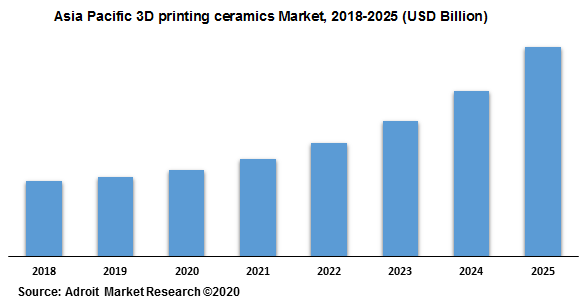 In the world of design, manufacturing, and architecture, 3D Printing is the latest technology growth surge. There are also incentives for business vendors for versatility to develop and produce operations. 3D printing is expected to be a major priority of the ceramic industry and helps face these challenges.
In terms of geography, the global 3D printing ceramic is segmented into North America, Europe, Asia Pacific, Central & South America, and Middle East & Africa. North America is projected to lead the global market owing to advancement in the technology and presence of key industrial players.
Key players operating in this market comprises of 3D Systems Corporation, Stratasys, Ltd., EOS GmbH Electro Optical Systems, CRP Group, Materialise NV, Exone GmbH, Renishaw PLC, Tethon 3D, 3D Ceram, Lithoz GmbH, Viridis 3D LLC.