The global additive manufacturing market is scaling up growing exponentially and is estimated to reach USD 26.5 billion by 2028 growing at a CAGR of above 14% during the forecast years 2018 to 2028. The rapid growth can be attributed to the drastic technological advancements and extensive research and development activities associated with 3D printing along with the hiking demand for prototyping applications from an array of industries specifically healthcare, pharmaceutical, automotive, and aerospace and defense are fuelling the growth of the global additive manufacturing market.
Certain misconceptions associated with the technology such as poor multi-material offerings, extensive costs, dimension-specific challenges, and scalability are resulting in concerns for the small and medium sized manufacturers conducting prototyping processes thus limiting the adoption of additive manufacturing among small scale companies. Advances such as digital production techniques, decentralization, and high flexibility are becoming more integral in the global additive manufacturing industry at the backdrop of a lingering pandemic. This is likely to unravel new growth opportunities in the coming years.
Additive manufacturing is the industrial term used to refer to 3D printing owing to its basic technology that involves layer-by-layer stacking of material to form a 3-dimensional object. Within a set of additive manufacturing technologies, a suitable 3D printing technology is chosen. The wide range of additive manufacturing services that are deployed across the industry vertical include consultation services, customer support, installation services along with services to deal with licensing, copyrights, and patenting.
End-use applications such as drug making has progressed significantly with additive manufacturing integration. The technology has allowed fabrication as well as personalisation of specialty drugs thus introducing the pharmaceutical industry to the new era of personalized medicine. Additive manufacturing has supported the aggressive goals of pharma industry to develop highly complex drugs with a massive potential to save mankind from adversities.
As 3D printing allows creation of a much intricate inner structure, the technology has the potential to catalyze production of drugs that portray complex drug profiles. Ultimately, these advanced and high-complexity drugs facilitate effective control of drug release in human body. With advancements in big data analytics and artificial intelligence the performance and efficiency of 3D printing in pharma sector is expected to amplify over the next few years with a stark rise in adoption of the multi-technology systems eliminating the conventional time-consuming approach and errors.
Global additive manufacturing players are sternly placed now accompanied by the emerging young market entrants bringing in highly advanced and novel approaches disrupting the traditional services. With technological evolution, massive shift in product requirements and constant upgradations, it is rather challenging for established forerunners to change their business models and growth objectives to ensure their lead.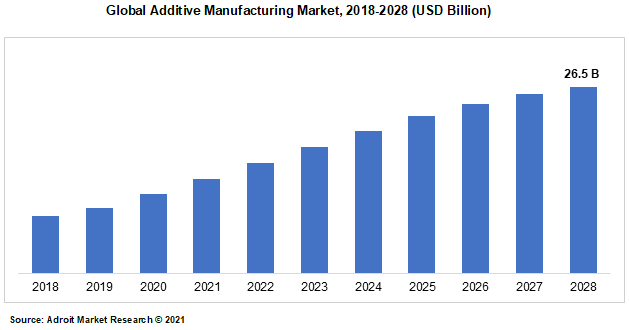 The major players of the global additive manufacturing market are Autodesk, Stratasys, EnvisionTec, GE Additive, Materialise, 3D Systems, Made In Space, Voxeljet AG, General Electric, Exone Company, Evonik, Siemens Industry, Wipro, American Additive Manufacturing and Canon.
The global additive manufacturing market traverses through well-established local entities and international market players with diverse business presence. In addition, the previously determined market players are introducing novel strategic solutions and coming up with a new portfolio of technologically equipped services with a view of sustaining in the global competitive market. In this regard, in August 2021, ExOne declared partnership with Maxxwell Motors which will stimulate the development of 3D printed copper windings which the automotive company will use in its electric cars.
Additive Manufacturing Market Scope
| | |
| --- | --- |
| Metrics | Details |
| Base Year | 2020 |
| Historic Data | 2018-2019 |
| Forecast Period | 2021-2028 |
| Study Period | 2018-2028 |
| Forecast Unit | Value (USD) |
| Revenue forecast in 2028 | USD 26.5 billion |
| Growth Rate | CAGR of 14% during 2021-2028 |
| Segment Covered | Component, Software Type, Printer Type, Technology, Application, Industry Vertical, Material Type, Regions |
| Regions Covered | North America, Europe, Asia Pacific, Middle East and Africa, South America |
| Key Players Profiled | Autodesk, Stratasys, EnvisionTec, GE Additive, Materialise, 3D Systems, Made In Space, Voxeljet AG, General Electric, Exone Company, Evonik, Siemens Industry, Wipro, American Additive Manufacturing and Canon. |
Key Segments of the Global Additive Manufacturing Market
Component Overview, 2018-2028 (USD Billion)
Software
Hardware
Services
Software Type Overview, 2018-2028 (USD Billion)
Printer Software
Design Software
Scanning Software
Inspection Software
Printer Type Overview, 2018-2028 (USD Billion)
Industrial 3D Printer
Desktop 3D Printer
Technology Overview, 2018-2028 (USD Billion)
Polyjet Printing
Stereolithography
Direct Metal Laser Sintering
Inkjet printing
Fused Deposition Modeling
Electron beam Melting
Selective Laser Sintering
Digital Light Processing
Laser Metal Deposition
Laminated Object Manufacturing
Others
Application Overview, 2018-2028 (USD Billion)
Tooling
Prototyping
Functional Parts
Industry Vertical Overview, 2018-2028 (USD Billion)
Desktop Additive Manufacturing
Fashion
Food
Educational Purpose
Dental
Objects
Others
Industrial Additive Manufacturing
Healthcare
Automotive
Power & Energy
Aerospace & Defense
Industrial
Consumer Electronics
Others
Material Type Overview, 2018-2028 (USD Billion)
Regional Overview, 2018-2028 (USD Billion)
North America
Europe
UK
France
Germany
Rest of Europe
Asia Pacific
Japan
India
China
Rest of Asia Pacific
South America
Mexico
Brazil
Rest of Europe
Middle East & Africa
Reasons for the research study?
Primary goal of the study is to offer a comprehensive guide on the global additive manufacturing market understanding the intricacies of the industry dynamics
Ensure you acquire in-depth understanding with the latest industry updates maintaining your competitive advantage.
What does the report include?
The study on the global additive manufacturing market encompasses the growth derivatives and variables focusing on qualitative factors including drivers, restrains, and opportunities
Study deliverables compiled include granular assessment of the competitive landscape identifying the key players of the additive manufacturing market and their innovations targeting product development
The study also gives a qualitative and quantitative view into the various segments of the market defining the significance of key geographies, application and industry vertical, technology and types of component and services
Accurate estimation, industry valuation, forecasts and market sizes have been incorporated in the report structure.
Who should buy this report?
The report on the global additive manufacturing market is composed of suitable data for all the market participants across the broad range of consumer industries along with the engineers, software developers, service providers and manufacturers.
Business investors along with private and public organizations looking for detailed overview of the future outlook of the global additive manufacturing market
Researchers, consultants, and technology experts seeking insights moulding the global additive manufacturing market.
Drastic rise in the demand for next-generation, technologically equipped, and high efficiency manufacturing assistance is driving the adoption of additive manufacturing. Recent trends displaying a drop in the costs associated with additive manufacturing equipment and services along with the rising awareness of end-user industries are among the major factors driving the growth of the global additive manufacturing market.
Adoption upsurge of 3D printers particularly across large-scale manufacturers is contributing massively with growth sufficient opportunities in the forecast years. Infrastructural advances across industries such as automotive, healthcare and pharmaceutical, aerospace and defense is catalysing a dramatic shift towards modernization and technology upgradation thereby instigating a surge in demand for 3D printers along with other highly advanced technology setup to eliminate error and maximise production efficiency.
While the pharma sector is increasingly adopting additive manufacturing systems to enhance drug production and develop novel personalized therapeutics, the aerospace industry is using the additive manufacturing technology to scale up production of aircraft components such as vents, airflow systems and ducts. These developments are significantly driving revenue maximization in the global additive manufacturing market.
Component Segment
The hardware segment has been a prominent contributor in the past accounting for over 60% of market share in the past years. Hardware segment is likely to continue to dominate the market over the forecast years, anticipated to hold the largest revenue share owing to the rising demand and adoption by large scale manufacturers.
Software Segment
Based on software segments, design software held a commendable position in earlier with majority of revenue share. The increasing usage of design software in designing and constructing the desired objects is a popular service across engineering industries, automotive, and aerospace and defense industry verticals. The scanning software segment is expected witness a rise in demand owing to the increasing trends of scanning objects along with storage of scanned documents.
Printer Type Segment
Based on the type of printer, the market is split into desktop 3D printers and industrial 3D printers. The industrial 3D printers segment singlehandedly swept the market in the past years with a gigantic share of more than 75%. This scenario is likely to remain the same over the forecast understanding the extensive utility of additive manufacturing in heavy industries such as automotive, healthcare, electronics and others.
Technology segment
Based on the technology applied, the market is categorized into a broader range with stereolithography leading the market, accounting for over 10% market share. Stereolithography is expected to hold the top position and continue accounting for largest market share as the technology has much deeper roots and is the oldest printing technology used in manufacturing industries. Fused deposition modeling is also expected to grow significantly over the forecast due to the rapid rate of adoption. Other technologies such as inkjet, EBM, and DLP are also anticipated to experience promising growth rate during the forecast years.
Application Segment
In terms of application, the market is fragmented into tooling, prototyping and functional parts with prototyping spearheading the application segment accounting for 55% of the total share in 2020. Prototyping is wide used across automotive and aerospace sector to design components of vehicles, certain parts and complex systems with higher precision levels thus resulting the segment's exponential growth anticipated over the forecast.
Industry Vertical Segment
Based on the industry vertical the market is split into industrial and desktop additive manufacturing users further compartmentalised into specific industries. The automotive industry has been the most predominant users of additive manufacturing systems dominating the market in 2020. Besides, healthcare and aerospace are anticipated to contribute significantly over the forecast. Definitive progress in the healthcare sector is expected to bolster substantial growth of the segment over the forecast.
Material Segment
In terms of material used, the market is segmented into ceramic, metal and polymer. The metal segment accounted for maximum share in 2020 whereas the polymer segment ranked second in terms of revenue share. The metal segment is anticipated to expand enormously over the forecast years with highest CAGR whereas ceramic segment still in its infancy stage is expected to witness potential scope of growth during the forecast years.
North America led the global additive manufacturing market in 2020 registering for over 35% of total market share. The region is a home to developed economies like the U.S. and Canada who are among the early adopters of the additive manufacturing technology across diverse manufacturing processes.
Europe is of greater significance in terms of geographic footprint as the region houses majority of the large-scale additive manufacturing industry players with strong technical expertise. Asia Pacific on the other hand, is anticipated to grow wildly with highest CAGR potential over the forecast years owing to the rapidly evolving industrial nature across the region. The region is a potential marketspace possible to become the next manufacturing hub for automotive and healthcare industries thereby escalating the demand for adoption of additive manufacturing services and technologies.