The global vitrification market is projected to reach USD 23.05 billion by 2028, growing at a CAGR of 17.8%. Growing awareness of reproductive health, increasing tendency of delaying parenthood and legal approval of same-sex marriage are some of the factors driving the growth of the global vitrification market.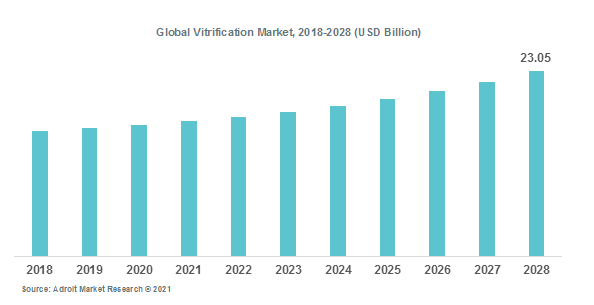 Adroit Market Research report on global vitrification market gives a holistic view of the market from 2018 to 2028, which includes factors such as market drivers, restraints, opportunities and challenges. The market has been studied for historic years from 2018 to 2019, with the base year of estimation as 2020 and forecast from 2021 to 2028. The report covers the current status and future traits of the market at global as well as country level. In addition, the study also assesses the key players based on their product portfolio, geographic footprint, strategic initiatives and overall revenue. Prominent players operating in the global vitrification market have been studied in detail.
Because of the easiness of vitrification, several authors have examined it as a substitute to slow freezing for cryopreserving ovarian tissue. In the previous decade, frequent studies have assessed vitrification of ovarian tissue from both humans and animals. Diverse vitrification solutions and protocols, typically adapted from embryo and oocyte vitrification, have been functional. The outcomes have been discrepant from species to species and even inside the alike species, but recently they seem to direct that vitrification can attain similar or even bigger results to conventional freezing.
The global vitrification market is categorized based on specimen and end user. On the basis of end user, the market is segmented into IVF clinics and biobanks. The IVF clinics segment dominated the market in 2020, due to the high usage of the vitrification technology in these settings.
Europe dominated the market for vitrification in 2020, while Asia Pacific is set to grow at a highest CAGR due to increasing number of couples interested in IVF. Key players of the global vitrification market include Vitrolife, Frozen Cell, IVF Store LLC, Cook Medical Inc, IMV Technologies, Minitube, Coopersurgical Fertility And Genomic Solutions, Biotech Inc., Fujifilm Irvine Scientific, Kitazato Corporation among others.
Key segments of the global vitrification market
Specimen Overview, 2018-2028 (USD Billion)
Oocytes (Devices, Kits and Consumables)
Embryo (Devices, Kits and Consumables)
Sperm
End-use Overview, 2018-2028 (USD Billion)
Regional Overview, 2018-2028 (USD Billion)
North America
Europe

Germany
United Kingdom
France

Asia Pacific
Latin America
Middle East & Africa