The global vector graphics software market size is anticipated to grow USD 500 million by 2028, at a CAGR of 6% over the forecast period 2021-28 owing to massive end-user adoption. Vector graphics software enables users to create and edit computer pictures by utilizing geometric and mathematical commands rather than clicks and strokes as in conventional drawing software. Vector graphics software is frequently used to produce high-resolution drawings for usage on the web, in games, and in other forms of multimedia. The vector route's direction is determined by the points; each path may have different attributes such as stroke color, shape, curve, thickness, and fill. Vector display devices create images using a variable number of lines rather than segmenting a large amount of computer memory and mapping it to the display device—hence the term "vector graphics." Because vector graphics systems may construct a line using just two points (the coordinates of either end of the line), organizing the image in terms of pairs of points allows the device to deal with less data overall.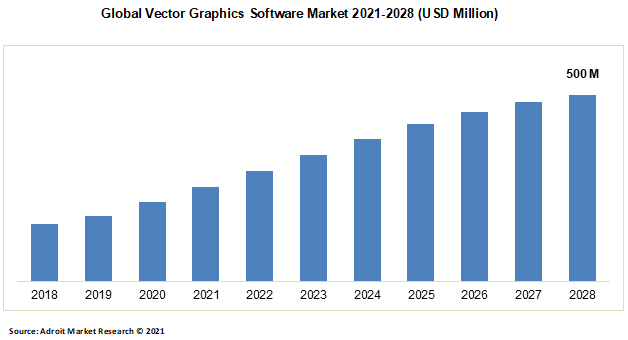 Vector editors and bitmap editors are frequently contrasted, and their capabilities complement one another. Page layout, logos, typography, sharp-edged creative illustrations, diagramming, technical illustrations, and flowcharting are typically better with vector editors. Web pages are currently accessed via a variety of devices and platforms, including a smartphone with a tiny screen and a desktop PC with a large screen. However, taking pictures and symbols that appear nice at any resolution and on any screen is a significant problem. Vector files are commonly used in computer-aided design (CAD) applications for manufacturing, engineering, and design because of their scalability and simplicity of modifying mathematical formulae. As a result, vector graphic sets for each element and display a picture of suitable size based on the end-screen user's size.
However, by using a vector picture on the website, you may obtain the same high-quality image on any device. Furthermore, vector graphics are essential in application and online development since web programs and the visuals they contain are compatible with a wide range of screen sizes and device kinds. Vector graphics animated pictures are also typically generated as vector files, resulting in cleaner and smoother visuals. The aforementioned benefits of vector graphics have caused the industry to skyrocket throughout the years. Some vector editors enable animation, whereas others (for example, Animatron, Adobe Flash, or Synfig Studio) are designed particularly for creating animated images. Vector images are often better suited to animation, however raster-based animation technologies are available. Computer-assisted drafting requires the use of specialized vector editors. These are not appropriate for creative or ornamental graphics, but they are rich in tools and object libraries that are used to assure the precision and conformity of drawings and blueprints.
The latest research report on global vector graphics software market compiled by Adroit Market Research unleashes a decisive outline of the entire growth roadmap with elaborate assessment of the forecast projections from 2021-2028. The report is complete with minute details comprising market drivers, barriers, threats, and opportunities that are crucial for directing unparalleled growth. The report also focuses on the historical developments for 2019-2020, considering 2020 as the base year.
On the basis of the type segment, the cloud-based segment is anticipated to increase with the maximum market share in the coming years. The market for cloud-based vector graphics software provides numerous benefits to growing businesses. It mostly saves time and money. No one may change or tamper with data saved in the cloud with the intent of abusing it. Because of the high danger of new rivals entering the market, cloud computing is getting more inexpensive. In terms of both upfront costs and monthly fees per user, cloud-based solutions are substantially less expensive. As a result of varied price systems, clients have become more financially savvy.
On the basis of application size, the SMEs segment held the largest market share in the coming years. In response to the market economy, emerging firms are developing solutions and improving their value offerings. Client acquisitions are a viable option for vector graphics software firms as part of their standard go-to-market strategy.
In terms of geography, the vector graphics software market in North America has raised by a factor of ten due to the increased quantity of human resources engaged in vector graphic development. As a result of the COVID-19's economic impact, worldwide IT expenditure dropped in 2020. In 2021, the vector graphic software market is projected to see a resumption of worldwide spending growth.
Some of the major players operating in the global vector graphics software market are Adobe Illustrator, CorelDRAW, Sketch, Affinity, Snappa, Xara, Inkscape, DesignEvo, Lake Ventures, Inc., Artboard, Gravit Designer, and Vector Magic.
Key Segments of the Global Vector Graphics Software Market
Type Overview, 2021-2028 (USD Million)
Application Overview, 2021-2028 (USD Million)
Large Enterprises
Small and Medium-Sized Enterprise
Regional Overview, 2021-2028 (USD Million)
North America
Europe

France
UK
Germany
Rest of Europe

APAC

China
Australia and New Zealand
Japan
Rest of APAC

MEA

UAE
Saudi Arabia
South Africa
Rest of MEA

Latin America

Mexico
Brazil
Rest of Latin America