The global thermoformed plastics market is estimated to reach the USD 17.30 billion by 2026, at a CAGR of 5.1% during the forecast period from 2020 to 2026. Thermoformed polymers are used in thermoforming, which is a process that involves heating a plastic sheet to create a bending form that can then be molded into the required shape. After that, the completed product is chilled to make it useful. For thermoforming plastics, a variety of techniques are available, the most prevalent of which include vacuum snapback, thick and thin gauge thermoforming, and plug assist forming.
The widespread use of thermoformed plastic in food packaging propels the worldwide thermoformed plastics market. The need for thermoplastics in the food business is considerably high because food packaging demands superior quality packaging materials to offer protection against moisture, odor, and germs, which thermoplastics deliver. Furthermore, thermoformed plastics have lately found use in the packaging of pharmaceutical goods, which is expected to grow the market significantly. The thermoforming plastic sector is expanding as the healthcare and pharmaceuticals, as well as the food and agricultural packaging sectors, and manufacturing activities, rise. The need for thermoforming plastic is being fueled by the growing popularity of retail shopping and increased consumer expenditure on processed and packaged items. Changes in demographics and lifestyles have pushed the industry toward e-commerce channels and simple packaging, which will fuel demand for thermoforming plastic.
Thermoformed plastics is predicted to become more widely used product as the worldwide demand for it grows rapidly in a variety of end-use industries, including food, automotive, electronics and electrical and healthcare. Thermoformed plastics is widely utilized in China, India, the United States, Germany, and other nations. The presence of major corporations in these nations, as well as rising demand for thermoformed plastics across a wide range of end-use industries, are encouraging the target sector's growth in these nations. Furthermore, in order to get a competitive advantage throughout the world, the market's top competitors are concentrating on new product development, which is a critical driver of the market's growth.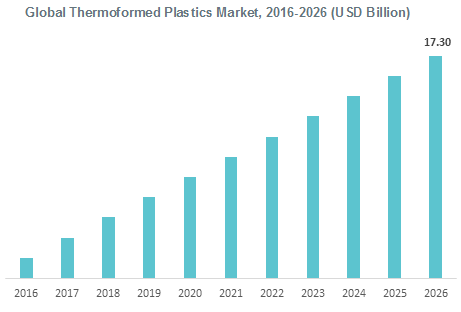 Adroit Market Research report on global thermoformed plastics market gives a holistic view of the market from 2016 to 2026, which includes factors such as market drivers, restraints, opportunities and challenges. The market has been studied for historic years from 2016 to 2018, with the base year of estimation as 2019 and forecast from 2020 to 2026. The report covers the current status and future traits of the market at global as well as country level. In addition, the study also assesses the market based on Porter's five forces analysis and positions the key players based on their product portfolio, geographic footprint, strategic initiatives and overall revenue. Prominent players operating in the global thermoformed plastics market have been studied in detail.
The worldwide thermoformed plastics market may be divided into segments such as product, process, and applications. The thermoformed plastics industry by product includes High Impact Polystyrene (HIPS), Polymethyl Methacrylate (PMMA), Polypropylene (PP), Bio-degradable polymers, Polystyrene (PS), Polyethylene (PE), Acrylonitrile Butadiene Styrene (ABS), and Poly Vinyl Chloride (PVC). Based on application the global industry is categorized into plug assist forming, thick gauge thermoforming, thin gauge thermoforming, vacuum snapback. On the basis of applications the global industry is segregated into food packaging, healthcare & medical, electrical & electronics, automotive packaging, construction, and consumer goods & appliances.
North America will dominate the global thermoformed plastics market. In the U.S. and other North American nations, thermoformed plastics are becoming increasingly frequently employed in a variety of end-use industries, including food packaging, healthcare, and pharmaceuticals. One of the key elements driving thermoformed plastics growth in developing nations is the rapidly expanding demand for the target product among growing economies throughout the world. Furthermore, throughout the projection period, Asia Pacific is predicted to have considerable expansion in the target industry. The development of prominent organizations in the area, as well as technology developments among Asian countries, notably in China, Japan, and India, are credited with the increase. Brentwood Industries, Inc. Amcor plc, Genpak, LLC, SILGAN HOLDINGS INC. Anchor Packaging Inc. Greiner Packaging, Berry Global Inc. Huhtamaki Global, Pactiv LLC, D&W Fine Pack. Dart Container Corporation, DISPLAY PACK. Sonoco Products Company, Fabri-Kal, Spencer Industries Inc. Penda, WINPAK LTD. Placon. Silgan Plastics, Sabert Corporation are all major participants in the worldwide thermoformed plastics industry. To gain a solid position in the global market, major companies in the target sector are implementing numerous organic and inorganic tactics.
Key Segments of the Global Thermoformed Plastics Market
Product Overview, 2016-2026 (USD Billion)
Polymethyl Methacrylate (PMMA)
Bio-degradable polymers
Polyethylene (PE)
Acrylonitrile Butadiene Styrene (ABS)
Poly Vinyl Chloride (PVC)
High Impact Polystyrene (HIPS)
Polystyrene (PS)
Polypropylene (PP)
Process Overview, 2016-2026 (USD Billion)
Plug Assist Forming
Thick Gauge thermoforming
Thin Gauge Thermoforming
Vacuum Snapback
Application Overview, 2016-2026 (USD Billion)
Healthcare & Medical
Food Packaging
Electrical & Electronics
Automotive Packaging
Construction
Consumer Goods & Appliances
Regional Overview, 2016-2026 (USD Billion)
North America
Europe

Germany
United Kingdom
France
Rest of Europe

Asia Pacific

China
Japan
India
Rest of Asia Pacific

Latin America

Brazil
Mexico
Rest of Latin America

Middle East & Africa