Testing, inspection, and certification (TIC) demand has risen significantly in tandem with the rapid expansion of industries such as oil and gas, automotive, aerospace, electrical and electronics, and food and agricultural.
The worldwide Testing, Inspection, and Certification (TIC) market was valued at USD 222.35 billion in 2020, and is expected to increase at a CAGR of 5.21 percent from 2021 to 2028, to reach USD 324.32 billion by 2028. The growing need from businesses and companies for safe and efficient testing, inspection, and certification (TIC) methods encourages market expansion. Companies can maintain optimal quality standards, high production, and maximum efficiency by using secure and effective testing and inspection processes. Companies may adapt their supply chain operations according to their requirements and wishes by using TIC practices, which simplifies business processes. The worldwide TIC industry also has considerable potential prospects due to expanding infrastructure and renewable energy generating projects.
In numerous established and emerging economies, increased urbanization has resulted in an increase in infrastructure construction operations. This motivates planners and decision-makers to employ TIC-related solutions, which assist to improve infrastructure project safety and quality. Furthermore, renewable energy projects such as solar and wind energy need highly specialized equipment that must operate at peak efficiency, necessitating the deployment of effective TIC systems to assure the proper operation of critical machine components. The growing growth of the transportation and logistics sector presents the business with potential chances for expansion. This is due to rising global trade and the need for businesses to invest in effective logistics systems. This allows TIC solutions to assure timely delivery of goods and products across the value chain, reducing operational costs. Regional governments' ongoing efforts to improve people's transportation options by increasing the frequency and enhancing the safety of public transit encourage the deployment of a well-organized TIC environment.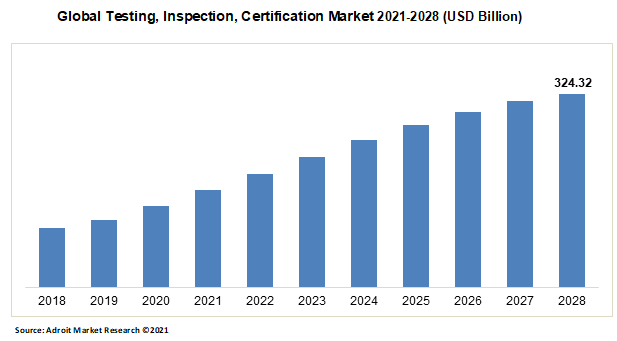 The market for testing, inspection, and certification is likely to benefit from the gradual acceptance of big data analytics with the TIC-based technological paradigm. Service providers' embrace of big data analytics technology is projected to broaden their service offerings, including data-driven services and predictive maintenance data, and enable them to give better solutions to their clients. Natural gas and oil exploration, for example, need multiple complicated machine components that create significant amounts of data during testing and inspection. This information may be used to assess the machine system's efficacy and enable solution providers to give consulting services.
Over the projected period, the Asia Pacific area is predicted to have the greatest CAGR. In Australia, South Korea, and India, rapid industrialization and infrastructural development make it easier to install effective TIC solutions. Furthermore, some organizations have outsourced their software and product development responsibilities due to the expanding technological ecosystem in countries such as Japan and China. The ability to obtain high-performance goods at reasonable prices from these nations encourages businesses to seek out TIC solutions and services tailored to their individual needs and requirements, boosting market growth.
The competitive landscape for the testing, inspection, and certification industry gives details by competitor. Corporate overview, financials, revenue produced, market potential, investment in R&D, new market efforts, regional presence, company strengths and weaknesses, product introduction, product width and breadth, and application domination are among the details presented. The information shown above is limited to the firms' concentration on the testing, inspection, and certification industry.
Among the major players profiled in the testing inspection and certification market report are SGS SA, Bureau Veritas, Intertek Group plc, DEKRA, Eurofins Scientific, TÜV SÜD, Applus+, ALS Limited, Kiwa, RINA S.p.A., TÜV NORD GROUP, TÜV Rheinland, Lloyd's Register Group Services Limited., MISTRAS Group, Inc., Element Materials Technology, UL LLC, V.
Key Segments of The Global Testing, Inspection and Certification Market
Type Overview, 2013-2023 (USD billion)
Testing
Inspection
Certification
Source Overview, 2013-2023 (USD billion)
Application Overview, 2013-2023 (USD billion)
Consumer Goods
Food & Agriculture
Oil & Gas
Construction
Chemicals
Mining
Machinery
Transportation
Automotive
Power Generation
Government Services
Marine
Healthcare
Others (Finance, Process, etc.)
Regional Overview, 2013-2023 (USD billion)
North America
Europe
Germany
UK
France
Russia
Italy
Rest of Europe
Asia-Pacific
China
Japan
Korea
India
Southeast Asia
Rest of Asia Pacific
Middle East & Africa