Tertiary water and wastewater treatment is used to improve water quality to satisfy home and industrial standards, as well as to meet specific needs for safe water discharge. It's done to deodorise, decolorize, and oxidise if necessary. The number of water and wastewater treatment plants that use a tertiary treatment procedure has increased. In tertiary treatment, nutrients like phosphorus and nitrogen are removed from wastewater. Nutrient removal is a critical step in limiting downstream consequences like algal blooms and eutrophication, both of which devastate ecosystems and habitats. The fast population increase and urbanization, the growing need for new water supplies, and the rising frequency of waterborne diseases are all pushing the tertiary water and wastewater treatment technologies market.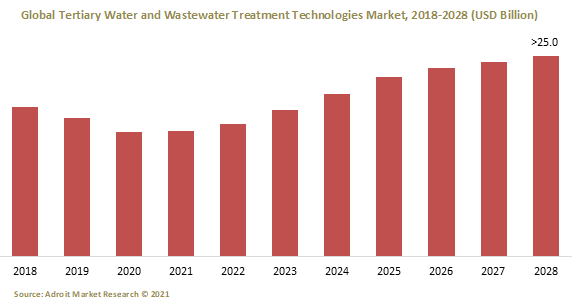 Adroit Market Research study on the global market for tertiary water and wastewater treatment technologies offers a holistic view of the industry from 2020 to 2028 as forecast period, including factors such as market drivers, limitations, opportunities, threats and regulatory overview. The market has been analyzed from 2018 to 2028, with a base year estimate of 2019 and a projection from 2020 to 2028. The report covers the current status and potential characteristics of the market at both the global and the country level. Moreover, the report also assesses market competition with Porter's analysis of five strengths and places leading players on the basis of their product range, regional presence, strategic initiatives and overall sales. Prominent players in the global Tertiary Water and Wastewater Treatment Technologies market have been analyzed in depth.
Key player in this industry includes Suez Environment S.A., Veolia Environment SA, DuPont de Nemours, Inc., Evoqua Water Technologies Corporation, Pentair plc, Calgon Carbon Corporation, Kurita Water Industries, Ltd., Bio-Microbics, Inc., Elgressy Engineering Services Ltd., Blue Eden CleanTech Solutions, Inc.
Key Segments of the Global Tertiary Water and Wastewater Treatment Technologies Market
Application Overview, 2018-2028 (USD Billion)
Process 2018-2028 (USD Billion)
Membrane Filtration
UV Radiation
Chlorination
Ozonization
Activated Carbon
Ion Exchange
Regional Overview, 2018-2028 (USD Billion)
North America
Europe
UK
Germany
France
Rest of Europe
Asia Pacific
China
Japan
India
Rest of Asia-Pacific
Middle East and Africa
UAE
South Africa
Rest of Middle East and Africa
South America
Brazil
Rest of South America