Supply chain planning system of record market has witnessed steady adoption in recent years and is therefore poised to hit USD 600 million market size, clocking in a robust CAGR value of 30% through the forecast period, 2021-2028. Supply chain planning system of record is a system of record wherein enterprises compile and consolidate all supply chain data to improve supply chain operations. Supply chain planning system of record are usually triggered when companies face supply chain challenges such as exploding data volumes, uncertainties, dynamic environments, and competitive pressure. The purpose of supply chain planning system of record is to facilitate decision making, drive higher planner productivity, plan innovative ways to serve customers, and address supply chain vulnerabilities. For example, key capabilities such as inventory, production, and enterprise resource planning (ERP) are some of the most vital operations across industries. The supply chain planning system of record is used to optimize these operations and effectively create and share supply chain data across touchpoints. Besides the above-mentioned facets, data cleaning, normalization, and analytics are also classed under supply chain planning system of record.
The future and existing supply chain planning system of record market progress is outlined by various opportunities for profitability in the competitive market. New opportunities in terms of fast adoption across end-users to combat Covid-19 induced challenges, limit investments and favorable expansion of the SME sector are collectively paving new growth opportunities to support market expansion amidst the Covid-19 pandemic. Factors such as organizations benefiting from BI intelligence, introduction of more customer-driven supply chains, and high returns on investments are driving the market growth. Advanced technologies such as IoT and big data analytics are being integrated with supply chain planning system to improve productivity. These developments are likely to incur heightened revenues in the coming times for supply chain planning system of record market.
However, greater risks, global competition, legality issues are likely to hamper the market growth. Furthermore, in response to the challenges the support of highly secure and flexible systems, introduction of more integrated models, regulatory compliances are anticipated to be relevant opportunities for the supply chain planning system of record market.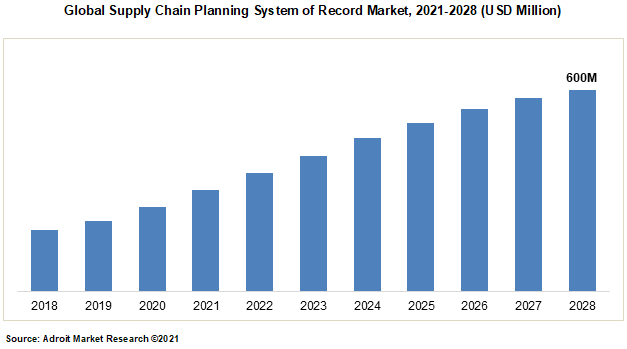 Adroit Market Research report on supply chain planning system of record market presents the current global economic developments taking place in the market and their futuristic implications in shaping up the growth curve. It gives a holistic view and a detailed analysis from year 2021 until 2028 considering the issues affecting the transition of the market. It addresses the topics of the pressing current interest of the market. The growth projections in 2020 and global forecasts from 2021-2028 are presented in the report wherein 2020 is the base year of consideration and 2021-2028 is the forecast span. The report discusses a range of topics of the market that are crucial for the market players such as current status, future traits at country and global levels. Other economic and financial indicators such as market size, market shares, production rate, annual revenue, GDP, CAGR, by region, and by sector are presented in the report. The analysis and research methods implemented for the study are Porter's five forces analysis, primary research, secondary research, and several other best research practices.
Global supply chain planning system of record market is witnessing fierce competition as new market players find their way into the competitive landscape with new techniques of managing the supply chain effectively. Also, the market players are seizing potential opportunities and taking additional steps like mergers, acquisitions, new product launches to justify their lead in a competitive market.
Depending on the type, global supply chain planning system of record market segments are classified into cloud based, on premise, market, and others. Among these, the cloud-based and on-premise segments types have witnessed a considerable share in the market and are expected to remain at the same growth pace in the coming years. The aforementioned advantages coupled with flexible solutions in managing the supply chain systems are anticipated to hold better market value of these segments in the forecasted years.
Looking at the geographic regions dominating the market, APAC and North America regions are anticipated to capture measurable share in the forecast years. Growth of these regions in the market is due to the companies in these regions adopting advanced tech-enabled supply chain management systems for better business insights and future planning. This is the key factor propelling supply chain planning system of record market in North America and APAC. However, China held the greatest share in the market in 2020 and is estimated to remain competitive during the forecast years 2021-2028.
The companies mentioned in this category can be customized to fit the demands of the customer. Some of the leading players in the global market are JDA Software, ToolsGroup, OM Partners, Logility, Arkieva, RELEX Solutions, GAINSystems, SAP, Anaplan, DynaSys, Kinaxis, Slimstock, FuturMaster, Optimity Software, Icron Technologies, Demand Solutions, Oracle, E2open, and Blue Ridge. The supply chain planning system of record market comprises traditional solutions providers as well as advanced tech solution providers. In addition, the new players are coming with huge benefits to the organization such as innovation, entrepreneurial opportunities, and inclusive growth patterns to offer customer satisfaction and to stay ahead of the global market.
Key Segments of the Global Supply Chain Planning System of Record Market
Type Overview, 2021-2028 (USD Million)
Application Overview, 2021-2028 (USD Million)
Small Enterprises (1-499 Users)
Medium-Sized Enterprise (499-1000 Users)
Large Enterprises (1000+ Users)
Regional Overview, 2021-2028 (USD Million)
North America
Europe

France
UK
Germany
Rest of Europe

APAC

China
Australia and New Zealand
Japan
Rest of APAC

MEA

UAE
Saudi Arabia
South Africa
Rest of MEA

Latin America

Mexico
Brazil
Rest of Latin America