The global single-use bioreactors market is projected to reach USD 4,456.6 million by 2025, growing at a CAGR of 19.3%. Rising demand for biosimilars and bulk quantities of antibodies, reduced automation complexity and reduced impact on the environment are the factors driving the growth of the single-use bioreactors market.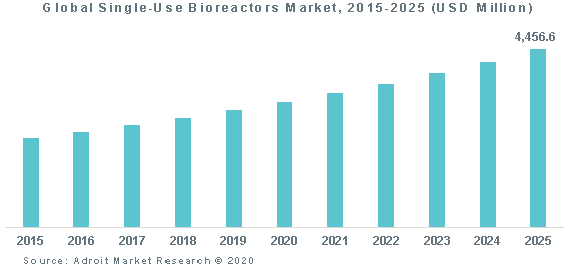 Adroit Market Research report on global single-use bioreactors market gives a holistic view of the market from 2015 to 2025, which includes factors such as market drivers, restraints, opportunities and challenges. The market has been studied for historic years from 2015 to 2017, with the base year of estimation as 2018 and forecast from 2019 to 2025. The report covers the current status and future traits of the market at global as well as country level. In addition, the study also assesses the key players based on their product portfolio, geographic footprint, strategic initiatives and overall revenue. Prominent players operating in the global single-use bioreactors market have been studied in detail.
Single-use bioreactors (SUB) are formed primarily from a plastic film composed of multiple polymer layers. Each layer adds to the physical or chemical properties required for the SUB to properly function as a bioreactor. The specific polymer materials used in a given bag varies by manufacturer and model, and may include polyethylene, ultra-low-density polyethylene, linear low-density polyethylene, ethylene vinyl alcohol (EVOH), ethylene-vinyl acetate (EVA), polyesters, nylons, and others. Each layer may have its own set of additives like antioxidants, fillers, plasticizers, stabilizers, etc. to obtain the necessary characteristics, but the identities and levels of these additives are proprietary information and often not communicated to the biopharmaceutical manufacturer. SUBs are sterilized by gamma irradiation prior to shipping to the end user and are at that point ready to use.
The global single-use bioreactors market is categorized based on type, cell, molecule and application. Based on type, the SUB market is segmented into wave-induced SUBs, stirred-tank SUBs, bubble-column SUBs, and other bioreactors. The bubble column SUB is expected to grow at a highest CAGR. By application, the market is categorized into research & development, process development, and bioproduction. The bioproduction segment is expected to dominate the market by 2025. Surging demand for biotechnology products is fueling the demand for this segment.
Europe is the largest market for single-use bioreactors. Rising demand for biosimilars, in this region is propelling the growth of SUB. Key players of the single-use bioreactors market include Sartorius Stedim Biotech, Merck Millipore, GE Healthcare, Danaher, Thermo Fisher Scientific, Parker Hannifin, Applikon Biotechnology, Eppendorf, Cesco Bioengineering, Cellexus, Celltainer Biotech, PBS Biotech, Distek, Solida Biotech and Pierre Guerin.
Key segments of the global single-use bioreactors market
Type Overview, 2015-2025 (USD Million)
Stirred-Tank Single-use Bioreactor
Wave-Induced Single-use Bioreactor
Bubble-Column Single-use Bioreactor
Other Single-use Bioreactor
Cell Overview, 2015-2025 (USD Million)
Mammalian Cells
Bacterial Cells
Yeast Cells
Other Cells
Molecule Overview, 2015-2025 (USD Million)
Monoclonal Antibodies (MABs)
Vaccines
Stem Cells
Gene-Modified Cells
Other Molecules
Application Overview, 2015-2025 (USD Million)
Research & Development
Process Development
Bioproduction
Regional Overview, 2015-2025 (USD Million)
North America
Europe

Germany
United Kingdom
France
Rest of Europe

Asia Pacific

China
Japan
India
Rest of Asia Pacific

Rest of the World