The expansion of the nuclear power industry has necessitated the application of advanced technologies and methods. SiC fibers are a critical material that is rapidly being used in a variety of nuclear applications. North America dominates the industry, accounting for the majority of global SiC fibers sales. End-use industries such as energy and power, aerospace, chemical manufacturing, and others are driving demand for these fibers in the North American region. These fibers are increasingly being used in commercial and military aircraft engines in the country.
Adroit Market Research study on the global market for Silicon Carbide Fibers offers a holistic view of the industry from 2020 to 2028 as forecast period, including factors such as market drivers, limitations, opportunities, threats and regulatory overview. The market has been analyzed from 2018 to 2028, with a base year estimate of 2019 and a projection from 2020 to 2028. The report covers the current status and potential characteristics of the market at both the global and the country level. Moreover, the report also assesses market competition with Porter's analysis of five strengths and places leading players on the basis of their product range, regional presence, strategic initiatives and overall sales. Prominent players in the global Silicon Carbide Fibers market have been analyzed in depth.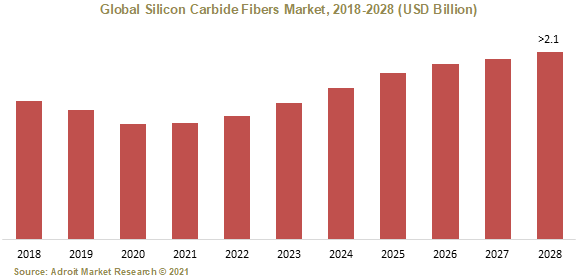 In the global SiC fibers market, Asia Pacific is the fastest-growing area. One of the key factors for potential demand growth is the expansion of production capacities by major manufacturers such as Ube Industries. In the Asia Pacific region, developing economies such as Japan and China are primarily driving demand growth for SiC fibers.
Key player in this industry includes American Elements, BJS Ceramics GmbH, COI Ceramics, Inc., General Electric Company, Haydale Technologies Inc., Free Form Fibers, NGS Advanced Fibers, Specialty Materials, Inc., Suzhou Saifei Group Co., Ltd, Ube Industries, Ltd
Key Segments of the Global Silicon Carbide Fibers Market
Fiber Type Overview, 2018-2028 (USD Billion)
First
Second
Third Generation
Form 2018-2028 (USD Billion)
Regional Overview, 2018-2028 (USD Billion)
North America
Europe
UK
Germany
France
Rest of Europe
Asia Pacific
China
Japan
India
Rest of Asia-Pacific
Middle East and Africa
UAE
South Africa
Rest of Middle East and Africa
South America
Brazil
Rest of South America