The global search monetization software market size is anticipated to grow upto USD 6 billion by 2028, at a CAGR of 16% over the forecast period. Software monetization is a method used by software businesses and device suppliers to increase the profitability of their products. The software licensing component of this strategy allows software and device manufacturers to secure their applications and embedded software from unlawful copying, distribution, and usage while also capturing new income streams through inventive pricing and packaging methods. Software monetization solutions may help organizations extract the most value from their software, whether it is hosted in the cloud, integrated into hardware, or deployed on-premises. Another technique of monetizing software is through sponsored advertising and the different compensation options accessible to software creators. For instance, PPI earns income by bundling third-party programs, often known as adware, with shareware and freeware products. Software is an important component of a software company's or device vendor's intellectual property (IP), and as such, it may benefit from encryption, robust security, digital rights management (DRM). Depending on the specific use case, a firm may opt to deploy software, hardware, or cloud-based licensing solution, or they may choose to open source software and rely on contributions and/or fees for customization, maintenance, or upgrades.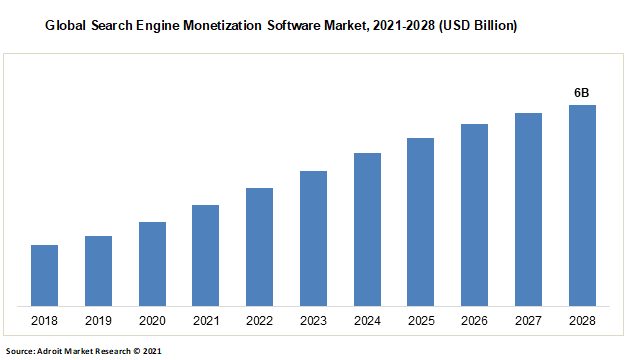 The rising enterprise data volume, adoption of data-driven decision-making techniques, awareness of data monetization, and developments in big analytics are the major drivers driving the expansion of the search monetization market size. Technological advances in big data and analytics solutions are likely to drive the growth of the search monetization industry. Large quantities of device data, network data, and consumer activity data are being collected by businesses. These data may be turned into a viable income generator by combining search monetization with modern big data technology. Furthermore, the capacity of search monetization to synthesize and integrate millions of data and IoT records, as well as the ability to use AI and sophisticated analytics, has prompted numerous firms to engage in search monetization. Customers have grown to demand the ability to use the software on their own terms, which is why software and device suppliers are increasingly resorting to flexible licensing options. These eventful developments are likely to direct new opportunities in global search monetization software market.
This research report by Adroit Market Research comprehensively analyses key components in the worldwide search monetization software value chain during the prediction period. It also includes data on critical trends and recent developments that are expected to drive significant growth in the global Search Monetization Software market in the next years. The report provides an in-depth analysis of several market categories based on type, applications, major regions, and leading companies in the industry. Furthermore, the report dedicates a significant section to provide an in-depth study of the manufacturing process, which contains information gathered from both primary and secondary data sources.
On-premise is the most common type of search monetization software, accounting for around 67.77 percent of the worldwide market in the previous years. In an on-premises delivery approach, software or solutions are installed and run on the customer's own server and computer equipment. The cost of implementing on-site solutions is included in a company's capital expenditure (CAPEX). The BFSi segment remained lucrative in the historical years and is expected to continue its growth stance in the forecast span as well. This is due to the rising existence of data-rich firms in the banking sector. Because of the rising amount of data created in the BFSI industry, there is a high need for search monetization. Search monetization in BFSI aids in the generation of operational income and acceleration of client interactions.
The North American region has been accounted for the highest CAGR across the globe. In the historical years, the US market accounted for roughly over 40 percent of the worldwide market, while the EU accounted for 27% percent. Because of the existence of significant players in the region, this is the case. Furthermore, the region's development is heavily influenced by investments in emerging technologies like cloud computing, big data, and analytics, which are progressively being used. Additionally, APAC region is coming up to be a significant growth bed owing to tremendous potential in the start-up and SME culture. Several small and mid-sized businesses are coming up in countries such as China, Singapore and Japan which will facilitate consumer activity-based data monetization in the coming years.
Leading players in global search monetization software market are persistently investing in various types of growth strategies such as portfolio diversification, mergers and acquisitions and the like. Some of the major players are Cro-Bit, Coinis, Search-Monetizer, MonadPlug, Adcash, Perion Network, Kodio, Openwave Mobilty, NETSCOUT, Optiva and StartMedia.io. amongst several others.
Key Segments of the Global Search Monetization Software Market
Type Overview, 2021-2028 (USD Billion)
Application Overview, 2021-2028 (USD Billion)
Government
Retail and eCommerce
Healthcare and Life Sciences
BFSI
Transportation and Logistics
Telecom and IT
Manufacturing
Others
Regional Overview, 2021-2028 (USD Billion)
North America
Europe

Germany
United Kingdom
France
Rest of Europe

Asia Pacific

China
Japan
India
Rest of Asia-Pacific

Latin America

Brazil
Mexico
Rest of Latin America

Middle East and Africa