The global resveratrol market is projected to reach an approximate value of USD 115.7 million by 2028, growing at a CAGR of 7.9%. An increase in prevalence of chronic disorders, surge in resveratrol supplements, and wide application areas of resveratrol are factors driving the global resveratrol market.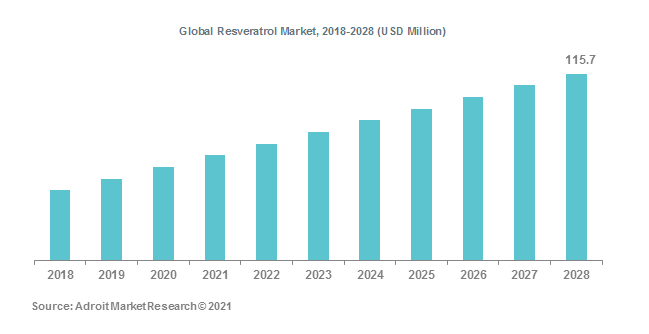 Adroit Market Research report on global resveratrol market gives a holistic view of the market from 2018 to 2028, which includes factors such as market drivers, restraints, opportunities and challenges. The market has been studied for historic years from 2018 and 2019, with the base year of estimation as 2019 and forecast from 2020 to 2028. The report covers the current status and future traits of the market at global as well as country level. In addition, the study also assesses the market based on Porter's five forces analysis and positions the key players based on their product portfolio, geographic footprint, strategic initiatives and overall revenue. Prominent players operating in the global resveratrol market have been studied in detail.
Resveratrol is a natural stilbene and a non-flavonoid polyphenol, a phytoestrogen that predominates in antioxidant, anti-inflammatory, cardioprotective, and anti-cancer properties. It occurs naturally in many plants, such as grapes, and berries, and aids in assistance with respect to pathogenic infections. The first of its kind resveratrol was extracted from the root of a fast-growing shrub called the Japanese knotweed. Resveratrol is known to reverse multidrug resistance in cancer cells and is used in combination with drugs. Rapid rise in chronic ailments such as cancer, cardiac diseases, and neurological disorders will augment the demand for resveratrol products and supplements. However, side effects like gastrointestinal upset, headache, nausea and fatigue associated with resveratrol usage will hamper the growth of the market in the future.
The global resveratrol market has been segmented based on product, application, form, distribution channel, and region. Based on product, the global resveratrol market is categorized into natural and synthetic resveratrol. Natural resveratrol segment is further sub-divided into grape seed extracted and knotweed extracted. Application-wise, the global resveratrol market is categorized into cosmetics, pharmaceuticals, dietary supplements and others. Cosmetics segment held substantial share of the market in 2019 owing to increase use of resveratrol in cosmetics owing to its anti-aging properties. Based on form, the global resveratrol market is classified as liquid, solid/powder and pill. Liquid resveratrol segment dominated the global market in 2019 owing to its ability to get quickly absorbed by the body and act as a free radical scavenger. The liquid form of resveratrol has naturally occurring proanthocyanidins (OPCs) from grape seed extract, VitaBerry, cranberry, and pomegranate, which complement resveratrol's cellular and cardiovascular support properties. On the basis of distribution channel, the global resveratrol market is segmented into retail stores, online stores and others.
North America dominated the global resveratrol market in 2019. High consumption of resveratrol supplements owing to its protective benefits for several health conditions across U.S. and Canada is a major factor for its dominant share. Asia Pacific is estimated to be the most lucrative market for resveratrol during the forecast period and is expected to grow at a faster pace from 2020 to 2028. Increasing demand from countries such as India and China and increasing awareness regarding the health benefits of resveratrol and high consumption in Asian countries such as Japan and China, as a traditional herbal remedy will drive the market in the region.
Major players operating in the global resveratrol market include DSM, Evolva, Jeunesse Global, RevGenetics, Sabinsa Corporation, Maypro Industries, Hangzhou Great Forest Biomedical Ltd., Laurus Labs, Tianjin Jianfeng Natural Product R&D Co., Ltd., and Shanghai Natural Bio-engineering Co., Ltd. (Hunan Keyuan Bio-products Co., Ltd) among others.
Key Segments of Global Resveratrol Market
Product Overview, 2018-2028 (USD Million)
Natural Resveratrol

Grape seed extracted
Knotweed extracted

Synthetic Resveratrol
Application Overview, 2018-2028 (USD Million)
Dietary Supplements
Cosmetics
Pharmaceutical
Others
Form Overview, 2018-2028 (USD Million)
Distribution Channel Overview, 2018-2028 (USD Million)
Retail Stores
Online Stores
Others
Regional Overview, 2018-2028 (USD Million)
North America
Europe

Germany
United Kingdom
France
Rest of Europe

Asia Pacific

China
Japan
India
Rest of Asia Pacific

Latin America

Brazil
Mexico
Rest of Latin America

Middle East & Africa

GCC
South Africa
Rest of Middle East & Africa