The global point of sale terminal market is set to reach USD 28,270.0 Million by 2025 growing at CAGR of 15.80%. Rising demand of Internet of things (IOT) and Business intelligence, and advance way of payment options are the key drivers for the point of sale terminal market
Point of sale terminal market is segmented into counter-top, M-POS, among others, on the basis of POS type. The components for point of sale are hardware and software combined together as one POS system, Pc running software and printer and barcode scanner are hardware component. In 2018, hardware component was dominating segment over software segment of POS terminal market. Preference for touch screen POS is high because of comfort of customer as well as merchant. Counter-top POS terminal is very cheap solution which gives performance reliability and it is easy to use.
The point of sale system is widely used in industries like retail, hospitality, healthcare, entrainment, among others. Retail industry is highly dominating for point of sale terminal market. Users can swipe debit card or credit card for cashless transaction, but nowadays barcode scanners are also available at almost all retailer stores. Hence, it is very convenient for customer to pay by only scanning the barcode via mobile. For this purpose various apps are available such as google pay, BHIM and others.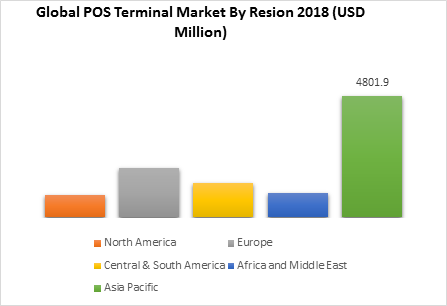 North America being a developed economy nurtures point of sale market. Other factors contributing to North America market are advance technology development and rising demand for new methods of point of sale by consumers. In Asia-Pacific region demand for point of sale is increasing because of high population of China and India specially. Other factors such as cashless transaction from youth is also boosting the point of sale terminal market. In 2018 Asia-Pacific was the leading market for point of sale terminal.
The competitive landscape of the global point of sale terminal market is fragmented with a large number of players with global and regional presence. The key players covered in the point of sale terminal market analysis includes Ingenico Group, VeriFone Systems Inc, PAX Technology, Shenzhen Zhengtong Electronics Co Ltd, Fujian Newland Computer Co, Nexgo Inc.,Cybernet Manufacturing, Inc., New POS Technology Limited, Panasonic Corporation, Toshiba.
Key segment of the point of sale market terminal
POS type overview, 2013-2025 (USD million)
Counter-top
Smart POS
M-POS
Integrated POS
Components overview, 2013-2025 (USD million)
Technology overview, 2013-2025 USD million)
Industry overview, 2013-2025 (USD million)
Retail
Entertainment
Hospitality
Healthcare
Transportation
Others
Regional overview, 2013-2025 (USD million)
UK
France
Germany
Rest of Europe
China
India
Australia
Rest of APAC
Central and South America
Brazil
Mexico
Rest of Central of South America
South Africa
UAE
Saudi Arabia
Rest of Middle East and Africa