The global pacemakers market was valued at USD 3,683.4 million in 2018 and is expected to grow at a CAGR of 2.5% over the forecast period. Significant growth in the rate of cardiac emergencies, and the number of patients with bradycardia, tachycardia, etc. Growing incidence of lifestyle associated diseases is also a key growth driver to this market.
Pacemakers refer to miniature electronic devices designed to correct arrythmias. These devices are fitted in the chest or abdomen by cardiac surgeons and have a certain life. Since the 1970s, the nature of pacemakers has underwent huge transition to the latest entry of biventricular devices, thereby extending the life of pacemakers and improving the treatment outcomes in patients. Widespread recognition to pacemakers as life-saving medical device and well-established reimbursement structure makes pacemakers a mainstay in cardiac devices market.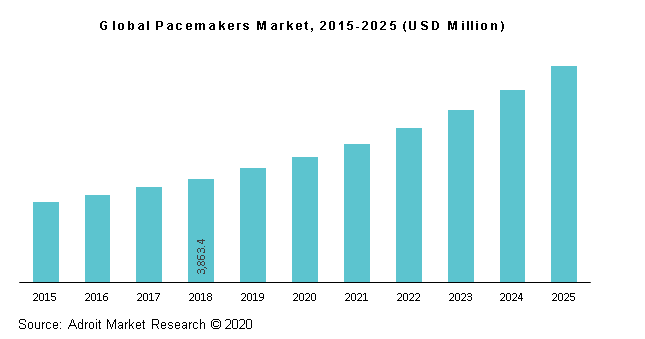 Adroit Market Research report on global pacemakers market gives an in depth view of the industry for the period from 2015 to 2025, which further highlights factors such as market drivers, restraints, and opportunities. The market has been studied for historic years from 2015 to 2018, while considering 2018 as the base year and 2019 to 2025 as the forecast period. The report demonstrates the current status and future outlook of the market at global and country level. Furthermore, the report also studies the market competition with Porter's five forces analysis and company positioning based on their product portfolio, geographic footprint, strategic initiatives and overall revenue. Prominent players operating in the global pacemakers market have been studied in detail based on parameters such as business overview, financial information, recent developments and strategic overview.
Consistent growth in the prevalence of CVDs is alarming the healthcare system worldwide. When compared to external pacemakers, implantable devices are in high acceptance in the global market. Growing demand for implantable devices is due to improved quality of life outcomes. Multiple leads present in implantable systems also resulted in improvement in quality of life of patients, as it ensures normal physiological functioning of heart. At present, over 80% of the pacemakers deployed worldwide are implantable. It is also estimated that the growth rate of implantable pacemakers shall be higher than external devices through the forecast period.
Pacemakers, base on design/technique are classified into single-chamber, dual-chamber and biventricular pacemakers. Biventricular pacemakers shall be the fastest progressing segment during the forecast period. At present, biventricular pacemakers are implanted in more than 50% of heart failure patients. Growing awareness regarding the available treatments for CVDs is yet another factor supporting the swift progress of this segment. MRI compatible pacemakers are anticipated to witness the highest demand through the forecast period. The growth of this segment is owing to increase in deployment of implantable devices that require MRI for periodic monitoring. MRI compatible pacemakers, over the time, have become a mainstay in the pacemakers market. Conventional pacemakers are gradually becoming obsolete, and have moderate demand in the market.
Key players operating in the global pacemakers market are Medtronic Plc, Boston Scientific Corporation, LivaNova, Biotronik, Lepu Medical, Abbott Laboratories, OSCOR, MEDICO, and Pacetronix. Perpetual R&D innovations, expansion of geographical reach, research collaborations are some of the major growth strategies adopted by these players.
Key segments of the global pacemakers market
Position Overview, 2015-2025 (USD Million)
Implantable pacemakers
External pacemakers
Type Technologies Overview, 2015-2025 (USD Million)
Conventional pacemakers
MRI compatible pacemakers
Technique Overview, 2015-2025 (USD Million)
Single-chamber pacemakers
Dual-chamber pacemakers
Biventricular pacemakers
Regional Overview, 2015-2025 (USD Million)
North America
Europe

Germany
United Kingdom
France
Spain
Rest of Europe

Asia Pacific

China
Japan
India
Rest of Asia Pacific

Central and South America

Brazil
Mexico
Rest of Central and South America

Middle East & Africa

GCC
Rest of Middle East and Africa