The global neuroendoscopy market is projected to reach USD 327 million by 2028, growing at a CAGR of 5.4%. Favorable government initiatives, rise in number of brain tumor cases and surging demand for minimally invasive surgical procedures are some of the factors driving the growth of the global neuroendoscopy market.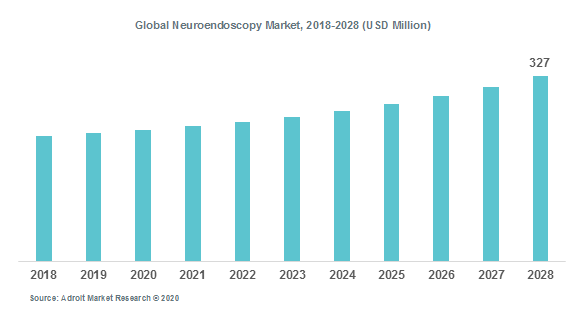 Adroit Market Research report on global Neuroendoscopy market gives a holistic view of the market from 2018 to 2028, which includes factors such as market drivers, restraints, opportunities and challenges. The market has been studied for historic years from 2018 to 2019, with the base year of estimation as 2020 and forecast from 2021 to 2028. The report covers the current status and future traits of the market at global as well as country level. In addition, the study also assesses the key players based on their product portfolio, geographic footprint, strategic initiatives and overall revenue. Prominent players operating in the global neuroendoscopy market have been studied in detail.
The global neuroendoscopy market is categorized based on product, application and usability. On the basis of product, the market is segmented into rigid neuroendoscopes and flexible neuroendoscopes. The rigid neuroendoscopes dominated the market in 2020. On the basis of application, the market is segmented into intraventricular neuroendoscopy, transcranial neuroendoscopy, and transnasal neuroendoscopy. The transnasal neuroendoscopy segment was the largest market in 2020. By usability, the market is segmented into reusable neuroendoscopes and disposable neuroendoscopes. The reusable neuroendoscopes segment accounted for the largest share of the global neuroendoscopy market.
North America dominated the market for neuroendoscopy in 2020, while Asia-Pacific is set to grow at the highest CAGR due to untapped growth opportunities. Key players of the global neuroendoscopy market include KARL STORZ, Ackermann Instrumente, B. Braun, Adeor Medical, Machida Endoscope, Hangzhou Hawk Optical Electronic Instruments, Tonglu Wanhe Medical Instrument, Clarus Medical, Schindler Endoskopie, Visionsense Corporation among others.
Key segments of the global neuroendoscopy market
Product Overview, 2018-2028 (USD Million)
Rigid neuroendoscopes
Flexible neuroendoscopes
Application, 2018-2028 (USD Million)
Intraventricular neuroendoscopy
Transcranial neuroendoscopy
Transnasal neuroendoscopy
Usability Overview, 2018-2028 (USD Million)
Reusable neuroendoscopes
Disposable neuroendoscopes
Regional Overview, 2018-2028 (USD Million)
North America
Europe

Germany
United Kingdom
France

Asia Pacific
South America
Middle East & Africa