The global microencapsulation market is estimated to cross the USD 22 billion by 2028, at a CAGR of >12.0% during the forecast period from 2021 to 2028. Widening applicability in home & personal care as well as in food additives is expected to drive the market. Microencapsulation exhibits properties such as sustained release and protection of core ingredients in the encapsulating shell. Furthermore, the rising demand for fresh and durable food, increasing acceptance of specialty detergents, and growth of the pharmaceuticals industry are the other factors that are expected to propel the global microencapsulation market growth.
The fastest growing segment for the microencapsulation market is the home & personal care. In this application microencapsulation technology is widely used in the preparation of deodorants, bath and shower gel, shampoo and face creams. Increasing demand for the personal care products, boosting the global microencapsulation market and is expected to show similar growth in the upcoming years. Additionally, microcapsules have long been a part of household products such as encapsulated fragrance oils for fabric softeners, scanted additives for laundry detergents and cleaning agents.
Food additives is one of the promising applications for microencapsulation industry. In food industry microencapsulation process, protect the food against nutritional loss by preserving the aroma and flavor of the food. In food industry microcapsules are injected orally to resist the adverse effect of gastrointestinal tract. Microencapsulation in food industry widely used to preserve volatility, aromas and to reduce the reactivity of foods. It also provides greater stability in adverse condition.
Global microencapsulation market gives a holistic view of the market from 2018 to 2028, which includes factors such as market drivers, restraints, opportunities and challenges. The market has been studied for historic years from 2018 to 2019, with the base year of estimation as 2020 and forecast from 2021 to 2028. The report covers the current status and future traits of the market at global as well as country level. In addition, the study also assesses the market based on porter's five forces analysis and positions the key players based on their product portfolio, geographic footprint, strategic initiatives and overall revenue. Prominent players operating in the global microencapsulation market have been studied in detail.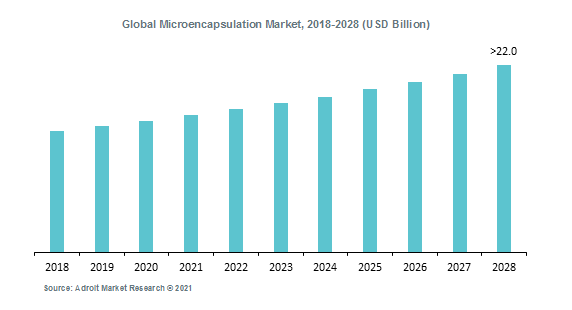 The global microencapsulation market is fragmented with a large number of players with global and regional presence. The key players in the global microencapsulation report include Capsulae, Dow Corning Corporation, Reed Pacific Pty Limited, Microtek Laboratories, Inc., TasteTech Ltd., BASF SE, Lipo Technologies, Encapsys, LLC, Evonik Industries AG, and Balchem among others.
Key Segments of the Global Microencapsulation Market
Application Overview, 2018-2028 (USD Million)
Food additives
Home & Personal Care
Agrochemicals
Pharmaceuticals
Others
Regional Overview, 2018-2028 (USD Million)
North America
Europe

Germany
United Kingdom
France
Rest of Europe

Asia Pacific

China
Japan
India
Rest of Asia Pacific

Latin America

Brazil
Mexico
Rest of Latin America

Middle East & Africa