The global microchannel heat exchanger market is estimated to reach the USD 26.7 billion by 2026, at a CAGR of 13.0% during the forecast period from 2021 to 2026. The MCHE's expansion can be traced to the government's strict energy usage and pollution legislation. MCHE's advantages over fin and tube heat exchangers have boosted its popularity in HVAC and refrigeration systems. MCHE has a number of benefits over alternatives like plate and fin and fin and tunnel. MCHE has a small footprint and therefore can be used in HVAC systems such as residential air conditioning, indoor displays, and vehicle air conditioning where space is restricted. MCHE is producing 35 percent more portable units that use slightly less refrigerant and save a large amount of energy, as well as 77 percent lower hold-up volume, 68 percent lighter weight, and 4 percent more cooling power.
The condenser segment having widespread use of heat transfer systems is a significant driver in the global industry. Condenser demand is mostly powered by HVAC systems, where lightweight architecture is one of the most important considerations in terms of reliability and pollution requirements. MCHE is also being used as condensing units in a variety of HVACR systems, including HVAC chillers, process chillers, food & beverage process equipment, data center systems, commercial process equipment, rooftop systems, and airside equipment, thanks to its additional benefits.
Geographically, countries such as Japan, U.S., India, China, Germany and some others are among the largest consumers of non-woven disposable products. MCHE has been gaining popularity in the HVAC industry because it is lighter, more efficient, and requires less refrigerant volume than other heat exchangers. For effective heat transfer between refrigerant and air, MCHE is commonly used in air conditioning systems and heat pumps. With the increasing need for lightweight systems and rising copper prices, MCHE has become more common in a variety of HVAC applications in recent years. MCHE is also used in residential and industrial cooling applications due to its compact size, lightweight, and low hold-up capacity.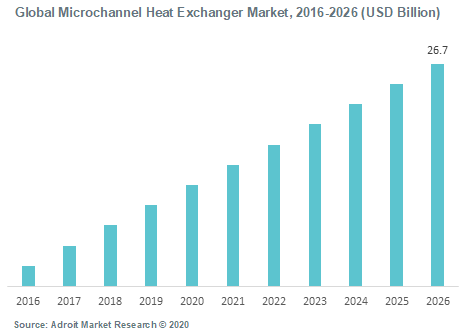 Adroit Market Research report on global microchannel heat exchanger market gives a holistic view of the market from 2016 to 2026, which includes factors such as market drivers, restraints, opportunities and challenges. The market has been studied for historic years from 2016 to 2018, with the base year of estimation as 2019 and forecast from 2020 to 2026. The report covers the current status and future traits of the market at global as well as country level. In addition, the study also assesses the market based on Porter's five forces analysis and positions the key players based on their product portfolio, geographic footprint, strategic initiatives and overall revenue. Prominent players operating in the global microchannel heat exchanger market have been studied in detail.
Major players in the global microchannel heat exchanger market are Sanhua (China), MAHLE (Germany), Denso Corporation (Japan), Modine (US), Hanon Systems (South Korea), Kangsheng Group (China), Kaltra (Deutschland), Climetal (Spain), Danfoss (Denmark), and API Heat Transfer (US).
Key Segments of the Global Microchannel Heat Exchanger Market
Type Overview, 2016-2026 (USD Million)
Condenser
Evaporator
Water Coil
Application Overview, 2016-2026 (USD Million)
Automotive
HVAC

Residential AC
Commercial AC
Precision Cooling

Commercial Refrigeration

Stationary Refrigeration
Transport Refrigeration
Cold Storage
Regional Overview, 2016-2026 (USD Million)
North America
Europe

Germany
United Kingdom
France
Rest of Europe

Asia Pacific

China
Japan
India
Rest of Asia Pacific

Latin America

Brazil
Mexico
Rest of Latin America

Middle East & Africa