The report, on "Global Medical Refrigerators Market" provides a thorough overview of segmentation, applications & key players of Medical Refrigerators market during 2020 to 2028.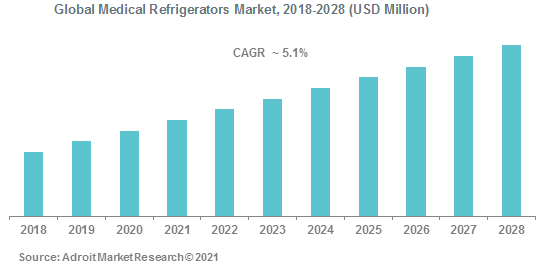 Adroit Market Research report on global medical refrigerators market gives a holistic view of the market from 2018 to 2028, which includes factors such as market drivers, restraints, opportunities and challenges. The market has been studied for historic years from 2018 and 2019, with the base year of estimation as 2020 and forecast from 2021 to 2028. The report covers the current status and future traits of the market at global as well as country level. In addition, the study also assesses the market based on Porter's five forces analysis and positions the key players based on their product portfolio, geographic footprint, strategic initiatives and overall revenue. Prominent players operating in the global medical refrigerators market have been studied in detail.
Medical refrigerators are medical equipment that are used for safe storage of biological materials such as blood, blood derivatives, biological reagents, vaccines, pharmaceuticals, flammable compounds, ribonucleic acid (RNA), and deoxyribonucleic acid (DNA). The temperature requirements for safe drug storage are met by medical refrigerators. Increase in incidence of infectious and hematological diseases will positively boost industry over the next few years. Presence of large number of blood banks in developing and developed regions will further fuel the demand for medical refrigerators.
The global medical refrigerators market has been segmented based on product type, end-user, and region. Based on product type, the global medical refrigerators market is categorized into blood bank refrigerators, plasma freezers, laboratory refrigerators & freezers, cryogenic storage systems, ultra-low temperature freezers, and shock freezers. Plasma freezers segment held substantial share of the market in 2020. On the basis of end-user, the global medical refrigerators market is segregated into. Blood banks segment accounted for majority of the market share in 2020. An increase in the incidence of hematological disorders and an increase in the number of accident cases are driving up demand for blood transfusion operations, which in turn is driving the expansion of the blood banks segment.
North America dominated the global medical refrigerators market in 2020. Wide availability of medical refrigerators and freezers, along with presence of large number of blood banks, research institutes and diagnostic centers in the U.S. and Canada are major factors driving the growth for medical refrigerators in the region. However, Asia Pacific medical refrigerators market is anticipated to grow at a rapid pace over the forecast period. Presence of large geriatric population, increase in disposable income, and high prevalence of infectious and hematological disorders will propel the global medical refrigerators in the region in the next few years.
Major players operating in the global medical refrigerators market include Helmer Scientific, Eppendorf, Aegis Scientific, Arctiko, Follett LLC, Liebherr-International, Azbil Corporation, Binder, Migali Scientific, B Medical Systems, Panasonic Healthcare Corporation of North America, Vestfrost Solutions, and Thermo Fisher Scientific among others.
Key Segments of the Global Medical Refrigerators Market
Product Type Overview, 2018-2028 (USD Million)
Blood Bank Refrigerators
Plasma Freezers
Laboratory Refrigerators & Freezers
Cryogenic Storage Systems
Ultra-low Temperature Freezers
Shock Freezers
End-use Overview, 2018-2028 (USD Million)
Blood Banks
Pharmaceutical Companies
Hospital & Pharmacies
Diagnostic Centers
Research Institutes
Medical Laboratories
Regional Overview, 2018-2028 (USD Million)
North America
Europe

Germany
United Kingdom
France
Rest of Europe

Asia Pacific

China
Japan
India
Rest of Asia Pacific

Latin America

Brazil
Mexico
Rest of Latin America

Middle East & Africa

GCC
South Africa
Rest of Middle East & Africa