The global luxury travel market was valued at USD 1,794.4 billion in 2020 and is expected to grow at a CAGR of 5.3% over the forecast period. Luxury travel has become one of the world's largest and fastest-growing economic sectors, with nearly unbroken growth over the last two decades. The tourism business is increasing to fulfil the wants of new wealthy citizens in many parts of the world. More mature markets are looking for a new sort of luxury, while emerging middle classes are looking for the tangible side of luxury travel. Luxury travel represents both the availability and, more importantly, the demand for a specific type of tourist.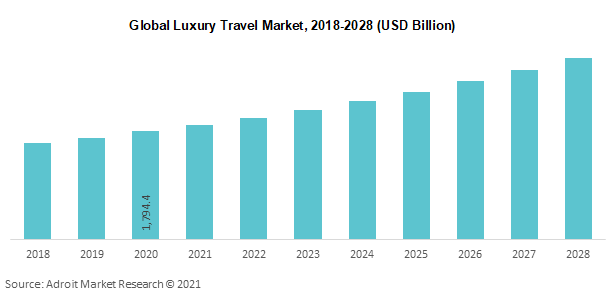 Adroit Market Research report on global luxury travel market gives a holistic view of the market from 2018 to 2028, which includes factors such as market drivers, restraints, opportunities, and challenges. The market has been studied for the period 2018 to 2028, with the base year of estimation as 2020 and forecast from 2021 to 2028. The report covers the current status and future traits of the market at global as well as country level. In addition, the study also assesses the market competition with Porter's five forces analysis and company positioning based on their product portfolio, geographic footprint, strategic initiatives, and overall revenue. Prominent players operating in the global luxury travel market have been studied in detail.
Growing disposable income, decreased airfares, increased demand for "authentic" travel, and increased social media influence are all global trends in the tourism sector. The growth is primarily attributable to increased demand for "experiential" travel across all demographics. The experience of naming a present It is all about the experience, whether it is a culture, an environment, or both, when it comes to travelling. Many travellers remark that they went to a location but did not feel it, that they arrived at a destination and then flew home without having formed a deeper connection with it.
Luxury travel has become more diverse, while the term has become confused as a result of the introduction of a significant number of new services and products tailored to the traveller's preferences as well as market trends. However, luxury now refers to a wide range of items that are not necessarily outmoded, but the old luxury travel remains the original tourist image.
The prominent players operating in global luxury travel market includes Abercrombie & Kent, Cox & Kings, Micato Safaris, The Luxury Safari Company Ltd., Ker and Downey, Thomas Cook, Scott Dunn, Rothschild Safaris, Butterfield and Robinson, Natural Habitat Adventures among other prominent players.
Key segments of the global luxury travel market
Age Group Overview, 2018-2028 (USD Billion)
Millennials
Generation X
Baby Boomers
Silver Hair
Application Overview, 2018-2028 (USD Billion)
Adventure Travel
Personalized Vacations
Cruising and Yachting
Culinary Travel
Others
Regional Overview, 2018-2028 (USD Billion)
North America
Europe

Germany
United Kingdom
France
Spain
Russia
Rest of Europe

Asia Pacific

China
Japan
India
Southeast Asia
Rest of Asia Pacific

South America

Brazil
Mexico
Rest of South America

Middle East & Africa

GCC
South Africa
Rest of Middle East and Africa