The global industrial wax market was valued at approximately USD 12.30 billion in 2019 and is expected to grow with a CAGR of 5.3% by 2025. The increasing use of industrial wax was in the candle making industry followed by cosmetics and personal care products. These applications are some of the significant factors that have favored the rapid market grow in the recent years.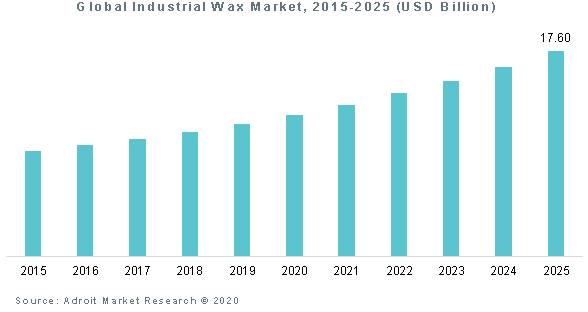 The global industrial wax market research report published by Adroit Market Research is a detailed and in-depth analysis of the market providing information from 2015 to 2025. The report includes market drivers, opportunities, restraints, and challenges. The report also gives a holistic view of futuristic approaches regarding the strategic developments of the dominant players in the industrial was market. The report also includes Porter's five forces analysis along with PESTEL analysis.
Waxes have been used in many different ways since the early days of the human race. The most significant use of waxes is for candles. Candles are currently the fastest-growing application segment of the industrial wax industry. Candles that burn well and do not soot are high-quality products. Candle manufacturers make sourcing decisions based on the purity of the wax. The Sulzer wax deoiling method has been developed as the leading technology for the development of high-purity paraffin waxes. In addition to their use in candles, there are many other uses for high-purity waxes.
The fossil-based waxes segment generated a revenue of 5.2 billion in 2019, and around 42% of the market share was captured by fossil-based waxes. On the other hand, synthetic-based waxes are anticipated to be the fastest-growing industrial wax type. Mineral wax and oil wax which is used in large measure in the covering of commercial items are included in fossil waxes. Mineral wax in many cosmetic products is commonly used as a fundamental ingredient; it is thus a key element in cosmetics. This is expected to have skin care properties and can also serve as a quality source of active ingredients. The demand in cosmetics is boosting the growth of the industrial wax industry because of rising awareness of toilet and the increased e-commerce.
In the year 2019, North America captured the largest market share of approximately 30% in terms of revenue. The demand for industrial wax in North America is significant. The country currently accounts for the world's largest industrial wax market. The growth of demand for the North American industrial wax market will be driven by higher demand in various applications such as candles, cosmetics & personal care, tire & rubbers and hot melt adhesives.
Key Segments of the Global Industrial Wax Market
Type Overview, 2015-2025 (USD Million) (Kilo Tons)
Fossil based
Synthetic based
Bio based
Application Overview, 2015-2025 (USD Million) (Kilo Tons)
Candles
Packaging
Coatings & Polishes
Hot-melt Adhesives
Tires & Rubber
Cosmetics & Personal Care
Food
Regional Overview, 2015-2025 (USD Million) (Kilo Tons)
North America
Europe

Germany
Spain
United Kingdom
France
Rest of Europe

Asia Pacific

China
Japan
India
Rest of Asia Pacific

Latin America

Brazil
Mexico
Rest of Latin America

Middle East & Africa