The global high-throughput screening market is projected to reach USD 25.94 billion by 2025, growing at a CAGR of 8.2%. Increased R&D spending, the convenience of government funding, venture capital investments and technological improvements are driving the growth of the HTS market.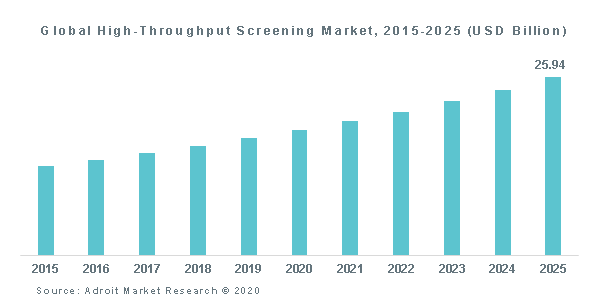 Adroit Market Research report on global high-throughput screening market gives a holistic view of the market from 2015 to 2025, which includes factors such as market drivers, restraints, opportunities and challenges. The market has been studied for historic years from 2015 to 2017, with the base year of estimation as 2018 and forecast from 2019 to 2025. The report covers the current status and future traits of the market at global as well as country level. In addition, the study also assesses the market based on Porter's five forces analysis and positions the key players based on their product portfolio, geographic footprint, strategic initiatives and overall revenue. Prominent players operating in the global high-throughput screening market have been studied in detail.
High throughput screening is an important part of early stage drug and tool compound discovery, and methods and technologies have seen many fundamental improvements and innovations over the past decades. Increasing biocomplexity created by explosive advances in genomics and proteomics in the last decade has established the need for HTS technologies to transform the vast collections of data generated from these systems into organized knowledge.
The global high-throughput screening market has been segmented based on products & services, technology, applications and end user. Based on technology the market is segmented into cell-based assays, lab-on-a-chip, ultra-high-throughput screening, bioinformatics and label-free technology. Label free technology is set to grow at a highest CAGR by 2025. In the cell based assays, HTS directors face many challenges while establishing high quality cell lines, some of which include maintaining protein expression levels and stability, time and expertise requirements, obtaining robust signal-to-noise ratios, target specificity, using transient versus stable transfections, phenotypic/clonal drift, assay development/pilot-to-screen transfer, relating cell-based assays to biology and contamination. However, 2D & 3D stem cell cultures assays is expected to show promising growth in the foreseeable years.
North America was the largest market for high-throughput screening in 2018, which is closely followed by Europe. However, Asia Pacific is set to register highest CAGR during the forecast period. Asia's huge population base offers market for biotech products & services, increasing economic prosperity and health consciousness would continue to fuel demand for HTS market along with better accessibility to healthcare services further accelerates the demand for HTS market.
Key players of the high-throughput screening market include Thermo Fisher Scientific Inc., Agilent Technologies, Inc., Danaher Corporation, Perkinelmer, Inc., Tecan Group, Axxam S.P.A., Bio-Rad Laboratories, Merck Group, Hamilton Company, Corning Incorporated, Biotek Instruments and Aurora Biomed among others.
Key segments of the global high-throughput screening market
Product & Services Overview, 2015-2025 (USD Billion)
Reagents & Assay Kits
Instruments
Consumables & Accessories
Software & Services
Technology Overview, 2015-2025 (USD Billion)
Cell-Based Assays
Lab-On-A-Chip
Ultra-High-Throughput Screening
Bioinformatics
Label-Free Technology
Application Overview, 2015-2025 (USD Billion)
Drug Discovery
Chemical Biology Programs
Cell & Organ-Based Screening
Biochemical Screening
Biological Active Compound Screening
Genomics
Proteomics
Compound Profiling
End User Overview, 2015-2025 (USD Billion)
Pharmaceutical and Biotechnology Companies
Academic and Government Institutes
Contract Research Organizations (CRO)
Other End Users
Regional Overview, 2015-2025 (USD Billion)
North America
Europe

Germany
United Kingdom
France
Rest of Europe

Asia Pacific

China
Japan
India
Rest of Asia Pacific

Latin America

Brazil
Mexico
Rest of Latin America

Middle East & Africa

GCC
South Africa
Rest of MEA