The global stairlift market is expected to reach USD 1,685 million by 2025. Rise in geriatric population and increasing number of patients with physical disabilities owing to incidences of accidental injuries, are the major drivers for the global stairlift market.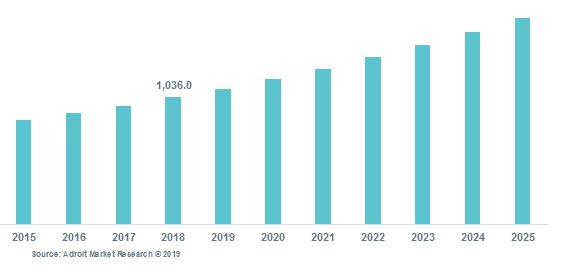 Adroit Market Research report on global stairlift market gives a universal view of the market demand, trends, drivers, restraints and opportunities. The study covers the historical trends from 2015 to 2017, with the base year of estimation as 2018 and forecast from 2019 to 2025. The report contains the present status and future traits of the market at global as well as country level. Additionally, the market has also been evaluated based on Porter's five forces analysis along with description of the industry value chain. The global stairlift market has been segmented based on product type and applications. Moreover, the report offers thorough examination of the market participants along with company profiles of significant players.
Stairlifts are equipped with buttons/joysticks to simplify the overall operation. Elderly population and physically challenged individuals can effortlessly access and maneuver the equipment. Low installation costs and ease of accessibility are some of the major elements fueling the growth of global stairlifts market. Additionally, ageing-related health conditions such as osteoarthritis is also bolstering the demand for stairlifts. User-friendliness and high level of mobility are considered to be the unique features of stairlifts. Moreover, quick premarket approval process is expected to play a key role in pushing the demand for stairlifts over the forecast period.
The global stairlift market has been segmented based on product type and application. Product type has been bifurcated into straight and curved stairlifts. The straight segment is expected to gain the maximum share in the global stairlifts market over the forecast period. The sales of straight stairlifts is expected to reach USD 917.8 million by 2025. Straight stairlift is a portable chair-like transport device specially intended to be attached to straight stairways. It mends admission between floors in homes and delivers easy admission to many people with mobility problems. Straight stairlifts are finding high adoption rates in comparison to other types of stairlifts in remote apartments having straight rail.
Application wise global stairlift market has been categorized into residential, medicare areas and public places. The residential segment accounted for the largest share in the global stairlifts market in 2018 and is expected to gain significant share over the forecast period. This is due to increasing disposable incomes especially in developed countries of Europe and North America.
North America is expected to gain major market share throughout the forecast period, occupying about 40% share by 2025. In countries like the U.S., more than 50 million adults have been diagnosed with some type of arthritis. This has resulted in the installation of a large number of stairlifts in the residence places with elder people.
Major players operating in the global stairlift market include Bruno Independent Living Aids, Inc., Platinum Stairlifts, Stannah Lifts Holdings Ltd., Harmar Mobility, LLC., and ThyssenKrupp Accessibility BV among others.
Key segments of the global stairlift market
Product Overview, 2015-2025 (USD Million)
Straight stairlift
Curved stairlift
Application Overview, 2015-2025 (USD Million)
Residential
Medicare areas
Public places
Regional Overview, 2015-2025 (USD Million)
North America
Europe

Germany
United Kingdom
France
Italy
Russia
Rest of Europe

Asia Pacific

China
Japan
India
Australia
Korea
Rest of APAC

Latin America

Brazil
Mexico
Rest of Latin America

Middle East & Africa

GCC
South Africa
Rest of Middle East & Africa