The global food encapsulation market is projected to reach USD 60.62 billion by 2028, growing at a CAGR of 7.9%. Growing use of encapsulated flavors in the food and beverage industry, improved shelf-life stability and increasing demand for processed & packaged food are some of the factors driving the growth of the global food encapsulation market.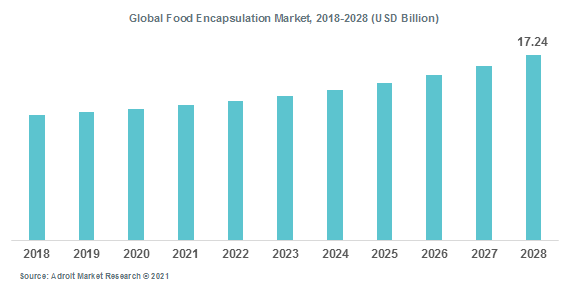 Adroit Market Research report on global food encapsulation market gives a holistic view of the market from 2018 to 2028, which includes factors such as market drivers, restraints, opportunities and challenges. The market has been studied for historic years from 2018 to 2019, with the base year of estimation as 2020 and forecast from 2021 to 2028. The report covers the current status and future traits of the market at global as well as country level. In addition, the study also assesses the key players based on their product portfolio, geographic footprint, strategic initiatives and overall revenue. Prominent players operating in the global food encapsulation market have been studied in detail.
Encapsulation comprises the incorporation of food ingredients, enzymes, cells or other materials in small capsules. Uses for this procedure have augmented in the food industry as the encapsulated materials can be sheltered from moisture, heat or other extreme conditions, consequently increasing their stability and preserving viability.
The global food encapsulation market is categorized based on core phase, shell material and technology. On the basis of core phase, the market is segmented into vitamins, minerals, organic acids, enzymes, flavors & essence, sweeteners, colors, preservatives, essential oils, pro-biotic, pre-biotic and others. The vitamins segment dominated the market in 2020. Vitamins are functional ingredients that are used in food owing to their specific nutritional properties for varied human body parts. Thus, encapsulation is majorly adopted for vitamins for its targeted effect.
North America dominated the market for food encapsulation in 2020, while Asia Pacific is set to grow at a highest CAGR due to rising awareness about the benefits of functional food and dietary supplements. Key players of the global food encapsulation market include Cargill Incorporated, International Flavors & Fragrances Inc. (IFF), DSM, Symrise AG, Firmenich, Friesland Campina, Givaudan, Lycored Group, Kerry Group, Ingredion Incorporated among others.
Key segments of the global food encapsulation market
Core Phase Overview, 2018-2028 (USD Billion)
Vitamins
Minerals
Organic Acids
Enzymes
Flavors & Essence
Sweeteners
Colors
Preservatives
Essential Oils
Pro-biotic
Pre-biotic
Others
Shell Material Overview, 2018-2028 (USD Billion)
Polysaccharides
Proteins
Lipids
Emulsifiers
Others
Technology Overview, 2018-2028 (USD Billion)
Microencapsulation
Nanoencapsulation
Hybrid encapsulation
Regional Overview, 2018-2028 (USD Billion)
North America
Europe

Germany
United Kingdom
France

Asia Pacific
Latin America
Middle East & Africa