The global explosives and pyrotechnics market is estimated to reach the USD 23.71 billion by 2026, at a CAGR of 4.1% during the forecast period from 2020 to 2026. Explosives, sometimes known as explosive materials, are flammable chemical compounds, combinations, and devices. They contain a tremendous quantity of potential energy that, when released by light, sound, pressure, or heat, can cause an explosion that is considerably greater than the initial material. Explosives are often classified into two types: high explosives, which are employed in defence and military applications, and low explosives, which decompose or burn into gas. Some of the most powerful explosives used in military, industrial, and mining purposes include trinitrotoluene (TNT), acetone peroxide (TATP), RDX, and aziroazide azide.
The worldwide explosives and pyrotechnics industry is being driven by increasing mining and building activities. When compared to mechanical drills employed in the industrial sector, explosives may blast a vast area. Another element driving worldwide market expansion is rising government investment in infrastructure development projects, particularly in emerging nations. Furthermore, increased mining operations and expanding military budgets in emerging nations are projected to drive the global explosives and pyrotechnics market forward in the near future. Government regulations on the ownership, transportation, and use of explosives, on the other hand, might limit the worldwide explosives and pyrotechnics market's growth. Changing raw material costs are another issue that is likely to have an impact on the target market's growth. Nonetheless, the growing construction industry in emerging and underdeveloped nations might provide significant income possibilities for global explosives and pyrotechnics market participants.
Explosives and pyrotechnics is expected to become a more extensively utilized commodity as demand for it develops fast throughout the world in a range of sectors. In UK, France, United States, Germany, India, and other countries, explosives and pyrotechnics is regularly used. The presence of big corporations in these countries, as well as increased demand for explosives and pyrotechnics across a broad variety of end-use sectors, are boosting the target sector's growth. Furthermore, the market's top competitors are focusing on new product development, which is a vital driver of the market's growth, in order to get a competitive edge throughout the world.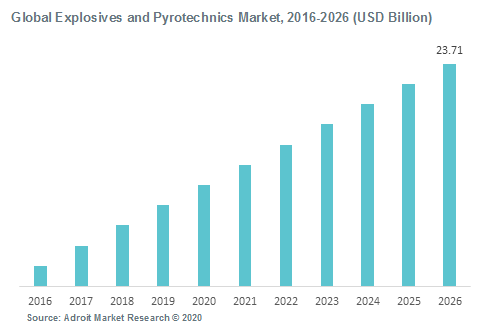 Adroit Market Research report on global explosives and pyrotechnics market gives a holistic view of the market from 2016 to 2026, which includes factors such as market drivers, restraints, opportunities and challenges. The market has been studied for historic years from 2016 to 2018, with the base year of estimation as 2019 and forecast from 2020 to 2026. The report covers the current status and future traits of the market at global as well as country level. In addition, the study also assesses the market based on Porter's five forces analysis and positions the key players based on their product portfolio, geographic footprint, strategic initiatives and overall revenue. The global explosives and pyrotechnics market can be segmented on the basis of the explosives product, explosives application, and pyrotechnics application. The explosives and pyrotechnics industry by explosives product includes blasting agents, propellants, pyrotechnics, and others. Based on explosives application the global industry is categorized into mining, construction, military, and others. The pyrotechnics application segment is divided into proximate pyrotechnics, consumer pyrotechnics, display pyrotechnics, and others.
Asia Pacific led the worldwide explosives and pyrotechnics market. In the India, China, and other Asian countries, explosives and pyrotechnics are becoming increasingly frequently adopted due to growth in the mining activities in emerging economies for coal. One of the key factors driving explosives and pyrotechnics growth in developing nations is the rapidly expanding demand for the target explosives product among growing economies throughout the world. Furthermore, throughout the projection period, North America is predicted to have considerable expansion in the target industry. The presence of major players in the area, as well as technology developments among American countries, notably in the U.S. will augment growth of the global industry. Sasol Limited, Orica Mining Services, ENAEX, AECI Group, Austin Powder Company, Titanobel SAS, Incitec Pivot, LSB Industries, Chemring Group, and Hanwha Corp. are all major participants in the worldwide explosives and pyrotechnics industry. Advanced products launches and other organic as well as inorganic strategies adopted by the major operating players will create huge growth opportunities.
Key Segments of the Global Explosives and Pyrotechnics Market
Explosives Product Overview, 2016-2026 (USD Billion)
Blasting agents
Propellants
Pyrotechnics
Others
Explosives Application Overview, 2016-2026 (USD Billion)
Mining
Construction
Military
Others
Pyrotechnics Application Overview, 2016-2026 (USD Billion)
Proximate pyrotechnics
Consumer pyrotechnics
Display pyrotechnics
Others
Regional Overview, 2016-2026 (USD Billion)
North America
Europe

Germany
United Kingdom
France
Rest of Europe

Asia Pacific

China
Japan
India
Rest of Asia Pacific

Latin America

Brazil
Mexico
Rest of Latin America

Middle East & Africa