The ethylene propylene diene monomer (EPDM) market is expected to rise due to rising product demand in Asia Pacific, as well as increased R&D spending. Moreover, demand for bio-based goods is expected to boost market growth throughout the predicted period. EPDM demand is expected to grow in the next years as a result of rapidly increasing application industries such as automotive and building and construction. EPDM is often made from petroleum-derived basic materials like ethylene and propylene.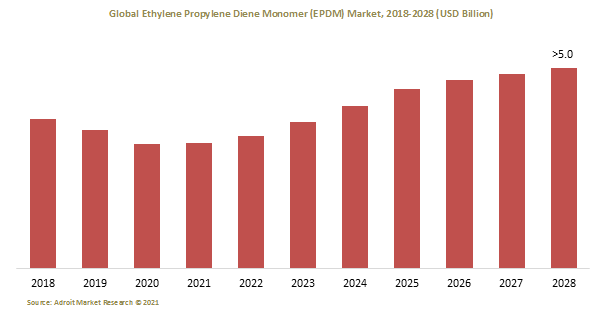 Adroit Market Research study on the global market for Ethylene Propylene Diene Monomer (EPDM) offers a holistic view of the industry from 2020 to 2028 as forecast period, including factors such as market drivers, limitations, opportunities, threats and regulatory overview. The market has been analyzed from 2018 to 2028, with a base year estimate of 2019 and a projection from 2020 to 2028. The report covers the current status and potential characteristics of the market at both the global and the country level. Moreover, the report also assesses market competition with Porter's analysis of five strengths and places leading players on the basis of their product range, regional presence, strategic initiatives and overall sales. Prominent players in the global Ethylene Propylene Diene Monomer (EPDM) market have been analyzed in depth.
Renewable materials were initially employed as a substitute for technological items, but their performance in rubber applications was inadequate. However, as end-use industries, particularly the transportation and automotive sectors, focus on decreasing carbon footprints, significant manufacturers are embracing the usage of renewable sources to improve end-product sustainability. The manufacturing business in Asia Pacific has been drawing considerable investments from major multinational corporations (MNCs) in recent years. Northeast Asian companies are primarily focused on growing their economies in important industries such as raw material extraction, manufacturing, and services.
Key player in this industry includes ExxonMobil Corporation, Firestone Building Products Company LLC, Johns Manville, Kumho Polychem, ARLANXEO, Lion Elastomers, Mitsui Chemicals, Inc., PetroChina Company Limited, Redwood Plastics, SK global chemical Co., Ltd, Versalis SpA, West American Rubber Company LLC
Key Segments of the Global Ethylene Propylene Diene Monomer (EPDM) Market
Process Overview, 2018-2028 (USD Billion)
Solution Polymerization Process
Slurry/Suspension Process
Gas-phase Polymerization Process
Application 2018-2028 (USD Billion)
Automotive
Building and Construction
Manufacturing
Electrical and Electronics
Other Applications
Regional Overview, 2018-2028 (USD Billion)
North America
Europe
UK
Germany
France
Rest of Europe
Asia Pacific
China
Japan
India
Rest of Asia-Pacific
Middle East and Africa
UAE
South Africa
Rest of Middle East and Africa
South America
Brazil
Rest of South America