The growth of the manufacturing industry is leading to development in the global equipment breakdown insurance market.
The global equipment breakdown market size is estimated to reach close to USD 120 billion by 2028 with an estimated CAGR of 15% over the forecast years 2021-2028. Equipment breakdown insurance is a type of insurance cover that provides all risk cover and protection against any sudden and unforeseen physical loss or damage to the insured machines and equipment. Equipment breakdown insurance is usually triggered when certain machine or equipment undergoes failure leading to breakdown or any further loss. For example, many items of low value as well as high value worth insuring are covered under the equipment breakdown insurance. The purpose of equipment breakdown insurance is to facilitate coverage against wide range of losses that occurred during the equipment breakdown for a diverse spectrum of machines and equipment in commercial and production facilities. Damage caused to equipment due to technological obsolescence is also classed under the equipment breakdown insurance.
The increasing demands for producing capital and consumer goods coupled with rising urbanization has continued to spur the developments towards attaining high performing machines and installations. The high performing machines must withstand stringent design parameters including high pressures, temperatures, operating speed, etc. As a result, this has led to great stress on equipment and increased exposure to both material and operating failures enabling greater adoption of equipment breakdown insurance. This is a key influencing factor boosting global equipment breakdown insurance market. However, thousands of uninsured exposures and insurance programs lack this essential equipment breakdown insurance likely to hamper the market growth. Furthermore, insurers are responding to the clients' equipment breakdown insurance needs which is anticipated to be an opportunity for the global equipment breakdown insurance market.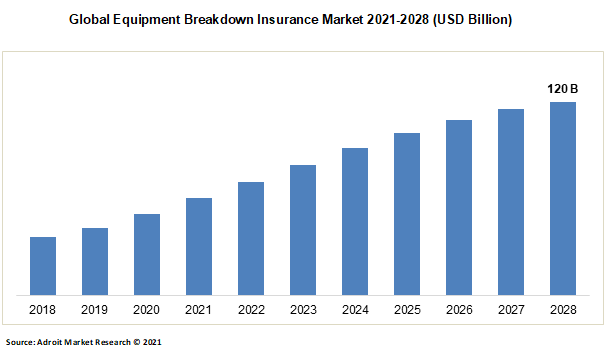 Adroit Market Research report covers the Global Equipment Breakdown Insurance Market from 2021-2028 which includes top 100 insurers, estimated market sizes in terms of current demands, company rankings. Geographic footprint and strategic initiatives of the market player are presented in the report. It provides geographic analysis of the regions including Latin America, North America, Middle East, Europe, Asia, Africa, and the total world market. Factors such as drivers, restraints, strengths, weaknesses, and opportunities are studied in the report. The historic year considered for the study in the report is from 2019 to 2020. The report presents the current financial performance of the market at the country and global level. The study assesses the market based on the Porter's five forces analysis, primary & secondary research. The base year considered is 2020 whereas the forecast tenure is 2021 to 2028.
The global equipment breakdown insurance market is experiencing solid growth and turbulence as insurers continue to provide insurance coverage to recover from serious accidents stemming from equipment malfunction. These insurers have expanded their offerings by providing extended coverage to their client's property.
Based on type segment, the market is broadly classified into Mechanical, Electrical, Computers & Communications, Boilers & Pressure Equipment, and Others. In 2020, the mechanical segment witnessed a considerable market growth. The growth in this segment is mainly ascribed to the technological advancements leading to operational failures of equipment in the medium and large manufacturers.
The manufacturing segment is likely to incur maximum revenue through the forecast span owing to advances across verticals such as plastics, thermoforming, welding and the like. Manufacturers across end-use industries are fast adopting equipment breakdown insurance policies to sustain uninterrupted production and avoid losses.
The North American region witnessed major growth in 2020 and is anticipated to capture good growth in the forecasted years. This is due to increasing instalments of sophisticated equipment, costly repairs and high maintenance cost. At the same time, China is also projected to record highest growth in the market due to increasing manufacturing plants in the region and the facilities adopting insurance policies to get protection against future equipment damages. These are key factors driving growth of Global Equipment Breakdown Insurance Market in the region.
The key insurance companies in the Global Equipment Breakdown Insurance Market are Gulfstream Insurance, Allied Insurance, Erie Insurance, Aviva, Travelers Insurance, Liberty Mutual, Safeco Insurance, Allstate, AIG, AXA, and Zurich. These prominent insurance providers are implementing strategies such as flexible insurance services to the clients covering equipment of less value to equipment worth greater value. Additionally, new product launches and mergers & acquisitions are some other strategies utilized by the insurers to stay ahead of the competitive environment. This has resulted into effective service to clients and better client satisfaction.
Key Segments of the Global Equipment Breakdown Insurance Market
Type Overview, 2021-2028 (USD Billion)
Mechanical
Electrical
Computers & Communications
Boilers & Pressure Equipment
Others
Application Overview, 2021-2028 (USD Billion)
Regional Overview, 2021-2028 (USD Billion)
North America
Europe
Germany
UK
France
Rest of Europe
Asia Pacific
China
Japan
India
Rest of Asia-Pacific
Latin America
Brazil
Mexico
Rest of Latin America
Middle East and Africa