Engineering plastics are high-performance polymer materials that outperform commodity plastics like polystyrene, PVC, polypropylene, and polyethylene in terms of mechanical and thermal properties. It has a wide range of applications in various industries, including automotive, aerospace, building and construction, mechanical, and medical, due to its unique characteristics such as stability, flame resistance, chemical resistance, exceptional machinability, dimension constancy, wear resistance, and minimal damaging friction.
With increased market penetration, people began searching for ways of reducing the costs of plastics and seeking ways of growing the property range to enable plastics to reach new applications. There are numerous reasons why this material is so popular. In certain cases, the cost of materials is lower than that for products. With growing market penetration, people began looking for ways to reduce the costs of plastics and ways to broaden plastics to new applications.
Engineering plastics have better thermal stability and are used in those applications which require high temperature. Various drivers supporting the market growth includes Growing demand for engineering plastics for the improved products. Growing demand for polyamide in 3D printing as a feedstock, growing demand for plastics goods from developing countries, and High cost of quality of raw materials used in plastics manufacturing.
Other polymers are putting pressure on engineering plastics materials, especially in lower-end engineering resins. ABS, for example, is competing with commodity polymers like polypropylene. When copolymerized with ethylene, polypropylene is versatile and durable, with superior properties. Polypropylene can be used as an alternative to engineering plastics such as ABS because of its low cost and superior chemical properties. This threat is more pronounced in cost-competitive markets, such as consumer goods and appliances, where product producers must compete with low-cost foreign suppliers.
Global engineering plastics market gives a holistic view of the market from 2018 to 2028, which includes factors such as market drivers, restraints, opportunities and challenges. The market has been studied for historic years from 2018 to 2019, with the base year of estimation as 2020 and forecast from 2021 to 2028. The report covers the current status and future traits of the market at global as well as country level. In addition, the study also assesses the market based on porter's five forces analysis and positions the key players based on their product portfolio, geographic footprint, strategic initiatives and overall revenue. Prominent players operating in the global engineering plastics market have been studied in detail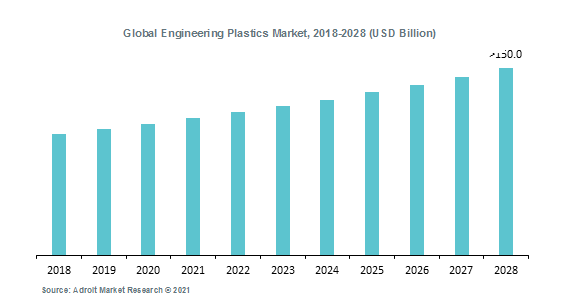 The major players operating in the global engineering plastics market are BASF, Covestro, Celanese Corporation, DowDuPont, Evonik Industries, Lanxess, Mitsubishi Engineering – Plastic Corporation, LG Chem, Solvay SA, and SABIC.
Key Segments of the Global Engineering Plastics Market
Type Overview, 2018-2028 (USD Billion)
Acrylonitrile Butadiene Styrene
Polyamides
Polycarbonates
Thermoplastic Polyesters
Polyacetals
Fluoropolymers
Polyphenylene Sulfide
Polymethyl Methacrylate
Others
End-Use Overview, 2018-2028 (USD Billion)
Automotive & Transportation
Consumer Appliances
Electrical & Electronics
Industrial & Machinery
Packaging
Others
Regional Overview, 2018-2028 (USD Billion)
North America
Europe

Germany
UK
France
Rest of Europe

Asia Pacific

China
Japan
India
Rest of Asia Pacific

Central & South America

Brazil
Argentina
Rest of Central & South America

Middle East & Africa
Rest of Middle East & Africa