The global electric paint market is estimated to reach the USD 27.62 billion by 2026, at a CAGR of 8.1% during the forecast period from 2020 to 2026. Electric paint works similarly to any other water-based paint, with the exception that it conducts electricity. It has the advantages of both conductivity and corrosion resistance. The worldwide electric paint industry is being driven by an increase in consumer electronics adoption. A mixture of epoxy tars, hardeners, and carbon black is used to make electric paint. The inclusion of components like carbon dark silver, carbon nanofibers, short carbon filaments, silver-covered carbon nanotubes and graphite to the electric paint gives it electrically conductive properties. As a result, it gives the entire panel a lightweight quality, lowering the total cost.
Electric paint's growth is expected to be boosted by factors such as the fast-growing consumer electronics industry in emerging countries throughout the world, as well as the usage of electric paint in the automotive and defense industries across the world. Touch panels, computers, laptops, electrical displays, LCDs, and mobile phones are all consumer electronics of where electric paints are used. Electric paint is water soluble, solvent-free, as well as being electrically conductive. It is not, however, as conductive as metal or copper wire. Electric paint is expected to be in significant demand in low-current circuits and sensors. Increased need for industrial solutions that combine durability, low maintenance, and high performance is projected to drive the electric paint market forward in the near future.
Electric paints are expected to become more widespread as the global need for innovative electronics grows at a rapid pace. In China, India, the United Kingdom, the United States, Germany, and other countries, electric paints are extensively used. The presence of important companies in these countries, as well as expanding demand for electric paint in a variety of end-use sectors, are boosting in the growth of the target sector in these countries. Furthermore, to obtain a competitive edge around the world, the leading players are focused on new product development, which is a crucial driver driving the market's worldwide expansion.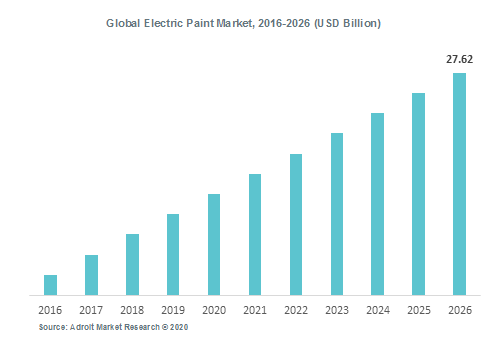 Adroit Market Research report on global electric paint market gives a holistic view of the market from 2016 to 2026, which includes factors such as market drivers, restraints, opportunities and challenges. The market has been studied for historic years from 2016 to 2018, with the base year of estimation as 2019 and forecast from 2020 to 2026. The report covers the current status and future traits of the market at global as well as country level. In addition, the study also assesses the market based on Porter's five forces analysis and positions the key players based on their product portfolio, geographic footprint, strategic initiatives and overall revenue. Prominent players operating in the global electric paint market have been studied in detail.
The worldwide electric paint market may be divided into two main segments: types and applications. The electric paint industry by type includes epoxy, acrylics, polyesters, and polyurethanes. Acrylics are expanding at a rapid rate because they provide outstanding benefits such as suitable moisture resistance, good weather ability, and low cost. The global industry is further divided into automotive, consumer electronic displays, solar, bio-science, aerospace, and other applications. Due to rising demand for electric paints in consumer electronics such as mobile phones, laptops, computers, and touch panels, among other applications, the consumer electronic displays industry will rise at a substantial rate. All of these factors are helping the consumer electronics sector's growth. These elements are projected to propel the electric paint industry's expansion during the next ten years.
North America dominated the worldwide electric paint market in terms of geography. Electric paint is being more widely used in numerous end-use sectors, including as automotive and consumer electronics, in the United States and other North American nations. Furthermore, Asia Pacific is expected to increase at a rapid pace throughout the projection period. This surge is due to a steady increase in demand for smartphones, tablets, and wearable gadgets, as well as other electronics, among Asian countries, particularly in South Korea, China, and India. Furthermore, rising automotive production, as well as the presence of key companies in the area, are two important drivers driving the electric paint industry's growth in Europe. Akzo Nobel N.V. Axalta Coating Systems, PPG Industries Inc. Henkel, and Bare Conductive are all major participants in the worldwide electric paint industry. To gain a solid position in the global market, major companies in the target sector are implementing numerous organic and inorganic tactics.
Key Segments of the Global Electric Paint Market
Type Overview, 2016-2026 (USD Billion)
Epoxy
Polyesters
Acrylics
Polyurethanes
Application Overview, 2016-2026 (USD Billion)
Consumer Electronic Displays
Solar
Automotive
Aerospace
Bio-science
Others
Regional Overview, 2016-2026 (USD Billion)
North America
Europe

Germany
United Kingdom
France
Rest of Europe

Asia Pacific

China
Japan
India
Rest of Asia Pacific

Latin America

Brazil
Mexico
Rest of Latin America

Middle East & Africa