January 2019: Adroit Market Research launched a study titled, "Global Dermatology Devices Market Size by Type (Diagnostic Devices – Dermatoscope, Microscope and Imaging Devices; Treatment Devices – Electrosurgery Equipment, Cryotherapy Devices, Microdermabrasion, LED Light Therapy Devices, Liposuction Devices and Lasers); by Region (North America, Europe, Asia Pacific, South America, Middle-East & Africa and Forecast 2018 to 2025". The global dermatology devices market analysis consists of value for a period ranging between 2015 to 2025, where 2015 to 2017 imply the actual annual revenue with forecast between 2018 and 2025. The global dermatology devices report also includes qualitative insights of the market such as drivers, restraints, value chain, regulatory framework and trade statistics. The value chain has been analyzed in detail covering key stages in the supply chain where significant value is added.
The global dermatology devices market size is estimated to be over USD 20.1 billion by 2025. Incidence of various skin disorders such as psoriasis, acne, melanoma and vascular lesions is rising due to pollution across the world. In addition, increasing application areas for dermatology devices and increased awareness of such disorders are some of the prime factors supporting the growth of the global dermatology devices market. Driven by the factors mentioned above, the global dermatology devices market is expected to grow at a CAGR of 11.4% between 2018 and 2025.
With increasing number of people diagnosed with skin disorders and more number of people preferring minimally invasive cosmetic surgeries, the demand for dermatology treatment and diagnostic devices is increasing. LED light therapy devices market accounted for the largest share of the dermatology treatment devices. The dominance of this market segment was due to increasing incidences of skin disorders such as pigment lesion, skin cancer and vascular lesion. With the increasing number of aesthetic procedures and demand for less invasive surgeries, the market for treatment devices is increasing. Melanoma is the leading type of skin cancer and one of the main causes of death due to skin diseases. The incidence of melanoma and non-melanoma skin cancer is grouped by race and climate and is the highest amongst the fair skinned races. The risk of melanoma increases with the white skinned people and their proximity to the equator.
Geographically, in 2017 North America dominated the global dermatology devices market majorly due to increasing number of people diagnosed with skin diseases, increasing incidence of skin disorders and growing awareness for skin diseases and rising preference for minimally invasive surgeries. In addition, technological advancements in the field of deramtology devices such as portability, minimal incision and precision also support the growth of the North America dermatology devices market. The Asia-Pacific and South America, Middle-East and Africa dermatology devices market are identified as a lucrative market owing to factors such as growing demand for low cost devices and key players establishing their presence in these markets lured by rising number of people suffering from skin disorders.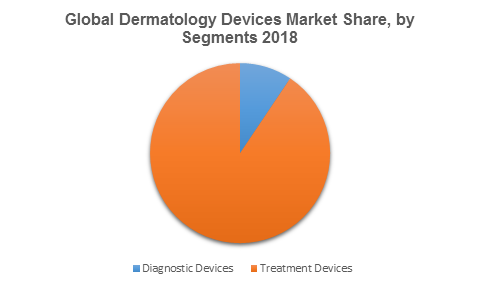 Some of the key players opearting in the global dermatology devices market are Heine, 3Gen LLC, Welch Allyn, Carl Zeiss, Hitachi, Leica Microsystems, Olympus, Michelson Diagnostics, GE Healthcare, Phillips Healthcare, Toshiba Medical Systems, Palomar Medical technologies, Ellipse A/S, Heine, Genesis Biosystems, Syneron Medical, Alma Lasers Ltd., and Siemens Medical Systems. These market players are adopting various growth strategies such as new product development through technological advancements to enhance and expand their market share in the global dermatology devices market.
Key segments of the global dermatology devices market
Device Type Overview, 2015-2025 (USD Million)
Diagnostic Devices

Dermatoscope
Microscope
Imaging Devices

Treatment Devices

Electrosurgery Equipment
Cryotherapy Devices
Microdermabrasion
LED Light Therapy Devices
Liposuction Devices
Lasers
Regional Overview, 2015-2025 (USD Million)
North America
Europe

Germany
U.K.
France
Russia
Italy
Rest of Europe

Asia Pacific

China
Japan
Korea
India
Southeast Asia
Rest of Asia Pacific

South America, Middle-East & Africa

Brazil
Egypt
Saudi Arabia
South Africa
Nigeria
Rest of the World