The global dental tourism market was valued at USD 3,122.7 million in 2020 and is expected to grow at a CAGR of 11.8% over the forecast period. The lack of insurance coverage for dental procedures and the rising cost of treatment in developed nations are driving the worldwide dental tourism business. People travel to obtain better health care at a lower cost. Dental tourism is becoming more popular because of technological improvements such as telemedicine and mobile health. Local transportation, lodging, domestic tours, food & drink, shopping, entertainment, leisure and sports activities, and other expenses are the primary categories of dental tourism. The spending of patients has a considerable economic impact on the economies of the destinations. Furthermore, financial savings as well as a reduction in waiting times pave the door for market expansion.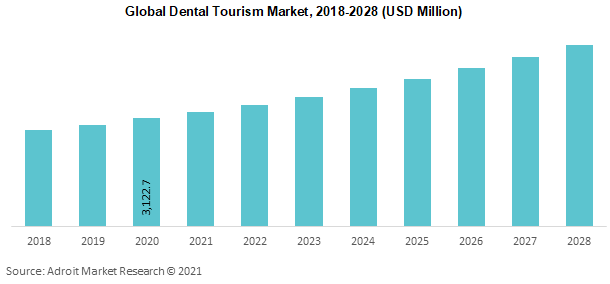 Several variables influence dental tourism. The high expense of local care, delays in accessing local dentists, competent care at many overseas clinics, low-cost air travel, and internet availability of health-related services are only a few of these factors. Dental tourism is certain to grow in popularity, but it comes with significant concerns. Patients are compelled to travel abroad for medical treatment because they do not have access to affordable and timely local care. People frequently contemplate visiting areas that include spa treatments and yoga in addition to better medical care choices.
Adroit Market Research report on global dental tourism market gives a holistic view of the market from 2018 to 2028, which includes factors such as market drivers, restraints, opportunities, and challenges. The market has been studied for the period 2018 to 2028, with the base year of estimation as 2020 and forecast from 2021 to 2028. The report covers the status and future traits of the market at global as well as country level.
In 2019, the European dental tourism market was worth USD 892.0 million, with Hungary, Poland, and Bulgaria leading the way. During the projection period, the major European countries for dental care accounted for more than 20% of global dental tourism. Furthermore, dental patients in European countries such as the United Kingdom, Germany, and France must wait 60 to 90 days for an appointment. According to the National Health Service NHS, more than 150 thousand people in the United Kingdom have already made appointments and are awaiting dental procedures. As a result, most patients travel to neighboring countries such as Hungary and Spain for high-quality dental care that is less expensive than in the United Kingdom. Growing public awareness of the benefits of dental tourism, as well as rising cost benefits, are propelling the sector forward.
The simple availability of new medical technologies in developing nations in Southeast Asia and Europe, combined with the simplicity of rules and regulations for medical visas, has resulted in an average annual increase of 20% to 25% in the number of passengers. In the Asian market, alliances and agreements between government agencies, associations, and healthcare firms are fueling demand for dental tourism. In Thailand, for example, the government special committee and ministry of public health have created a second strategic plan to promote growth and build infrastructure for Thailand's health services, particularly for international patients.
Preventive therapy, restorative treatment, prosthodontics treatment, OMS treatment, and other therapies make up the global dental tourism business. Restorative therapies, such as dental crowns, bridges, and fillings, have the largest market for dental tourism worldwide, but orthodontic treatments, which need lengthy operations and frequent post-operative follow-ups, are less popular.
Some of the major clinics or hospitals that offer various dental treatments are Apollo Hospitals Enterprise Ltd (Global), Bangkok International Dental Center (Thailand), Fortis Healthcare (Global), ARC Dental Clinic (Indonesia), Dentaglobal Clinic (Turkey), Imperial Dental Specialist Center (Malaysia), Raffles Medical Group (Asia) and Dental Cosmetics (Costa Rica).
Key segments of the global dental tourism market
Treatment Type Overview, 2018-2028 (USD Million)
Preventive
Restorative
Prosthodontics
OMS
Others
Regional Overview, 2018-2028 (USD Million)
Europe

Hungary
Poland
Spain
Turkey

Asia Pacific

Malaysia
Thailand
South Korea
Philippines
India

Central and South America

Mexico
Brazil
Colombia
Costa Rica

Middle East & Africa