The global crude glycerin market is estimated to reach the USD 1,115.3 million by 2026, at a CAGR of 8.1% during the forecast period from 2020 to 2026. Glycerin, commonly known as glycerol, is a significant byproduct of biodiesel production. The biodiesel industry is rapidly increasing, resulting in an oversupply of crude glycerin. Approximately 40-90% of glycerol is present in the glycerin which also contains soaps, methanol, water, and salts. Due to a major growth in biodiesel production, crude glycerol output has grown dramatically over the years. The huge market increase in biodiesel production has also resulted in a fall in crude glycerin pricing throughout the years.
The majority of crude glycerin is utilized to make refined glycerin with higher purity. Food and beverage, personal care, automotive, pharmaceutical, and healthcare, as well as chemical intermediates, are just a few of the uses for refined glycerin. During atmospheric autocatalytic organosolv pretreatment, crude glycerin is also utilized as a solvent to improve enzymatic hydrolysis of lignocellulosic biomass. It may also be used as a green solvent in chemical processes. In the animal feed sector, the use of crude glycerin has grown. To supply easily usable energy, crude glycerin is increasingly being used in pig and other animal feed. Crude glycerin-based animal feed produces less feed dust and is more cost-effective. When crude glycerin is added, the amount of maize necessary to achieve the nutritional needs is reduced. Because of the growing price of maize and the abundance of crude glycerin, the usage of crude glycerin in animal feed has grown. Crude glycerin is also used as a feedstock for chemicals and in the manufacture of biogas.
Crude glycerin is predicted to become more widely used as the worldwide demand for it grows rapidly in a variety of end-use industries, including biogas, wastewater treatment, and animal feed. Crude glycerin is widely utilized in China, India, the United States, Germany, and other nations. The presence of major corporations in these nations, as well as rising demand for crude glycerin across a wide range of end-use industries, are encouraging the target sector's growth in these nations. Furthermore, in order to get a competitive advantage throughout the world, the market's top competitors are concentrating on new product development, which is a critical driver of the market's growth.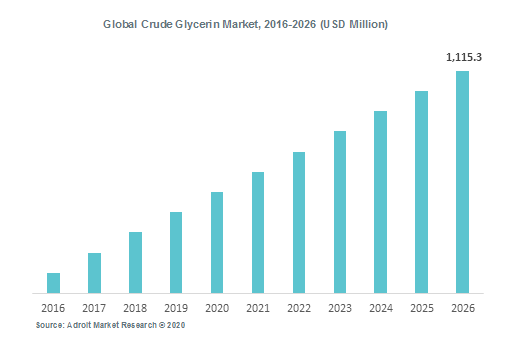 Adroit Market Research report on global crude glycerin market gives a holistic view of the market from 2016 to 2026, which includes factors such as market drivers, restraints, opportunities and challenges. The market has been studied for historic years from 2016 to 2018, with the base year of estimation as 2019 and forecast from 2020 to 2026. The report covers the current status and future traits of the market at global as well as country level. In addition, the study also assesses the market based on Porter's five forces analysis and positions the key players based on their product portfolio, geographic footprint, strategic initiatives and overall revenue. Prominent players operating in the global crude glycerin market have been studied in detail.
The worldwide crude glycerin market may be divided into segments such as glycerol content and applications. The crude glycerin industry by glycerol content includes less than 80%, 80%-90%, and more than 90%. On the basis of applications the global industry is segregated into animal feed, biogas, oleochemistry, wastewater treatment, others. Crude glycerol is increasingly being used for biogas production. Some factors driving the market growth of this market segment include cost-effectiveness, simple operational conditions, and improved production.
Asia Pacific dominated the global crude glycerin market in terms of geography. Crude glycerin are being more widely used in numerous end-use sectors, including as animal feed, biogas, and wastewater treatment in the China, India, Japan and other Asian nations. Furthermore, North America is expected to register significant growth rate in the target industry during the forecast period of time. The growth is attributed to expansion of leading players in the region, and technological advancements among North American countries, particularly in the U.S. STOCKMEIER Chemie GmbH & Co. KG, GF Energy, Cremer Oleo GmbH & Co. KG, Cargill, Renewable Energy Group, Inc. Oleon NV, Pasand Speciality Chemicals, Aemetis, Inc. Abengoa Bioenergia SA and Peter Cremer are all major participants in the worldwide crude glycerin industry. To gain a solid position in the global market, major companies in the target sector are implementing numerous organic and inorganic tactics.
Key Segments of the Global Crude Glycerin Market
Glycerol Content Overview, 2016-2026 (USD Million)
Less than 80%
80%-90%
More than 90%
Application Overview, 2016-2026 (USD Million)
Animal Feed
Wastewater Treatment
Biogas
Oleochemistry
Others
Regional Overview, 2016-2026 (USD Million)
North America
Europe

Germany
United Kingdom
France
Rest of Europe

Asia Pacific

China
Japan
India
Rest of Asia Pacific

Latin America

Brazil
Mexico
Rest of Latin America

Middle East & Africa