27 August, 2019: Adroit Market Research released its research study on "Global Consent Management Services Market Size by Type (Managed Services, Professional Services) by Applications (BFSI, IT and Telecom, Government, Healthcare, Higher Education, Retail and E-commerce, Others), By Region and Forecast 2018 to 2025". The study covers the global consent management services market value for a period ranging in between 2015 to 2025, where 2015 to 2018 imply the historical value with forecast between 2019 and 2025. The global consent management services market report also includes qualitative insights of the market such as market dynamics, company overview and financial performance.
The global consent management services market size is expected to reach a valuation of USD 670 million by 2025. Privacy commission and regulators around the globe have been trying for years to regulate privacy protection and create privacy norms for organizations to adhere to and embrace, such as design privacy (PbD). Even as regulators pushed accountability, however, it was seen by many organizations as more voluntary than obligatory. With the application of the General Data Protection Regulation (GDPR) of the European Union (EU) and its consequences for organizations around the globe, the days of organizations leaving someone else to be responsible for the security of privacy ended. The GDPR of the EU places the responsibility for specific data protection requirements in the hands of entities that collect, store, analyze and manage personally identifiable information. This added accountability has led to organizations in adopting consent management services market, thereby driving the growth of the market.
Consent is strictly linked to a processing purpose, which is the purpose for which a person's private information, such as marketing, evaluation, or health, are processed. Each processing objective is connected with one or more processing operations that define how private information, such as data storage, recording, or dissemination, is processed. Individuals may consent to the processing of their private information for all purposes and activities. However, people want to limit their consent in most instances. Consent Management is the process, system and set of policies that enable consumers regulate the way in which their personal information is used. Consumers give consent for authorizing the different care providers for accessing of the information and for this consent management software is used.
The global consent management services market segmented on the basis of applications was dominated by IT and telecom which generated nearly 30% of the overall market in 2018. The GDPR adoption in 2018 is considered to be the biggest overhaul of data privacy legislation. This has led in reorienting their business processes by telecom companies, revamping governance mechanisms, followed by diversification of revenue streams. As sensitive customer data is a component of its key operations, it has become an important driver that has led to consent management services to be implemented by telecom companies. With a growing danger of digital network breaches, it is vital to restructure the collection, storage and assessment of enormous customer data in the GDPR ecosystem by telecom businesses providing services in the EU. The segment is expected to maintain its momentum during the forecast period with the implementation of various regulation across regions.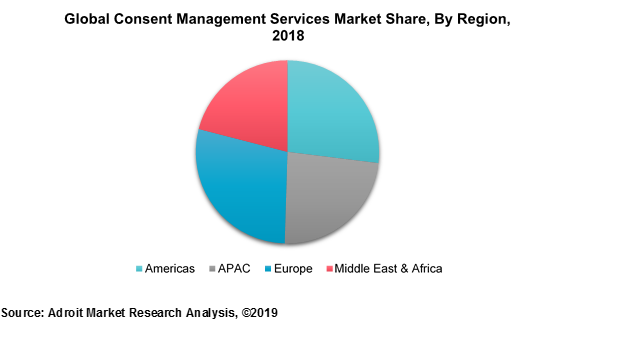 Europe generated the highest revenue in 2018 in the global consent management services market accounting for nearly 27% of the overall market. The quick rate of adoption of consent management services is attributed to the implementation of GDPR in May 2018. This regulation requires all companies worldwide to seek the consent of the citizens in EU to process their private data. The GDPR is more challenging than current EU data protection demands and applies more widely. Every requirement on its own — such as the right to be forgotten, information portability, 72-hour notification of breaches, information privacy impact assessments and design privacy — is demanding. This is expected to result in more number of companies to demand consent management services due to the complex nature of the compliance laws. This in turn is expected to act as a catalyst in accelerating the growth of the global consent management services market.
Key segments of the global consent management services market
Type Overview, 2015-2025 (USD million)
Managed Services
Professional Services
Application Overview, 2015-2025 (USD million)
BFSI
IT and Telecom
Government
Healthcare
Higher Education
Retail and E-commerce
Others
Regional Overview, 2015-2025 (USD million)
Americas

U.S.
Canada
Mexico
Brazil

Europe

Germany
UK
Italy
France
Russia
Spain

Asia Pacific

China
Japan
South Korea
Southeast Asia
India
Australia

Middle East & Africa

Egypt
South Africa
Israel
Turkey
GCC