The global citrus extract market is estimated to reach the USD 7.5 billion by 2026, at a CAGR of 4.3% during the forecast period from 2020 to 2026. In the forecast era, the citrus extract market will be influenced by a rapid change toward a healthier lifestyle, which will be aided by increasing awareness about health and nutrition. Citrus extract is a strong-flavored extract made from citrus fruits including lemons, oranges, limes, grapes, and other citrus fruits. Citrus extract is commonly used in dairy products, sausages, bakery, confectionary, tea, shakes, seasonings, smoothies and a variety of other products in the food and beverage industry to impart fragrance and flavor. The growing customer preference for natural food ingredients due to their numerous health benefits is a major growth factor for the citrus extract market.
Furthermore, customers demand a sustainable, eco-friendly, herbal, and organic commodity, which is a major driver of the global citrus extract market. Furthermore, the citrus extract market is growing owing to increasing disposable income, a mounting population, and various end users' preference for bio-based ingredients over synthetic ingredients. Natural disasters and climatic fluctuations during citrus fruit production, on the other hand, are expected to act as a constraint on the citrus extract market's development, while a lack of knowledge about digitization has the potential to pose a challenge to the market's growth.
Consistent product innovation has been a key factor in the global market's high demand for citrus extract products. The novel products' prominent advantages, such as weight loss and immune enhancement, have resulted in widespread market adoption. This helps consumers gain immunity in order to live a regular life, and such facts also help to increase product or brand loyalty among customers. Growing local manufacturing of these products also helps to lower their costs, thus increasing accessibility.
Citrus extract is increasingly moving out of conventional channels, especially for healthy products. Their purchases are increasingly shifting away from traditional outlets and into online platforms. Within the forecast era, the online distribution channel will continue to expand at the fastest rate, eroding the market share of retail channels. More discounts and outreach to retailers and distributors are possible through direct to consumer sales. The emergence of online platforms has also aided food producers in gaining a foothold.
Geographically, countries such as U.S., India, Japan, Germany, China, and some others are among the largest consumers of citrus extract products. Growing adoption of a healthy lifestyle, coupled with presence of major players in these countries are among major factors to boost growth of the target industry in countries. Additionally, key players are focusing on launch of innovative products to get competitive edge in those countries is another factor fuelling demand of citrus extracts in those countries and in turn augmenting growth of the market across the world.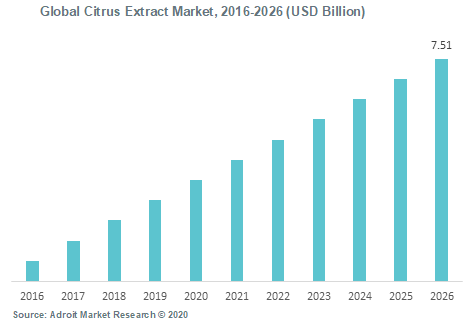 Adroit Market Research report on global citrus extract market gives a holistic view of the market from 2016 to 2026, which includes factors such as market drivers, restraints, opportunities and challenges. The market has been studied for historic years from 2016 to 2018, with the base year of estimation as 2019 and forecast from 2020 to 2026. The report covers the current status and future traits of the market at global as well as country level. In addition, the study also assesses the market based on Porter's five forces analysis and positions the key players based on their product portfolio, geographic footprint, strategic initiatives and overall revenue. Prominent players operating in the global citrus extract market have been studied in detail.
The global citrus extract market can be segmented based on product types and applications. On the basis of product types, this market is segmented into orange, lime, lemon, grapefruit, and others. Orange product type segment dominates the global market with more than 50% revenue share. The variety of orange extract applications and nutritional benefits are propelling the beverage industry and accelerating growth of the segment. On the other hand, lemon product type is anticipated to progress as a rapid growth rate during the forecast period due to its increasing applications in the various end use industries. On the basis of application the target industry is segregated into carbonated soft drinks, fruit beverages, sport drinks, and others.
Geographically, North America dominated the global citrus extract market. The growth is attributed to the increasing awareness regarding health and nutritive value of citrus acid among North American population especially in the United States and Canada of the region. Additionally, Asia Pacific is anticipated to progress at a rapid growth during the forecast period owing to increased consumption of the citrus extract among population along with growth in the number of citrus trees in the region. Further, high production of citrus extracts in the Africa region is anticipated to create lucrative growth opportunities in the citrus extract industry in the near future.
Major players in the global citrus extract market are The Lebermuth Co. Inc. Mountain Rose Inc. Young Living Essential Oils LC, Bontoux S.A.S. Symrise AG, Citromax Flavors Inc, doTERRA International, LLC. Citrus and Allied Essences Ltd. McCormick & Company, Inc. and LIONEL HITCHEN.
Key Segments of the Global Citrus Extract Market
Product Overview, 2016-2026 (USD Billion)
Orange
Lime
Lemon
Grapefruit
Others
Application Overview, 2016-2026 (USD Billion)
Carbonated Soft Drinks
Fruit Beverages
Sport Drinks
Others
Regional Overview, 2016-2026 (USD Billion)
North America
Europe

Germany
United Kingdom
France
Rest of Europe

Asia Pacific

China
Japan
India
Rest of Asia Pacific

Latin America

Brazil
Mexico
Rest of Latin America

Middle East & Africa