Chlorinated rubber is a nonflammable white powder chemical material made by combining carbon tetrachloride and chlorine. Fireproof, chemically stable, water resistant, and adhesion are just some of the benefits of chlorinated rubber coatings. These coatings work by increasing the hardness of the metal and decreasing its reactivity with most chemicals, creating a corrosion-resistant shield. One of the main reasons for chlorinated rubber coatings' widespread use in various industries is their corrosion resistance. Furthermore, their corrosion resistance makes them suitable for use in marine paints, propelling market growth even further.
Adroit Market Research study on the global market for Global Neonicotinoids offers a holistic view of the industry from 2020 to 2028 as forecast period, including factors such as market drivers, limitations, opportunities, threats and regulatory overview. The market has been analyzed from 2018 to 2028, with a base year estimate of 2019 and a projection from 2020 to 2028.
The report covers the current status and potential characteristics of the market at both the global and the country level. Moreover, the report also assesses market competition with Porter's analysis of five strengths and places leading players on the basis of their product range, regional presence, strategic initiatives and overall sales. Prominent players in the global Neonicotinoids market have been analyzed in depth.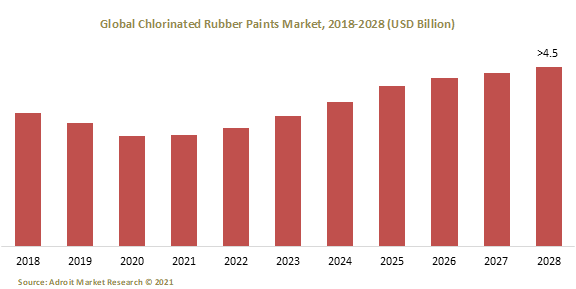 Porter's Five Forces Model analysis, supply chain analysis, and cost structure analysis are all part of the in-depth business chain. This Global Neonicotinoids Market study provides an overview of the current situation, as well as historical data and forecasts for the future. It provides comprehensive data on Global Neonicotinoids sales, usage, trade figures, and prices over the last few years.
The new Global Neonicotinoids market report aims to help companies, advertisers, and other stakeholders gain a deeper understanding of the industry's growth drivers and capitalize on high-profit opportunities. Furthermore, it offers suggestions for overcoming current and future obstacles in this field.
Key player in Chlorinated Rubber Paints industry includes PPG Asian Paints Private Limited, , Interquad Group Ltd, Covestro AG, Kelley Technical Coatings, Shanghai NH Trade Co., Ltd., RAMUC Pool, Promain Co Ltd
Key Segments of the Global Chlorinated Rubber Paints Market
Type Overview, 2018-2028 (USD Billion)
Modified Chlorinated Rubber Based
Chlorinated Rubber Based
Application Overview, 2018-2028 (USD Billion)
Swimming Pools
Sports Floor
Road Marking & Car Parks
Farm Machinery
Other
Regional Overview, 2018-2028 (USD Billion)
Americas
U.S.
Canada
Mexico
Brazil
Rest of Americas
Europe
UK
Germany
France
Italy
Russia
Spain
Rest of Europe
Asia Pacific
China
Japan
Korea
Southeast Asia
Australia
India
Rest of Asia-Pacific
Middle East and Africa
Egypt
South Africa
Israel
Turkey
Rest of Middle East and Africa