The global airway stent/lung stent market is anticipated to cross USD 125.85 million by 2025, growing at a CAGR of over 13%. Increasing prevalence of lung cancer, chronic obstructive pulmonary disorder (COPD) coupled with increasing demand for minimally invasive cardiac as well as pulmonary surgeries is likely to fuel the market for airway stents in coming years.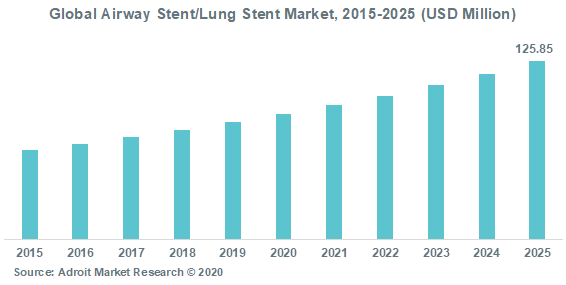 Adroit Market Research report on global airway stent/lung stent market gives a holistic view of the market from 2015 to 2025, which includes factors such as market drivers, restraints, opportunities, challenges and regulatory scenario. The market has been studied for historic years from 2015 to 2017, with the base year of estimation as 2018 and forecast from 2019 to 2025. The report covers the current status and future traits of the market at global as well as country level. In addition, the study also assesses the market competition with Porter's five forces analysis and positions the key players based on their product portfolio, geographic footprint, strategic initiatives and overall revenue. Prominent players operating in this market have also been studied in detail.
The stent material is not the only significant thing to remember when choosing an effective stent. The decision should be made on the basis of specific illness, morphology and surgical treatments. Likewise, the clinician's familiarity with a particular stent will not be the primary determinant on which stent to put. The ease of placing metallic stents has made their usage common in malignant and benign diseases.
However, a major change has resulted in the usage of silicone stents in benign diseases. In 2005, the U.S. Food and Drug Administration (FDA) released a notification saying that the usage of metallic stents in benign diseases would be discouraged This advisory followed evidence of major problems in benign airway diseases where stents became invariably prone based on a comparatively longer patient life span and thus longer endobronchial occupancy than malignancy.
In terms of material, metal accounted for higher market share in 2018 and is anticipated to maintain its position compared its broad acceptance rate and early entry in the market place. However, silicone stents are likely to grow a rapid CAGR in coming years. Silicone is a synthetic substance consisting of polydimethylsiloxane or silicone elastomers. Silicone is solid, robust at high temperatures, and exhibits low reactivity to tissues. It is easy to shape and can provide varying degrees of firmness and versatility. Reinforcing silicone with polypropylene, polyamide, and carbon fiber fibers may have better functional strength and resilience to silicone matrix. Silicone stents are relatively less costly, well absorbed, and are adequately robust to survive extrinsic compression. They can also be conveniently adjusted by removing a portion of the stent, enabling the airway anatomy to be customized before deployment. Such factors re likely to support the segment adoption rate in coming years.
In terms of end user, hospitals accounted for evidently prominent market share in 2018 and is predicted to maintain its position compared to other counterparts. Large number of surgical procedures being done at these counters compared to counterparts.
In terms of regional markets, Asia Pacific is likely to emerge as the most favorable regional market by 2025. Increasing awareness regarding available product coupled with emergence of new players offering low cost products in developing countries is anticipated to drive the demand for airway stents within the region.
Key vendors in the market include EFER ENDOSCOPY, Boston Medical Products, Inc, Boston Scientific Corporation, E. Benson Hood Laboratories, Inc, Taewoong Medical Co., Ltd., Stening SRL , Novatech SA, Micro-Tech (Nanjing) Co., Ltd., and many more.
Broad portfolio of products coupled with new product launches by key vendors are likely to help tier 1 companies to maintain their market position in coming years. For instance in January 2020, the U.S. Food and Drug Administration approved use of 3D-printed Airway Stents manufactured by a doctor in Cleveland Clinic. Such launches are expected to propel the market growth by 2025.
Key segments of the global airway stent/lung stenttesting market
Type Overview, 2015-2025 (USD Million)
Laryngeal Stents
Tracheobronchial Stents
Material Overview, 2015-2025 (USD Million)
Metal Stents

Nitinol Stents
Stainless Steel Stents
Others

Silicone Stents
Hybrid Stents
Product Overview, 2015-2025 (USD Million)
Non-Expandable
Self-Expandable
End User Overview, 2015-2025 (USD Million)
Hospitals
Ambulatory Surgery Centers
Regional Overview, 2015-2025 (USD Million)
North America
Europe

Germany
United Kingdom
France
Rest of Europe

Asia Pacific

China
Japan
India
Rest of Asia Pacific

Latin America

Brazil
Mexico
Rest of Latin America

Middle East & Africa