The global agarose market is estimated to reach the USD 138.69 million by 2026, at a CAGR of 5.1% during the forecast period from 2020 to 2026. Agarose is one of the two main components of agar, and it is separated from the other component, agaropectin, by eliminating it. Agarose is extensively employed in molecular biology for electrophoresis separation of big molecules, particularly DNA. Agarose may also be made into beads and utilized in a variety of protein purification chromatographic procedures.
Because of its broad spectrum of physical, chemical, and thermal stability, agarose is a favoured matrix for working with proteins and nucleic acids. Its lesser complexity of chemical makes it less likely to interact along with the biomolecules. Agarose is the often used medium for analytical scale electrophoretic separation in agarose gel electrophoresis. Agarose is also commonly employed in a variety of other applications, such as immunodiffusion and immunoelectrophoresis, since its fibres act as an anchor for immunocomplexes. Agarose gel matrix is widely used in the column-based preparative scale separations including ion exchange chromatography, gel filtration chromatography, affinity chromatography, for protein purification. This is factor will boost demand of the target product and will fuel growth of the global agarose market in upcoming timeframe.
Agarose is expected to become a more extensively utilised commodity as demand for it develops fast throughout the world in a range of sectors. In UK, France, United States, Germany, India, and other countries, agarose is regularly used. The presence of big corporations in these countries, as well as increased demand for agarose across a broad variety of end-use sectors, are boosting the target sector's growth. Furthermore, the market's top competitors are focusing on new product development, which is a vital driver of the market's growth, in order to get a competitive edge throughout the world.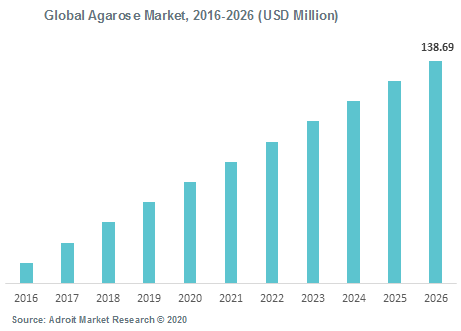 Adroit Market Research report on global agarose market gives a holistic view of the market from 2016 to 2026, which includes factors such as market drivers, restraints, opportunities and challenges. The market has been studied for historic years from 2016 to 2018, with the base year of estimation as 2019 and forecast from 2020 to 2026. The report covers the current status and future traits of the market at global as well as country level. In addition, the study also assesses the market based on Porter's five forces analysis and positions the key players based on their product portfolio, geographic footprint, strategic initiatives and overall revenue.
Prominent players operating in the global agarose market have been studied in detail. The global agarose market can be segmented on the basis of the product, and applications. The global agarose market is segmented into product, and applications. The agarose industry by product includes standard melting agarose, low melting point agarose, and others. Based on application the global industry is categorized into agarose gel electrophoresis, protein purification, and others. The protein purification segment is expected to dominate over the forecast period of time owing to growing adoption of agarose for protein purification applications.
Europe will dominate the worldwide agarose market. In the France, U.K. and other European countries, agarose are becoming progressively frequently adopted in a variety of end-use industries. One of the key factors driving agarose growth in developing nations is the rapidly expanding demand for the target product among growing economies throughout the world. Furthermore, throughout the projection period, Asia Pacific is predicted to have considerable expansion in the target industry. The development of prominent organizations in the area, as well as technology developments among Asian countries, notably in China, Japan, and India, are credited with the increase. Green Fresh Group, Marine Hydrocolloids, Kingyen, Global Bio Ingredients, Huey Shying, Hispanagar, Fuli Agar Factory, ROKO, Mingfu Fujian Agar Co. Shantou Chenghai District Agar Glue Factory, Agarmex, B&V Agar, Fujian Global Ocean Biotechnology, Sobigel, Iberagar, and Taike Biotechnology are all major participants in the worldwide agarose industry. Advanced products launches and other organic as well as inorganic startegies adoted by the major operating players will create huge growth opportunities.
Key Segments of the Global Agarose Market
Product Overview, 2016-2026 (USD Million)
Standard melting agarose
Low melting point agarose
Others
Application Overview, 2016-2026 (USD Million)
Agarose gel electrophoresis
Protein purification
Others
Regional Overview, 2016-2026 (USD Million)
North America
Europe

Germany
United Kingdom
France
Rest of Europe

Asia Pacific

China
Japan
India
Rest of Asia Pacific

Latin America

Brazil
Mexico
Rest of Latin America

Middle East & Africa