The global active wheelchair market is projected to reach USD 2.77 billion by 2028, growing at a CAGR of 4.8%. Rising elderly populace with disability, increasing integration of various hi-tech advancements by significant industry players and positive reimbursement plans and product authorizations are some of the factors driving the growth of the global active wheelchair market.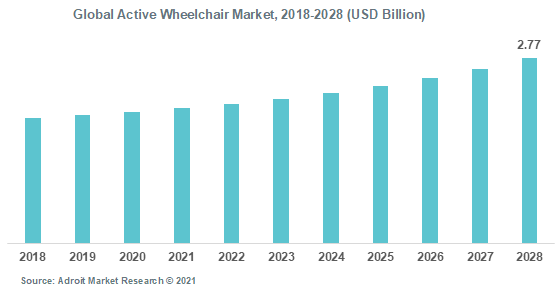 Adroit Market Research report on global active wheelchair market gives a holistic view of the market from 2018 to 2028, which includes factors such as market drivers, restraints, opportunities and challenges. The market has been studied for historic years from 2018 to 2019, with the base year of estimation as 2020 and forecast from 2021 to 2028. The report covers the current status and future traits of the market at global as well as country level. In addition, the study also assesses the key players based on their product portfolio, geographic footprint, strategic initiatives and overall revenue. Prominent players operating in the global active wheelchair market have been studied in detail.
Active wheelchairs, they are designed for long-term use, are adjustable to ensure proper fit, provide pressure relief, and typically provide basic postural support needs. Wheelchairs with postural support are designed for users requiring a higher degree of postural support such as users with significant muscle weakness or people with cerebral palsy. These wheelchairs are typically highly adjustable, modifiable and come with additional postural support systems such as back support, head support and a positioning cushion.
The global active wheelchair market is categorized based on product type and indication. On the basis of product type, the market is segmented into manual and powered wheelchairs. The manual wheelchairs segment dominated the market in 2020. Manual wheelchairs are self-propelled or attendant propelled.
Europe dominated the market for active wheelchair in 2020, while Asia Pacific is set to grow at a highest CAGR due to budding awareness regarding the use of active wheelchairs. Key players of the global active wheelchair market include Mountain Trike, Invictus Active, Numotion, Karman Healthcare, Inc., Sunrise Medical, MEYRA GmbH, PER4MAX Medical, Spinlife, Hoveround Corp, Sportaid, among others.
Key segments of the global active wheelchair market
Product Type Overview, 2018-2028 (USD Billion)
Manual Wheelchairs
Power Wheelchairs
Indication Overview, 2018-2028 (USD Billion)
Alzheimer's Disease
Amyotrophic Lateral Sclerosis
Multiple Sclerosis
Cerebral Palsy
Muscular Dystrophy
Parkinson's Disease
Spinal Cord Injury
Other Indications
Regional Overview, 2018-2028 (USD Billion)
North America
Europe

Germany
United Kingdom
France

Asia Pacific
Latin America
Middle East & Africa